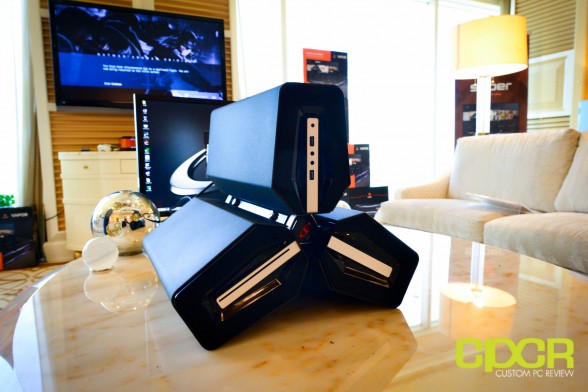 CyberPowerPC is kicking off CES with a bang, and for 2015 they're unveiling a brand new concept system they're calling the CyberPowerPC Fang Trinity.
What's unique about the Fang Trinity is the futuristic chassis which looks a bit like an alien spaceship. For those wondering how the chassis works, the chassis compartmentalized into a total of three compartments with each of the three compartments enclosed by a thick steel cover. The top compartment holds the GPU and three 2.5″ drives, the bottom left compartment holds the power supply, a slimline optical drive, a 3.5″ HDD, and a 2.5″ drive, and the bottom right compartment holds a mini-ITX motherboard, the CPU, and memory.
Of course despite the fancy looks, the Fang Trinity is also a top of the line gaming PC sporting all the latest and greatest hardware you'll find on the market today. In the working sample shown here at CES, CyberPowerPC outfitted the system with an Intel Core i7-4790K, Gigabyte Z97 Gaming 5 mITX motherboard, EVGA GeForce GTX 980, 8GB DDR3 1866MHz memory, 3x Samsung 850 PRO SSDs, a 1TB HDD, and Corsair 500w ATX PSU. What's nice about all these components is that they're standard, off the shelf parts which can be upgraded down the line.
Overall it's a pretty badass system and CyberPowerPC is hoping to get it out sometime before 2H2015. Pricing information is not available at this time.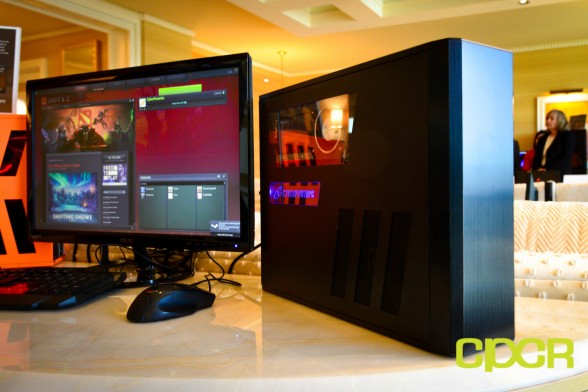 While CyberPowerPC's main attraction was without a doubt the Fang Trinity, CyberPowerPC had a number of other systems on display as well. One of the systems that caught my eye was the Zeus Mini II, which is a redesign of the original Zeus Mini that we reviewed here on Custom PC Review.
While not a whole lot has been done in the redesign, the new case does incorporate several small changes in aesthetics, the removal of the optical drive bay, and adds a window for the GPU for those who take pleasure in looking at their brand spanking new GeForce GTX 980.
CyberPowerPC says the Zeus Mini II should be available 2Q2015.