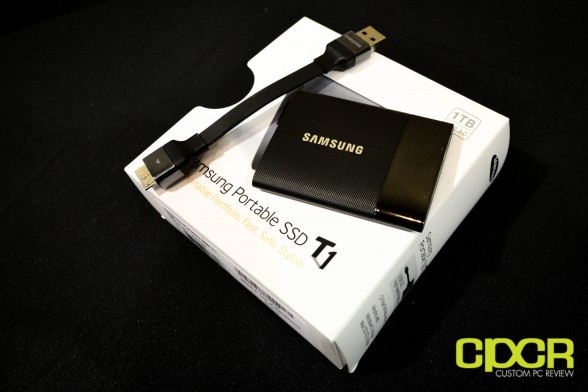 With Samsung completing the 850 series lineup with the launch of the Samsung 850 EVO last month, Samsung is now moving into the portable SSD arena with their first USB 3.0 powered portable SSD, the Samsung Portable SSD T1.
Designed for content creators, enthusiasts, and business professionals who constantly need to move large amounts of data, the Samsung Portable SSD T1 utilizes Samsung's latest 3-bit per cell 3D MLC NAND to deliver performance up to 450MB/s sequential reads/writes, and random reads/writes up to 8,000/21,000 IOPS respectively. True to its name it's quite portable as well, weighing in at just under an ounce and measuring in at just 2.80″ tall, 2.09″ wide, and 0.36″ thick.
As an added bonus, Samsung is also bundling encryption software directly onto the T1 to leverage the hardware encryption capabilities of the controller. Samsung tells us that enabling drive encryption allow users to keep their data safe in the event the drive is physically compromised without any impact on drive performance.
The Samsung Portable SSD T1 is expected to be available later this month in capacities of 250GB, 500GB, and 1TB with prices starting at $179.99.