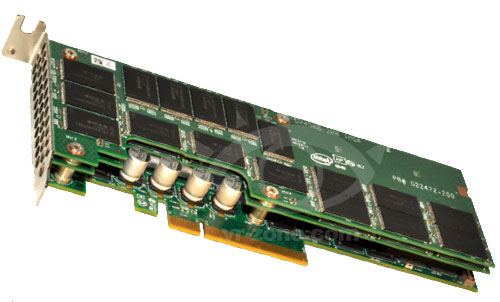 Well, looks like Intel's planning on getting in on some of that high speed action OCZ's been owning up lately. According to a recent post by VR-Zone, a launch of the Intel 910 Series PCIe SSD code-named Ramsdale was "imminent".
The Intel 910 Series PCIe SSD is expected to come in two SKUs, a 400GB SKU and an 800GB SKU capable of up to 750MB/s and 1GB/s transfer speeds respectively. While the original Ramsdale PCIe SSD that never materialized was expected to come with SLC NAND, Intel has moved towards MLC NAND for the upcoming 910 series, most likely for cost reasons. However, the MLC NAND used in the 910 series will be Intel's High Endurance Technology MLC seen in the Intel 710 Series SSD, so with the addition of a little overprovisioning, we should see reliability similar to SLC NAND.
No pricing has been reported at this time; however, considering the fact that this SSD is aimed towards workstations and servers (not to mention  it's Intel we're talking about here) it's probably going to cost a pretty penny.
Source & Image Source: VR-Zone