Review: CyberPowerPC Zeus Mini-I 780 SFF Gaming PC
Big Performance, Not-so-Big Package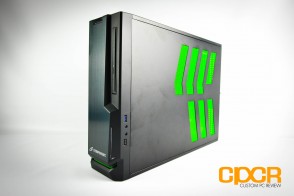 It's really no secret that I love building my own PCs and it's quite rare that you'd see me buy a pre-fab desktop. For me, there's simply no value add in ordering a custom PC built with off the shelf parts I can easily put together myself. However, there are some system builders who've found ways to provide value add for enthusiasts such as myself by developing stuff like exclusive components or enhanced warranties that are far superior in comparison to the ones offered by PC component manufacturers.
Today we'll be reviewing the CyberPowerPC Zeus Mini-I 780, which is a brand new system from CyberPowerPC that was unveiled for the first time at CES earlier this year. Unlike most CyberPowerPC systems that simply use off the shelf parts, CyberPowerPC decided to up the ante with the Zeus Mini by not only making the system extremely small, but they've also developed their own exclusive chassis specifically for the system as well. Unlike many mITX chassis on the market that limit the length of the graphics card, size of the cooler, or the type of power supply that may be used, CyberPowerPC's Zeus Mini chassis is special in the fact that it supports everything from the longest single GPU graphics cards to full sized ATX power supplies and pretty much everything inbetween.
CyberPowerPC Zeus Mini-I 780 Specifications
| | |
| --- | --- |
| Desktop | CyberPowerPC Zeus Mini-I 780 |
| Case | CyberPowerPC Zeus Mini mITX Gaming Chassis |
| CPU | Intel Core i7-4770K |
| Motherboard | Gigabyte Z87N-WiFi |
| Memory | 16GB (2x8GB) DDR3-1866 G.SKILL Ripjaws X |
| Graphics | EVGA Superclocked GeForce GTX 780 3GB |
| Storage | 1x120GB Samsung 840 EVO SSD + 1x2TB Toshiba DT01ACA200 7200RPM HDD |
| Optical Drive | LG Slimline 8X DVD±R/RW/4X + DL Super-Multi Drive |
| Operating System | Microsoft Windows 8.1 (64-bit Edition) |
| PSU | Corsair CS650M |
| CPU Cooler | Cooler Master Seidon 120M |
| Warranty | 1 Years Labor, 1 Year Parts |
| Price as Configured | $1,859 |
| Configure System | Click Here |
CyberPowerPC will offer the Zeus Mini in a number of different configurations ranging from the base AMD Kaveri only systems all the way up to beastly Intel Haswell/Nvidia GeForce GTX Titan systems – all in a chassis that measures in at a mere 13″x4.4″x17.4″. This is extremely impressive considering the number of people who run massive, 30+ pound full tower desktops in order to fit these types of components into their systems.
For our review today, we specifically received the CyberPowerPC Zeus Mini-I 780 which includes the Intel Core i7-4770K, 16GB of DDR3 1866MHz memory, and the EVGA GeForce GTX 780 Superclocked.
Sounds like a winner? Yeah, probably. Let's take a closer look.