ASUS has released an all-new version of the GeForce GTX 950, which they dub the GTX 950 2G (for its 2GB of memory) , what's most interesting about this new card, compared to other GTX 950 models, is that it does not require a PCIe power connector. Instead, it utilizes only the power supplied to it directly by the motherboard.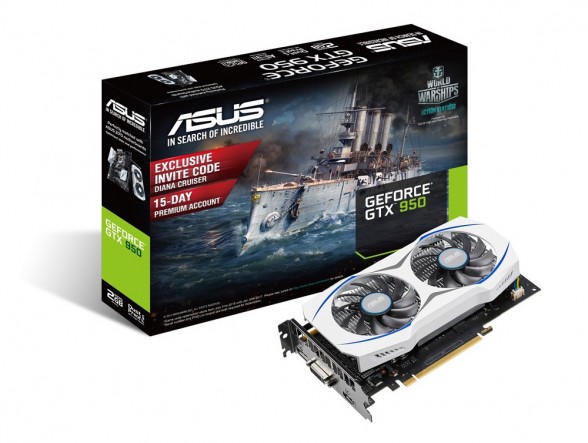 It's no secret that when NVIDIA released the GTX 950 (which we reviewed here) it may have replaced the GTX 750/750 Ti for the budget market, but it still left a rather large hole in the market for anyone who was looking for a GPU to upgrade their older OEM builds, which usually lack the proper PCIe power connectors for most dedicated graphics cards. This is because the GTX 950 featured a 90W power requirement, which made it impossible to use without a dedicated power connector. That is, until today. The GTX 950 2G ASUS has recently announced features a power requirement of just 75W, which means it can be powered directly by the motherboard with no additional PCIe power required.
Here is a look at the specifications for the ASUS GTX 950 2G:
Graphics Engine: NVIDIA GeForce GTX 950
Interface: PCI Express 3.0
Video Memory: GDDR5 2GB
CUDA Cores: 768
Memory Clock: 6610 MHz
Memory Interface: 128-bit
Engine Clock
Gaming Mode (Default) – GPU Boost Clock : 1190 MHZ , GPU Base Clock : 1026 MHz
OC Mode – GPU Boost Clock : 1228 MHZ , GPU Base Clock : 1051 MHz
Interface: HDMI 2.0, DisplayPort, DVI
Power Consumption: Up to 75W, no additional PCIe power required
Dimensions: 8.3 x 4.5 x 1.6 inches
We're not sure exactly how ASUS managed to accomplish this lower power requirement or whether or not this new card is related to the rumored GTX 950SE/LP GPU. It appears as though the card does feature all of the same specifications as a standard GTX 950, apart from the power requirements. We'd be very interested to see how this model compares against standard GTX 950 models in terms of gaming performance. As it stands, this card seems to be very attractive for users looking to upgrade an older or OEM builds on the cheap.