Warning
: Undefined array key "width" in
/var/www/vhosts/custompcreview.com/public_html/wp-includes/media.php
on line
1381
Warning
: Undefined array key "width" in
/var/www/vhosts/custompcreview.com/public_html/wp-includes/media.php
on line
1386
Warning
: Undefined array key "height" in
/var/www/vhosts/custompcreview.com/public_html/wp-includes/media.php
on line
1386
Warning
: Undefined array key "width" in
/var/www/vhosts/custompcreview.com/public_html/wp-includes/media.php
on line
1381
Warning
: Undefined array key "width" in
/var/www/vhosts/custompcreview.com/public_html/wp-includes/media.php
on line
1386
Warning
: Undefined array key "height" in
/var/www/vhosts/custompcreview.com/public_html/wp-includes/media.php
on line
1386
First we had the 7000 series leaks and now thanks to the guys at DonanimHaber, we've got some CPU leaks for you guys.
So, first things first, we'll take a quick look at the CPU roadmap which details AMD's plans for 2012.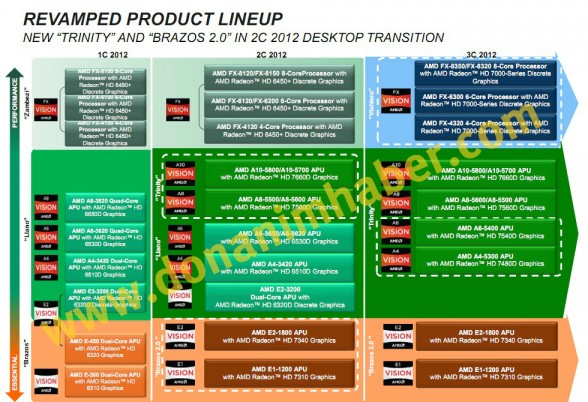 Several interesting things to note:
Q1 – Nothing happening here. According to the chart, we've already got pretty much everything.
Q2 – Looking at a couple more Zambezi processor releases which look like minor updates. AMD's top of the line Trinity APUs will be released. The new Trinity APUs will include the new "Piledriver" modular cores along with some 7000 series graphics enhancements. Finally, a new Brazos 2.0 APU is being released. The new APU will feature new branding and HD 7000 series graphics.
Q3 –  AMD's flagship desktop CPUs are expected to be updated with Vishera replacing Zambezi. These are expected to use the new "Piledriver" core that is expected to be coming with the Trinity APUs. AMD will also be introducing a couple more lower end Trinity APUs here as well.
Source: TechPowerUp / DonanimHaber
Next up, thanks once again to DonanimHaber, we have a leaked chart detailing possibly the most interesting part of what we saw in the roadmap earlier, Trinity.
The chart should be pretty self explanatory, so I won't be doing much talking here. It's interesting to note here that the number after A (In A10 or A8, etc) doesn't signify the number of cores the particular CPU will have. Additionally, it is also interesting to see that AMD will be releasing 3 unlocked Trinity APUs, the A10-5800K, the A8-5600K, and the A6-5400K.
Source: TechPowerUp / DonanimHaber