Warning
: Undefined array key "width" in
/var/www/vhosts/custompcreview.com/public_html/wp-includes/media.php
on line
1381
Warning
: Undefined array key "width" in
/var/www/vhosts/custompcreview.com/public_html/wp-includes/media.php
on line
1386
Warning
: Undefined array key "height" in
/var/www/vhosts/custompcreview.com/public_html/wp-includes/media.php
on line
1386
Warning
: Undefined array key "width" in
/var/www/vhosts/custompcreview.com/public_html/wp-includes/media.php
on line
1381
Warning
: Undefined array key "width" in
/var/www/vhosts/custompcreview.com/public_html/wp-includes/media.php
on line
1386
Warning
: Undefined array key "height" in
/var/www/vhosts/custompcreview.com/public_html/wp-includes/media.php
on line
1386
Warning
: Undefined array key "width" in
/var/www/vhosts/custompcreview.com/public_html/wp-includes/media.php
on line
1381
Warning
: Undefined array key "width" in
/var/www/vhosts/custompcreview.com/public_html/wp-includes/media.php
on line
1386
Warning
: Undefined array key "height" in
/var/www/vhosts/custompcreview.com/public_html/wp-includes/media.php
on line
1386
Warning
: Undefined array key "width" in
/var/www/vhosts/custompcreview.com/public_html/wp-includes/media.php
on line
1381
Warning
: Undefined array key "width" in
/var/www/vhosts/custompcreview.com/public_html/wp-includes/media.php
on line
1386
Warning
: Undefined array key "height" in
/var/www/vhosts/custompcreview.com/public_html/wp-includes/media.php
on line
1386
Warning
: Undefined array key "width" in
/var/www/vhosts/custompcreview.com/public_html/wp-includes/media.php
on line
1381
Warning
: Undefined array key "width" in
/var/www/vhosts/custompcreview.com/public_html/wp-includes/media.php
on line
1386
Warning
: Undefined array key "height" in
/var/www/vhosts/custompcreview.com/public_html/wp-includes/media.php
on line
1386
Warning
: Undefined array key "width" in
/var/www/vhosts/custompcreview.com/public_html/wp-includes/media.php
on line
1381
Warning
: Undefined array key "width" in
/var/www/vhosts/custompcreview.com/public_html/wp-includes/media.php
on line
1386
Warning
: Undefined array key "height" in
/var/www/vhosts/custompcreview.com/public_html/wp-includes/media.php
on line
1386
Congratulations! After a month of skimping out on snacks and beer, you've finally saved up enough money for a reference AMD Radeon HD6970 graphics card. After the initial unboxing and tears or joy, you start up a fragfest in Battlefield 3 and gaze in awe at the massive performance increase over your old 8800GTX.
But as you continue playing, you realize that not all is jolly and well. The card with the stock fan settings run crazy hot, yet the sound of the the fan at 100% sounds like a jet engine in your room. So, you've decided enough is enough! How about an aftermarket heatsink? I mean, your CPU cooler has one so the GPU should too, right?
Yep, you're right! Luckily, Gelid Solutions have noticed this problem, and decided to create a solution. After all, it's in their name. With that, we will introduce to you the Gelid Icy Vision Rev. 2 GPU Cooler. This cooler comes with 5 heatpipes, 85 premium quality aluminum fins and a pure copper base, as well as 2x92mm ball bearings with an S-Shaped fans that boosts airflow by 20%. Will this cooler cool or will it just blow? (No pun intended) Turn the page, and we'll find out!
Features
5 High Performance Power Heatpipes
Premium Aluminum Fins & Pure Copper Base
2 x 92mm S-Shape Fans for 20% additional Air Flow
Ball Bearing for Long Life Time
CrossFire & SLI Compatible
Specifications
| | |
| --- | --- |
| Air Flow (CFM / CMH): | 67.14 / 114.13 |
| Bearing: | 1 Ball & 1 Sleeve |
| Cable Length (mm): | 200 |
| Current (A): | 0.5 (0.25 / fan) |
| DC Voltage (V): | 12 |
| Fan Speed (RPM): | 2000 (+/- 10%) |
| Fan: | 2 x 9215 S-Shape UV Blue Fan |
| Heatsink Dimensions (mm): | 216 L x 95 W x 52 H |
| Life Time MTTF at 40C (h): | 50'000 |
| Noise Level (dBA): | max. 26 |
| Static Pressure (mmAq): | 1.3 |
| Warranty (years): | 5 |
| Weight (g): | 465 |
Compatibility
AMD™:    HD4850, HD4870, HD4890, HD5830, HD5850, HD5870, HD6850, HD6870, HD6950* & HD6970*
Nvidia™: 9800GT, 9800GTX, GTS250, GTX260, 275, 280, 285, GTS450, GTX 460, GTX465, GTX470, GTX480, GTX550TI, GTX560TI, GTX570, GTX580 & Quadro 4000
*In combination with the Enhancement Kit for Rev. 2 ICY Vision 
Included Accessories
Icy Vision Cooler
VRM and Memory Heatsinks
Mounting Hardware
GC-2 Thermal Compound
Case fan adapter cable
Unboxing & A Closer Look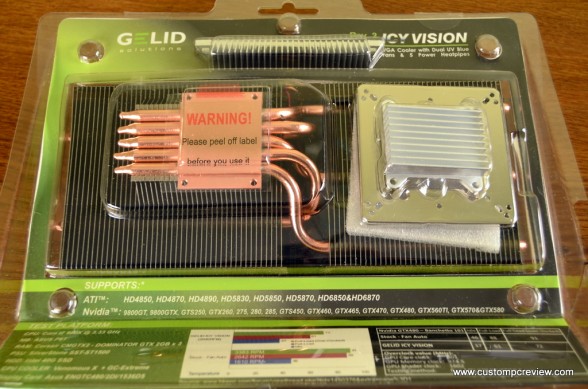 The entire cooler comes in a plastic packaging.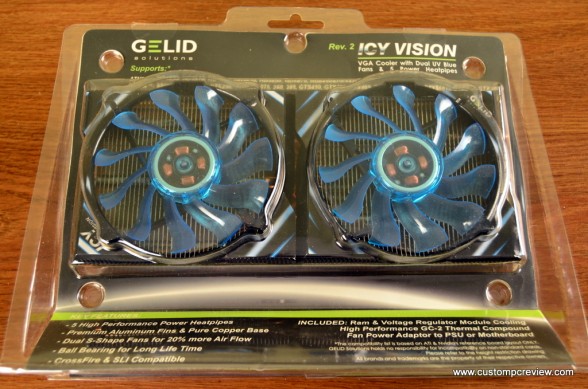 Here we can see the dual 92mm fans on the cooler along with some features of the cooler at the bottom.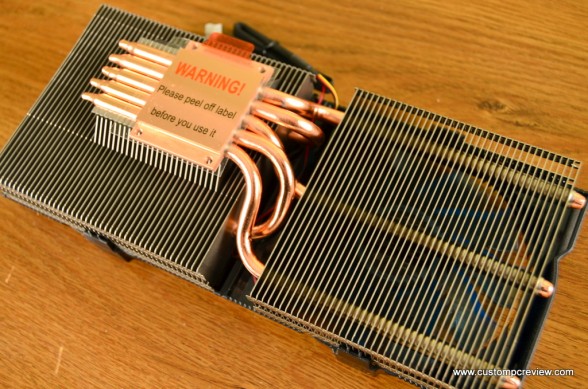 At the bottom we can see the fin and heatpipe arrangement on the cooler.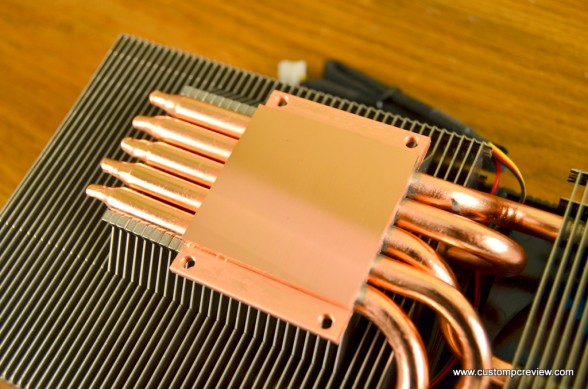 The heatsink baseplate is smooth and well machined, which will give it a good connection to the CPU.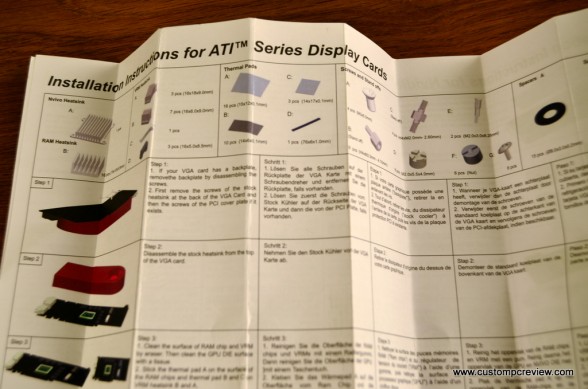 An instruction manual is included on how to remove the stock heatsink and install the Gelid Icy Vision. Unfortunately, this is quite a complicated procedure and definitely something for people comfortable working with computer hardware.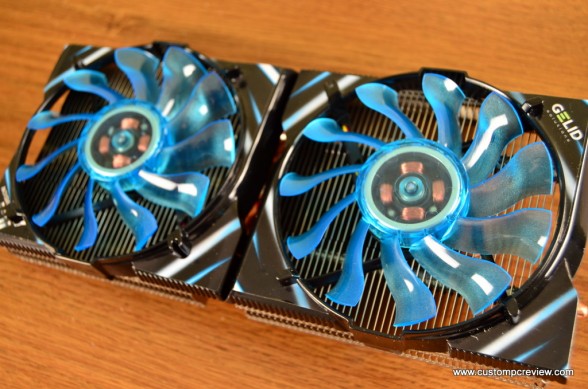 The two 92mm UV reactive fans sit on top of the heatsink. Each fan has 11 blades and spins at around 2000 RPMs.
Although the fan header is four pin which allows it to be installed on the graphics card fan header, the fans are non-PWM.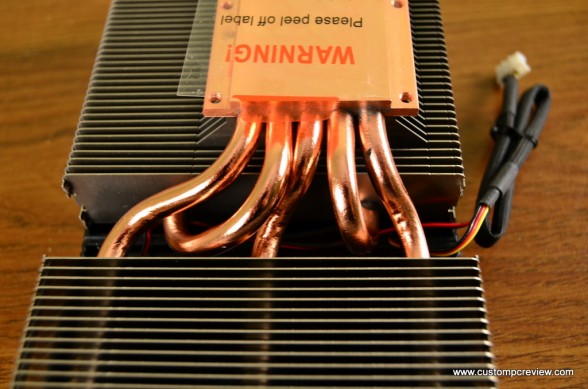 Here we have a good look at the five copper heatpipes running into the hearsinks.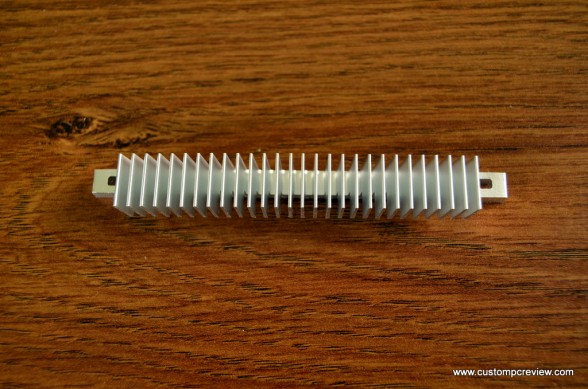 The aluminum VRM cooler for the reference, non-revised AMD Radeon HD6970/6950 PCB.
For those with revision 2 of the 6950/6970 PCB, you may purchase a VRM Cooling Enhancement Kit which will come in the box above.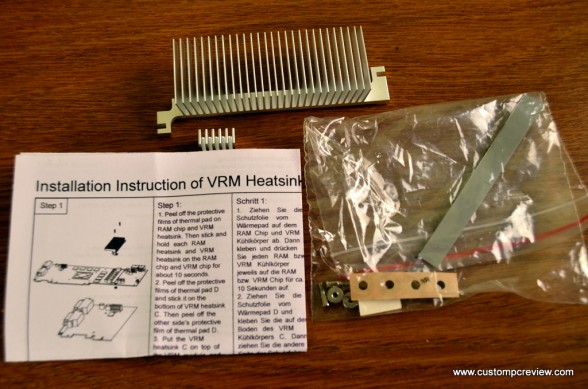 In the box, you will get all the items needed to install the VRM cooler. Again, the VRM cooler depicted  in this picture above is for the revised 6950/6970s
Installation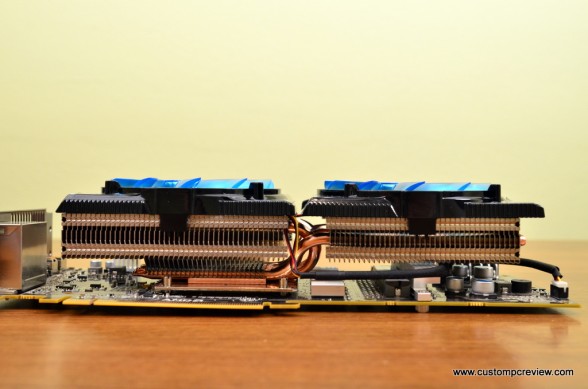 Installation wasn't the most difficult thing I've done, but it was very time consuming, so make sure to set out 1-2 hours for installation. Also, make sure to follow directions in regards to the VRM heatsinks to ensure that your VRMs are properly cooled. With the cooler installed, the 6970 now takes up triple slots. Keep this in mind if you are planning on installing two of these for your crossfire configuration.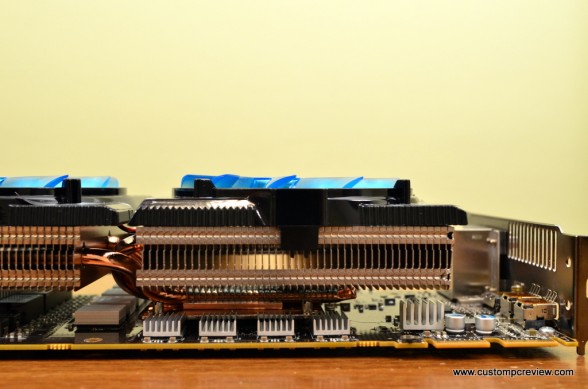 Above, we see the VRM heatsinks installed. Each one will need to be stuck on individually so make sure you have enough time to do so. Do not rush this as you don't want any of the heatsinks to fall off due to improper installation. The copper heat pipes also raise the heat sink quite a bit. Maybe this will help airflow?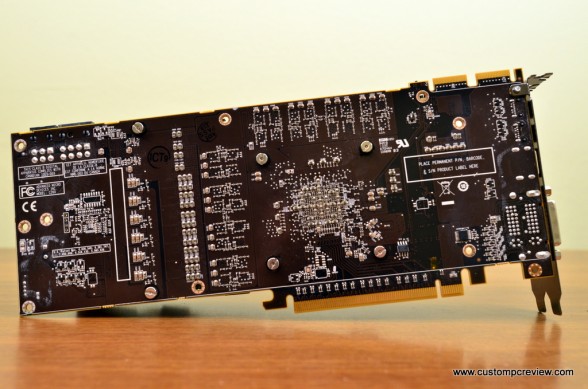 The profile of the cooler does not extend beyond the size of the card which is nice. At the back we can see that the large VRM heatsink and the cooler is mounted on using screws. Unfortunately, the stock backplate on the card must be removed, which doesn't make the card look as good.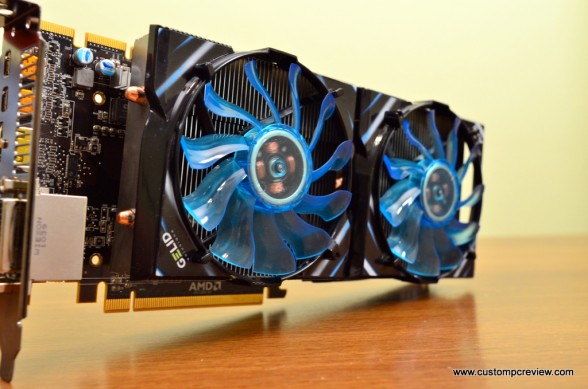 Frontal view of the cooler.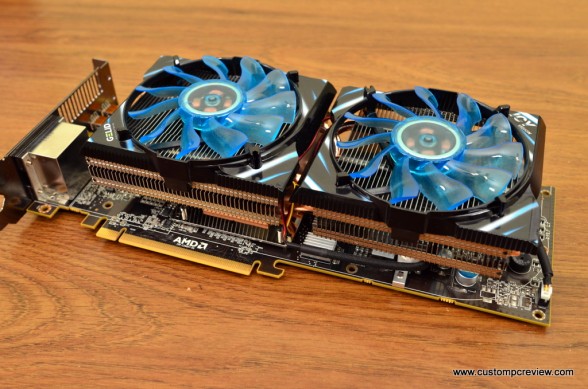 Again, another top view of the cooler. Looks good. Of course, good looks aren't going to make this cooler good, so let's do some testing!
Performance
Test Setup
Intel Core i5 2500K (Overclocked to 4.7GHz)
Asrock Z68 Fatal1ty Professional Gen 3
Gskill Sniper 1866MHz DDR3 1.5v
Patriot Pyro SE 120gb
MSI Radeon HD6970 (Reference)
Gelid GC-Extreme Thermal Compound
Corsair HX650
HSPC High Speed Tech Station
Special thanks to HSPC for providing us with the High Speed Tech Station (large) for our test bench.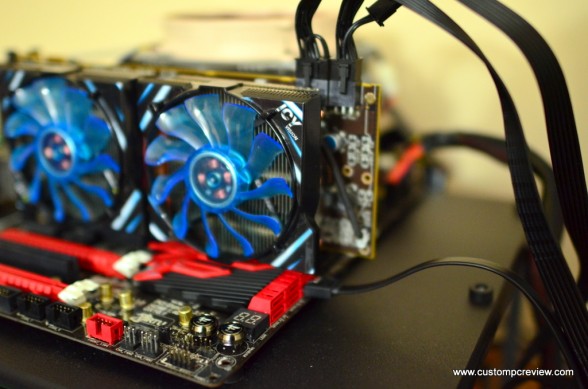 The black and blue color scheme of the cooler fits surprisingly well with the red and black motherboard.
Testing
For testing, we used the FurMark 1.9.2 GPU Stress Test. FurMark tends to stress the GPU to its maximum limits – limits games will never reach, which means we'll be able to load the graphics card up to get maximum possible temperatures.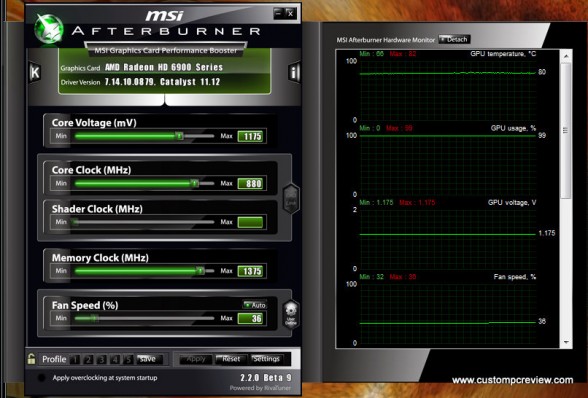 Above we see a screenshot of MSI's Afterburner. The stock AMD cooler with its single fan spinning at auto (36%) managed to keep the card at 80°C, which is extremely hot. Additionally, the fans at 36% were already quite loud as well – definitely louder than my my case fans and my CPU fans.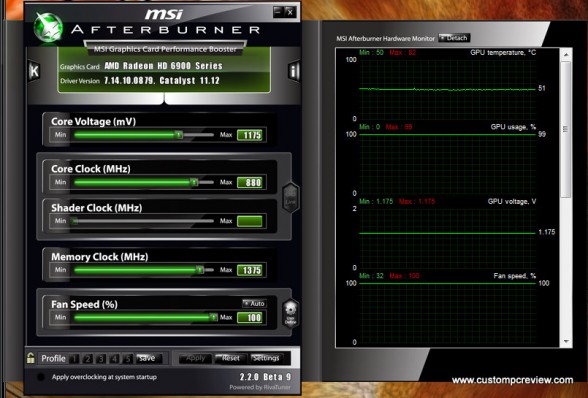 By manually cranking up the stock cooler to 100%, we're able to achieve 51°C at full load. The drawback? It sounds like a jet is taking off in your room.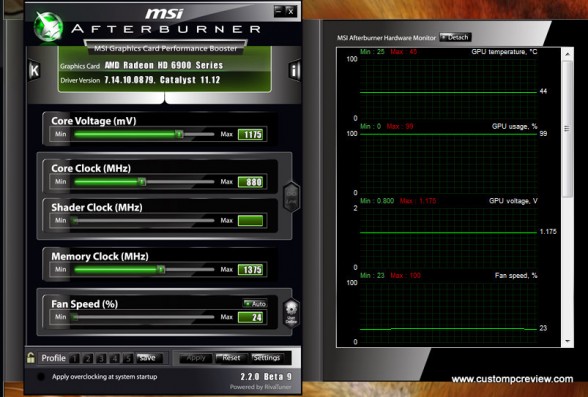 Finally, we ran some testing using the Icy Vision, and with the fans at 100% (~2000rpm) we can see that the GPU temperatures maxed out at only 44°C. Truth be told, the fans are a bit loud – similar to the stock CPU cooler running at around 36%, but it's undeniable that this CPU cooler dominates AMD's stock solution, keeping the GPU at a steady 44°C under 100% load.
Conclusion
What's Cool
By following the instructions, we found the installation process to be fairly painless – given that you know how to apply thermal paste and am comfortable working on computer hardware. You'll definitely want to set aside at least 1 to 2 hours for the install. Make sure to read the instructions carefully and it should be a breeze.
From the performance standpoint, we can clearly see that the Gelid GPU cooler is a whole heck of a lot more capable than the stock cooler. Even with the fan on the stock cooler spinning at 100% (which sounds like a jet engine), the Icy Vision cooler still managed to beat it out by 7 degrees. The dual fans are very powerful, and cools the enormous 3-slot heatsink very well.
What's Not So Cool
Although the fans look and perform great, they are still quite loud at 100%. While running them at 100% isn't necessary per say, Gelid decided to use non PWM fans for this cooler, making adjusting thier speed impossible without a fan controller of some sort. Unfortunately, a fan controller is not included. However, the Icy Vision does come with a GPU fan mount to case fan mount adapter so you can connect it to any 3rd party fan controller you'd like; however, it would add to its cost. I'd definitely like to see Gelid include PWM fans or at least a fan controller with the Icy Vision for the next revision.
Additionally, the enormous heatsink eats up two slots. This means unless your motherboard allots 3 slots between PCIe x16 lanes, you'll have a problem running a CrossFire/SLI solution. If you're only planning on installing a single card, this is a great solution.
Bottom Line
Overall, the Gelid Icy Vision did what it was supposed to do, and that is to cool hot GPUs like the AMD Radeon HD6970. It was very effective in our testing and would be an excellent choice for anyone thinking about getting an aftermarket GPU cooler.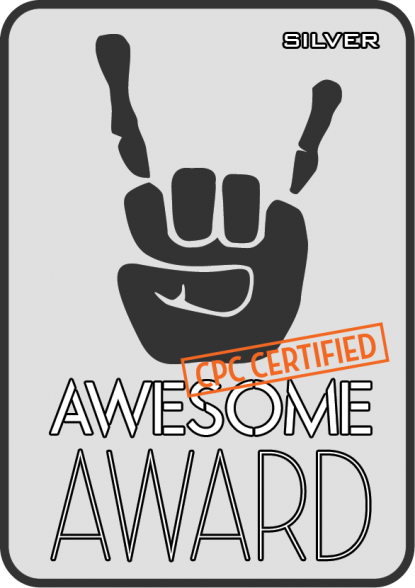 The Gelid Icy Vision Rev 2 is currently available on Newegg.
Special thanks to Gelid Solution for making this review possible!