[section label=1. Introduction]
Been There, Done That. What Else?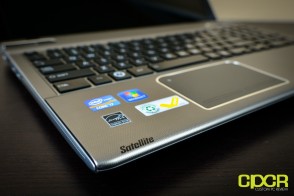 Yup, the Toshiba Satellite. It's one of those iconic names that's been around for a really long time and represents a huge range of Toshiba notebooks ranging from the budget to the mid/high end. Today, we'll be reviewing one of Toshiba's Satellite models, the Satellite P855-S5200.
The Satellite P855-S5200 is one of Toshiba's middle of the road Satellite notebooks which, from a performance standpoint, sits somewhere between the ultra budget Satellites' and the high end Satellites'.
Taking a look at the specifications for the P855-S5200, we get a fairly powerful Intel Core i7 3610QM, which for those of you know checked out our recent review of the CyberPowerPC X6-9120 will know that it's an excellent processor that strikes a very nice balance between TDP, price and performance. In addition to this the P855-S5200 also comes equipped with 8GB of DDR3, a 750GB hard drive, harman/karman stereo speakers, and more.
How does it stack up? Let's dig in!
Toshiba Satellite P855-S5200 Specifications
| | |
| --- | --- |
| Manufacturer | Toshiba |
| Model | Satellite P855-S5200 |
| CPU | Intel Core i7-3610QM (2.3GHz, 3.3GHz Turbo) Processor |
| Motherboard | Mobile Intel®HM76 Chipset |
| Memory | 8GB (2x4GB) DDR3 1600MHz Memory |
| Graphics | Intel HD 4000 Integrated |
| Storage | Toshiba 750GB 5400RPM HDD |
| Optical Drive | TSST DVD-SuperMulti drive (+/-R double layer) |
| Display | 15.6″ 1366×768 LED Backlit Display |
| Sound | Harman/Kardon Stereo Speakers |
| Networking | Built-in 10/100 Mbps + Wireless b/g/n + WiDi Capable |
| Keyboard | Built-in Keyboard |
| Mouse | Built-in Multi-gesture Touchpad |
| Battery | 6 Cell Li-Ion Polymer Battery (48Wh) |
| Webcam | Built-in 1.3 Mega Pixel Webcam |
| I/O | HDMI, 4x USB 3.0, Ethernet, Multi-card Reader, 3.5mm Headphone/Microphone Jack, Kensington Lock, VGA, SD Card Slot |
| Operating System | Microsoft® Windows 7 Home Premium (64-bit Edition) SP1 |
| Dimensions | 13.15″ x 9.25″ x ~0.704″ (344mm x 235mm x 17.9mm) |
| Weight | 5.4 lbs |
| Warranty | 1-Year Parts and Labor, 1 Year Battery |
[section label=2. A Closer Look (Exterior)]
A Closer Look at the Satellite P855-S5200 (Exterior)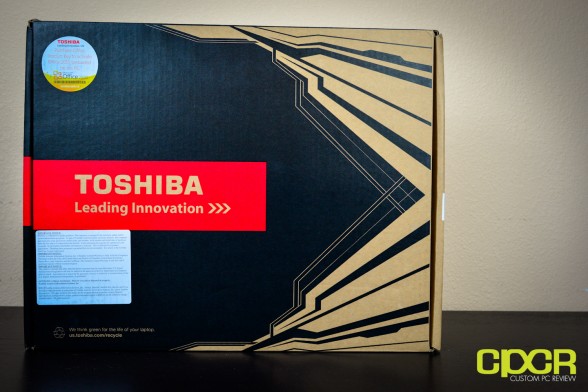 Here's a look at the front of the packaging.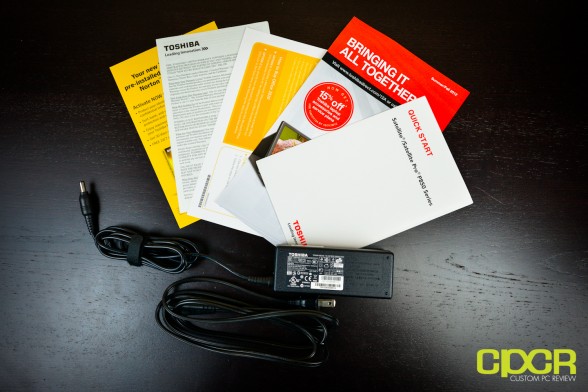 Inside the packaging, we get the usual bits of documentation along with a 75w power brick.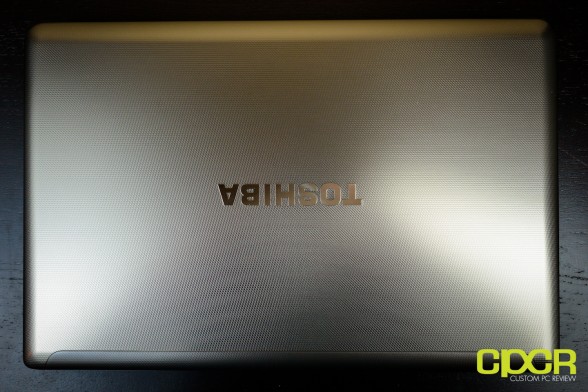 Let's take a look at the Satellite P855-S5200. The top is finished with a silver metallic (aluminum) type of finish, which feels fairly durable. The center of the cover also includes a reflective Toshiba logo.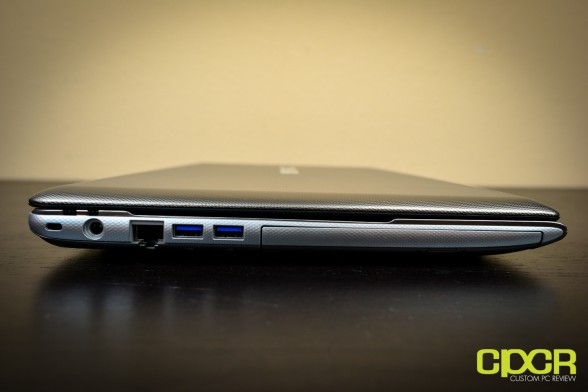 Along the left side we get a Kensington lock port, DC in, two USB 3.0 ports, and the optical drive.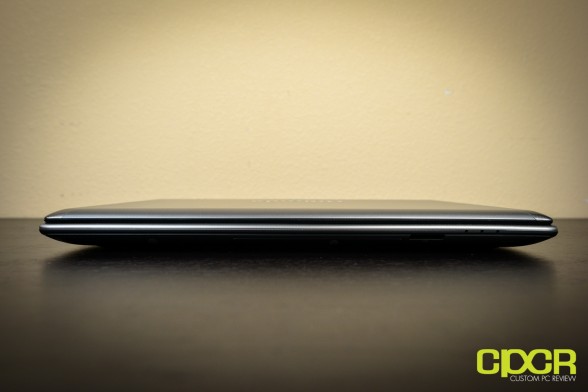 Here's a look at the front. While it may be difficult to see, along the right side there's a SD card slot.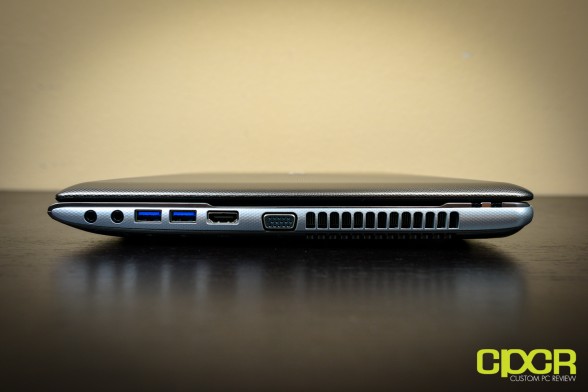 Moving over to the right side, we get a headphone and microphone jack, two more USB 3.0 ports, a HDMI port and a VGA port. There's also a huge vent here as well for heat dissipation.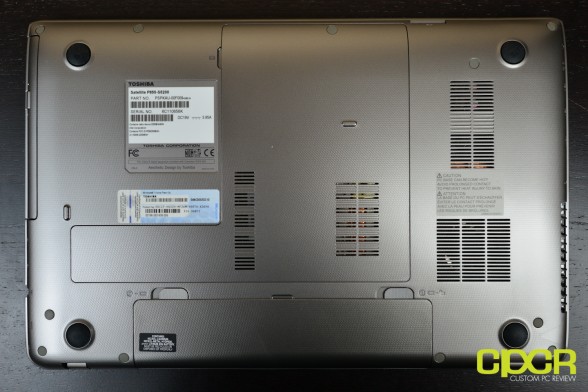 Here's a look at the bottom of the notebook.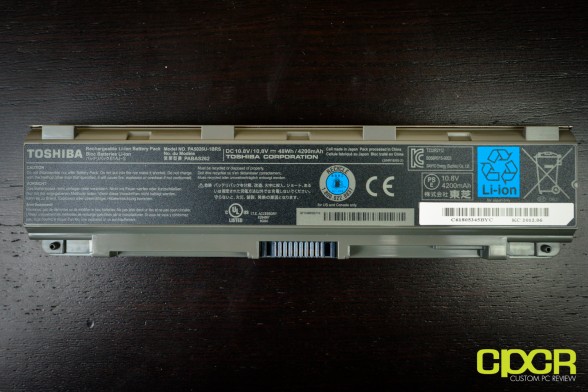 Here's a closer look at the battery. It's a 6 cell 48Wh, 4200 mAh Toshiba branded battery.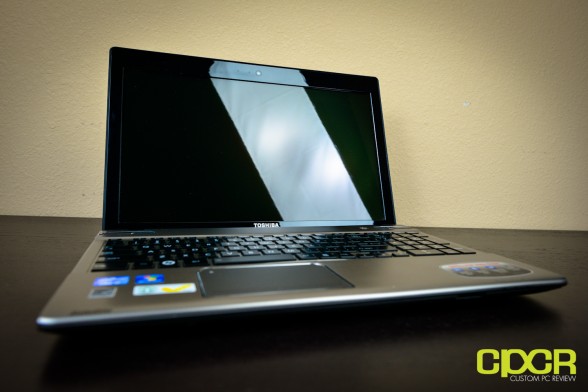 Opening up the notebook, we can immediately see that the 15.6″ glossy display along with the built in 1.3 MP webcam.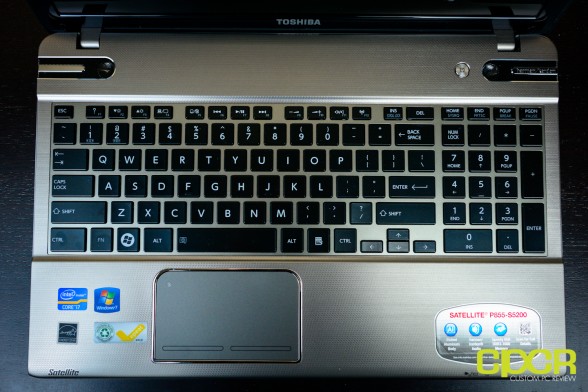 Here's a look at the keyboard and the trackpad. The keys itself are medium sized keys in the standard US layout with the tenkey included as well. Unfortunately, there are a number of keys that are reduced in size such as the entire top row of F keys to the page down key, the arrow keys, the space key, the backspace key, etc.
The trackpad is a fairly large sized multi-gesture trackpad with both buttons on the trackpad. Personally, I found this design a bit problematic as moving over to a specific location on screen with one finger then clicking with another sometimes caused the multi-gesture trackpad to think I wanted to do some sort of gesture.
[section label=4. Initial Boot]
Satellite P855-S5200 Initial Boot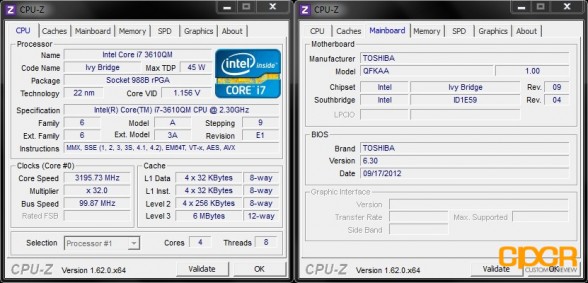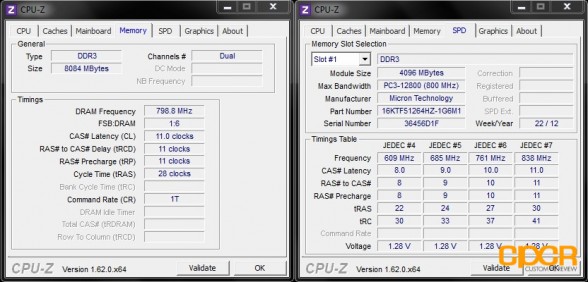 Here's a quick look at the CPU/motherboard/memory trifecta. The motherboard is an Intel HM76 motherboard paired up with an Intel Core i7 3610QM processor, capable of turboing up to 3.3GHz. We've also got 8GB (2x4GB) DDR3 1600MHz CAS 11 memory. The memory seems to be from Crucial since the manufacturer listed is Micron.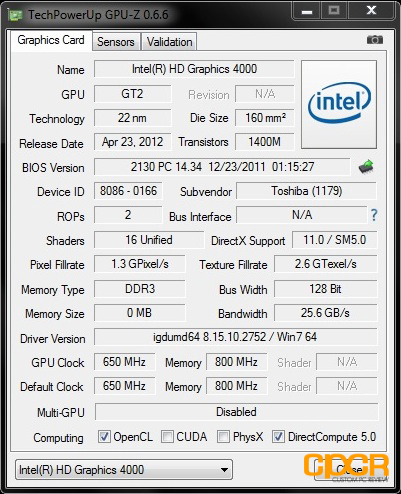 Since there's no dedicated graphics card, we're left with Intel HD 4000 graphics. We've seen this many times before, so let's just move on.
[section label=5. CPU Performance]
Satellite P855-S5200 CPU Performance
SuperPi 32M
SuperPi is a single threaded benchmarking tool which for our purposes simply calculates pi for us and records the time to calculate 32 million digits after the decimal point.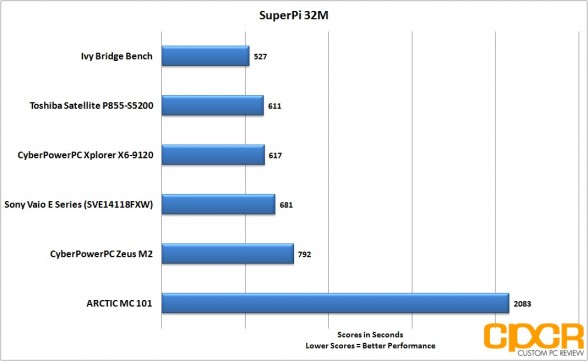 WPrime 32M
WPrime is a multi-threaded benchmarking tool which for our purposes simply calculates pi for us and records the time to calculate 32 million digits after the decimal point.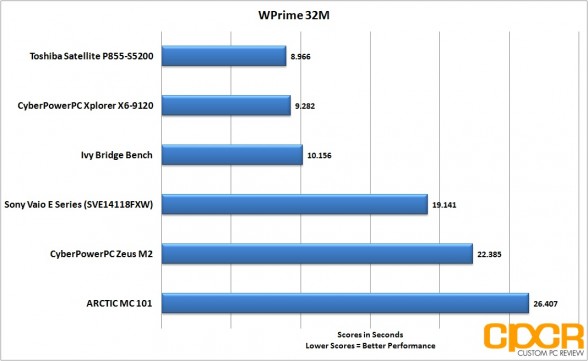 x264 HD Video Benchmark v5.0.1
x264 HD video benchmark tests how fast the system can encode a 1080p video into a high quality x264 video file. The most recent 5.0.1 release includes a more advanced benchmark script to better stress test newer multi-core processors.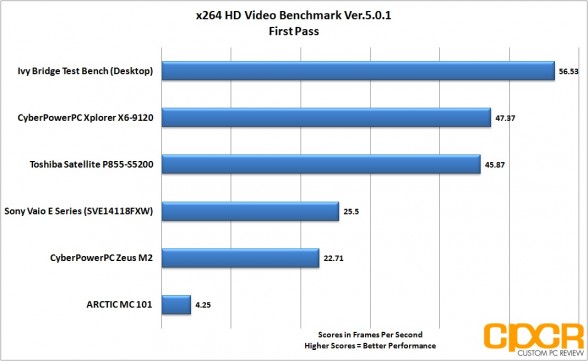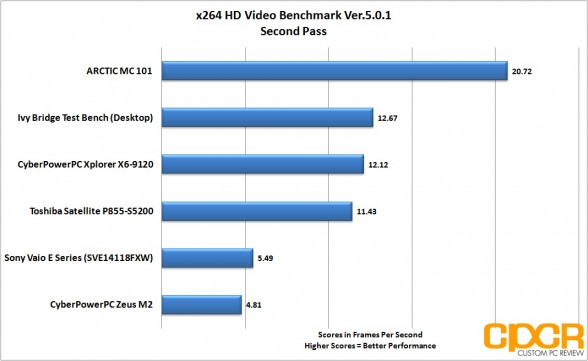 AIDA64 Extreme Edition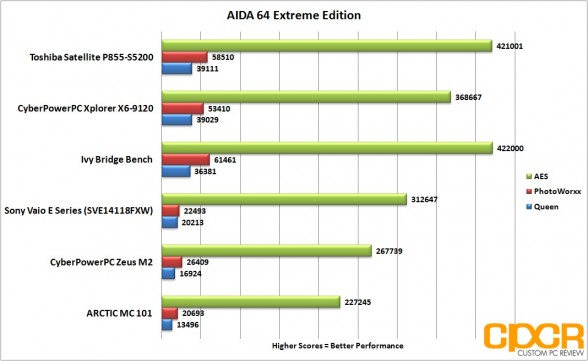 Cinebench v11.5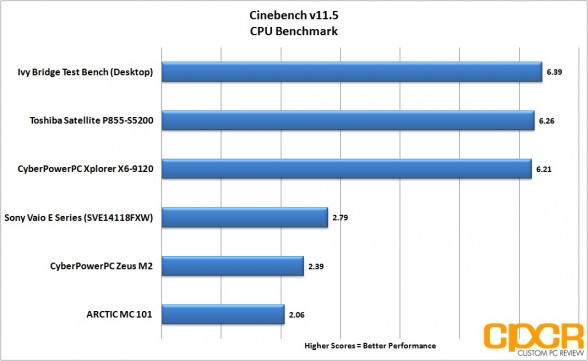 Performance Analysis
I've seen the excellent performance from the i7 3610QM when I reviewed the CyberPowerPC X6-9120 previously and with the Satellite P855-S5200 having the exact same processor, I had a pretty good idea of what kind of performance to expect. In the SuperPi single-threaded benchmark, the 3610QM did an excellent job blowing away all mobile competitors and getting a good performance margin against the older generation Sandy Bridge based i5-2460M on the Sony Vaio E.
In multi-threaded apps, the i7-3610QM was really able to flex its Hyper Threading capabilities as it was able to nearly go toe to toe with our desktop Ivy Bridge i5 3570K testbench. Considering the i5 3570K has a significantly higher TDP of 77w in comparison to the i7-3610QM's TDP of 45w, this is some seriously efficient performance we're looking at here.
[section label=6. System / Graphics Performance]
Satellite P855-S5200 Performance
System Performance
PC Mark 7
PC Mark 7 is a full system benchmark designed to test real world system performance.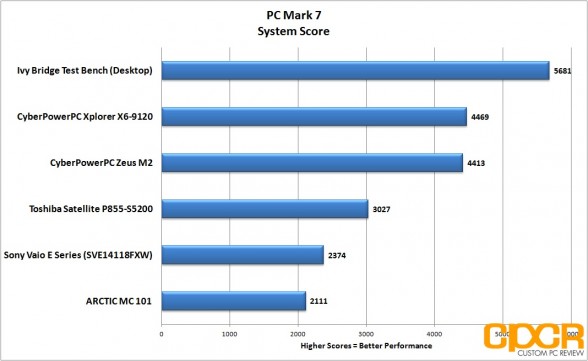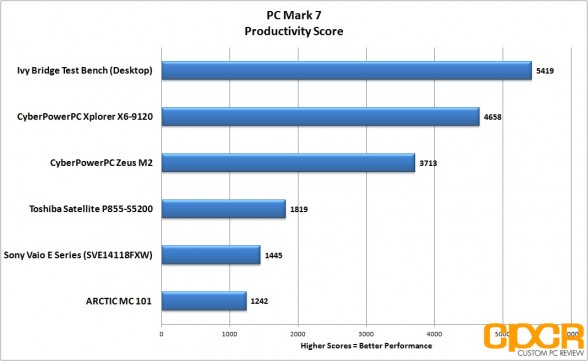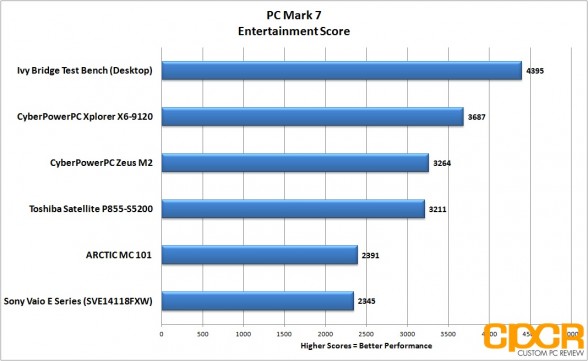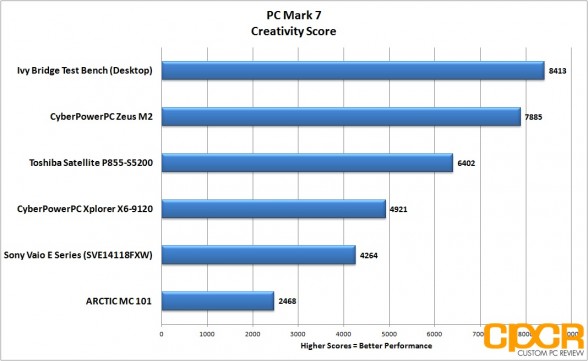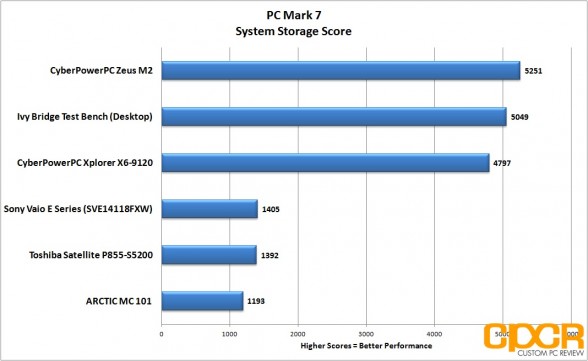 Performance Analysis
Since PC Mark 7 tests for the overall performance of the system and heavily favors systems that have SSDs, it's no surprise that Satellite P855 looks like it's hopping on one leg with its 750GB 5400RPM HDD. Despite having a significantly more powerful CPU, the Satellite P855-S5200 scores lower than even the Zeus M2 Ultrabook, which is only outfitted with a 17w TDP i5-3317U ULV processor but is equipped with an 120GB Intel 520 SSD.
Graphics Performance
3D Mark 11
Performance Analysis
When it comes to 3D horsepower, the HD4000 graphics processor is pretty much just typical integrated graphics. Should be OK for those looking to play some flash games or something less graphically demanding such as Starcraft 2, but those looking to play anything more graphics intensive should consider getting a notebook with a dedicated graphics card.
[section label=7. Disk / USB 3.0 Performance]
Satellite P855-S5200 Performance
Disk Performance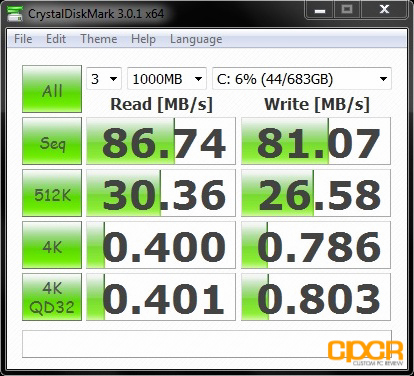 Presumably to save on costs and increase disk capacity, Toshiba went with a 750GB 5400RPM drive, which as you can see above is extremely, extremely slow. Those opting to go with the Satellite P855-S5200 are encouraged to replace the hard drive with a faster SSD.
USB 3.0 Performance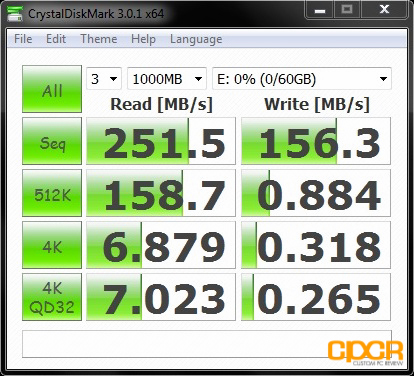 Plugging our usual Kingston HyperX 64GB USB 3.0 drive, we can see that USB 3.0 performance on the P855-S5200 is up to par with its competitors. As expected of course, since it's an Intel controlled USB 3.0 port. It's always interesting to see when the performance of a USB flash drive is faster than the disk drive included though, as seen here…
[section label=8. Power Consumption / Temperature / Noise]
Satellite P855-S5200 Power Consumption
Here we'll be testing the maximum power consumption of each of the test systems shown below. Idle power consumption is taken after the notebook is left idle for a minimum of 5 minutes. For load power consumption numbers, both Prime95 and Furmark are run simultaneously for a minimum of 5 minutes before the final results are taken. If possible, the battery is removed for a more accurate reading of power consumption. Power consumption readings are taken using a Extech 380801 Power Analyzer connected via a Tripp-Lite LCR2400 Line Conditioner.
For our testing below, the notebooks are set to "balanced" power mode with the screens at 200 nits of brightness.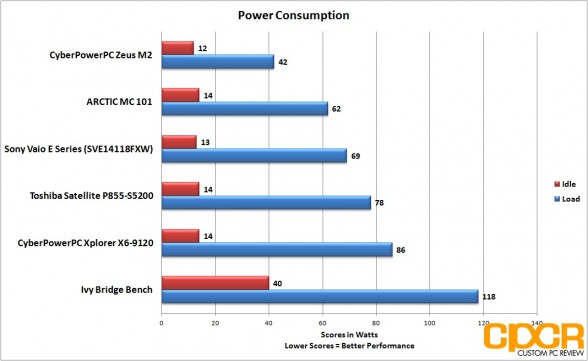 Under full load, the Satellite P855-S5200 draws about 78w, which is about 8w lower than the similarly equipped Xplorer X6-9120. That said, the Xplorer X6-9120 does also come with a dedicated graphics card, which contributes most to the increased power draw under load.
Powermark Professional Edition v1.1.1
Powermark is a benchmark utility developed by developers behind both 3D Mark as well as PC Mark. This benchmark is designed to test real world battery life in a variety of situations such as web browsing or gaming. For our testing today, the system power setting is set to "balanced", the screen is set to 100 nits of brightness, and the wireless is switched on.
Light Load
The productivity test includes the web browsing and word processing workloads, simulating a typical work use scenario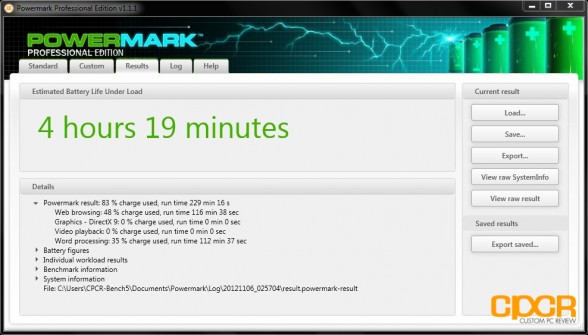 Medium Load
The balanced test uses an even split between the web browsing, word processing, video and gaming workloads.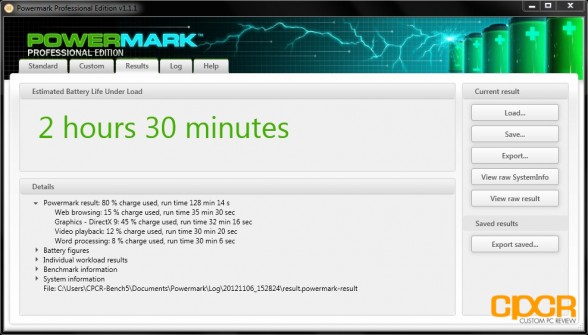 Heavy Load
The entertainment test includes the video and gaming workloads, simulating a typical recreational use scenario.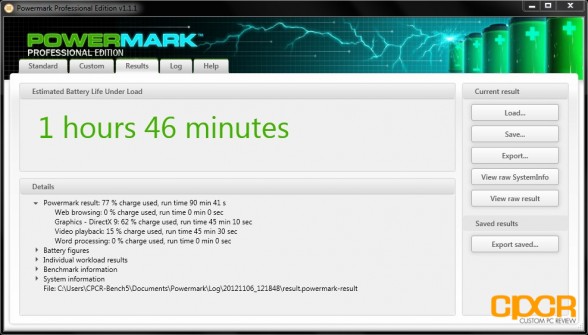 For those who may not have noticed, I recently began testing battery life at 100 nits rather than testing at 200 nits. I think 100 nits is more representative of how most users use their notebooks when using it on battery (screen at maybe 50% brightness or so). Anyway, the results here aren't too bad with the Satellite P855-S5200 getting approximately 4 hours and 19 minutes of battery life under a light load. In a heavy load however (movie, gaming, etc.), the battery life drops to about 1 hour and 46 minutes, which is just about enough to watch your favorite movie.
Satellite P855-S5200 Temperature and Noise
Temperature testing is conducted by simultaneously running Prime 95 and Furmark in order to generate the maximum amount of heat possible. Temperatures are taken after a minimum of 20 minutes of testing.
Ambient Temperature – 21.7°C (Taken via Extech EA10 dual probe thermometer)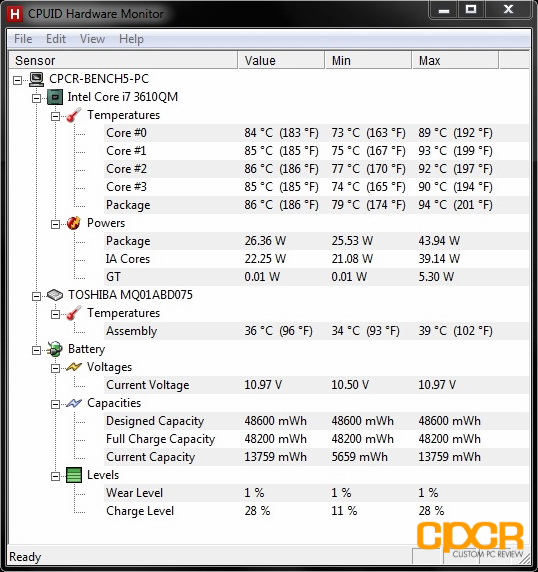 Taking a look at temperatures here, I'm inclined to think that Toshiba hasn't really done a great great job here. As you can see from the results above, the CPU averaged a whopping 91°C during testing, which is about 6°C higher than what we saw in the Xplorer X6-9120 despite the Xplorer also containing a dedicated graphics card. That said, there are still a couple degrees to go prior to the processor getting throttled, but I'd definitely try to find a way to allow this notebook to breathe. There isn't much of a margin here.
In terms of noise performance, the Satellite P855-S5200 wasn't too bad. At higher loads, the fans are set to spin up, but during idle periods, the fans are near silent. No major issues here.
[section label=9. LCD Testing]
Satellite P855-S5200 LCD Testing
The screen included on the Satellite P855-S5200 is a 15.6″ "HD TruBrite" LED backlit display.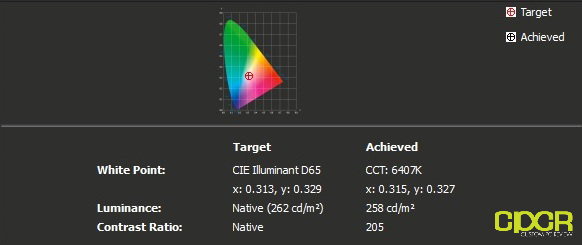 With a little calibration, I was able to achieve a contrast ratio of 205 and approximately 258 nits at the maximum brightness setting.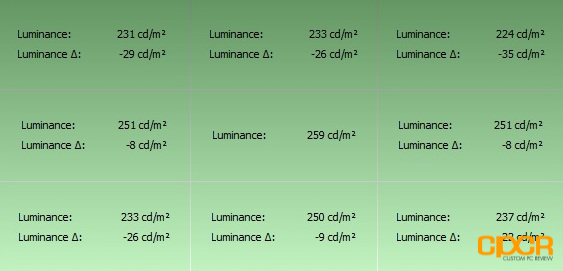 In terms of backlight uniformity, the Satellite P855-S5200 doesn't do all that well as the corners of the display along with the top is much dimmer than the center and the left, right and bottom.
Taking a look at the screen here, colors aren't all that great, just average at best. Should be enough for a typical web browsing, YouTube, etc. machine, but I'd definitely look somewhere else if color accuracy is crucial.
Being a TN display, viewing angles are quite bad and we can see here that moving slightly to the side causes the screen to wash out quite a bit.
Vertical viewing angles are equally as bad if not worse than horizontal viewing angles.
[section label=10. Conclusions]
Satellite P855-S5200 Conclusions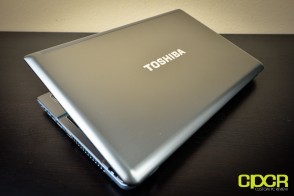 So I'm sitting here thinking about how to sum up the Satellite P855-S5200 and the best way I can describe it is that it's just your average notebook. Nothing too special here and nothing too special there, designed for some basic word processing, internet use, and some multimedia.
Of everything, I found CPU performance to be best so let's start there. Carrying an Intel i7 3610QM, the P855-S5200 is capable of turboing up to 3.3GHz, which  really does make this laptop a beast in terms of CPU performance. In multi-threaded appliactions and benchmarks, it was almost able to catch up to the much higher TDP, desktop oriented Intel Core i5 3570K.
That along with ample memory should make this an excellent multimedia machine for encoding videos or music files. Those who want to do light video editing will also find that the processor on the machine more than capable for the task. Sadly, Toshiba did go with a killer combination of a very average screen and an incredibly slow traditional hard drive, which does put a damper on this as being a great entertainment laptop.
Appearance wise, the Satellite P855-S5200 isn't bad. It has a nice looking aluminum chassis, but unfortunately it's not the sleeker brushed aluminum variety. Physically, it's 15.2″ wide, 9.9″ deep and 1.2″ in height and in terms of weight, it's about 5.4 lbs, so it's definitely not looking to be too portable.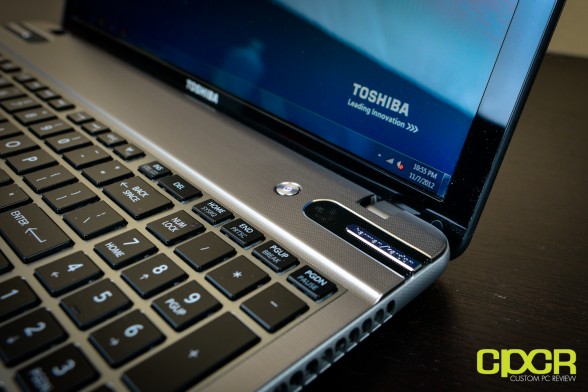 In terms of features, there really isn't much to say about the Satellite P855-S5200. Speakers are harman/kardon branded and while they are fairly decent for laptop speakers, they are at the end of the day just laptop speakers. Battery life is pretty average at best and for typical mixed usage, about two and a half hours can be expected with the brightness turned down a bit. The Satellite P855-S5200 does have wireless B/G/N which works nicely out of the box. Bluetooth is missing from the system, but it does include Intel WiDi, which is Intel's wireless display technology. Unfortuantely, I didn't have an adapter to test this with, but those interested in learning more about Intel WiDi, be sure to check out Intel's WiDi information page here.
Pricing on the Satellite P855-S5200 is about $729.99 from Microcenter, which isn't too bad for a notebook with such a powerful processor. That said such a powerful processor does seem like it's being wasted when paired without a dedicated graphics card, a SSD or a better screen.
Bottom Line
The Toshiba Satellite P855-S5200 is pretty much going to be your run of the mill, big box manufacturer notebook. It's got a fair amount of CPU processing power, but not much else. Those looking for a simple notebook to check e-mails, surf the web, watch some movies, etc. will find that the Satellite P855-S5200 is more than enough to fit your needs. That said, if you can find these discounted sometime this holiday season, I don't see why it wouldn't be worth it to pick one up to drop in some upgrades down the line.
Special thanks to Toshiba for making this review possible!
The Satellite P855-S5200 is currently available at Microcenter!