CyberPowerPC Xplorer X6-9120 Gaming Laptop Review
High Performance at a Budget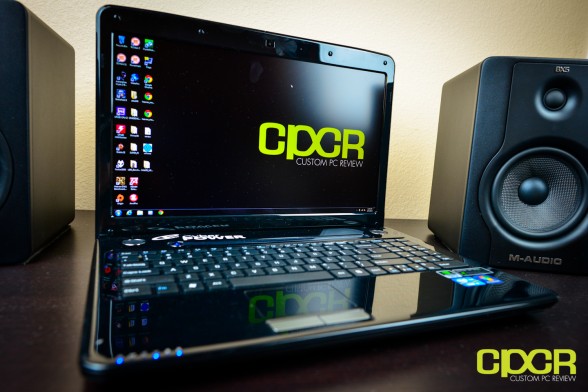 These days when most of us go out shopping for pre-built laptops, the top choices include Apple, Dell, HP, etc., and while the big box manufacturers produce products that are most compelling, there are also lesser known, enthusiast oriented manufacturers such as CyberPowerPC who are able to provide customers with the same hardware at a much lower cost.
For those unfamiliar with CyberPowerPC, they are actually a fairly large and reputable company well known for producing custom built desktop PCs and notebooks. Now unlike going with computers from most big box manufacturers, the benefits of going with a company like CyberPowerPC is that you get a lot of choice in terms of what kind of components will go into the final product. This is important because customers are able to do their own research on parts going into the system and replacing or upgrading those parts in the future will be fairly easy.
Today, we'll be reviewing the new budget oriented CyberPowerPC Xplorer X6-9120 15.6″ gaming notebook. The Xplorer X6-9120 is actually what enthusiasts typically call a "whitebook". In short, whitebooks are basically barebones notebooks produced by large notebook manufacturers to be sold to resellers, OEMs, etc. so that they may be rebranded, configured and then sold to end users. The specific whitebook we have today is the Pegatron A15FD. One thing to note is that you shouldn't confuse a whitebook with being lower quality, as the same notebook manufacturers who produce these whitebooks generally also produce notebooks for the big box manufacturers (Dell, HP, etc.) as well.
Specifications
In addition to the standard features, the CyberPowerPC Xplorer X6-9120 configuration we're taking a look at today will come with the Intel Core i7 3610QM, 8GB of GSkill DDR3 1333MHz memory, a GeForce GT 640M 2GB discrete graphics card, and a 120GB OCZ Agility 3 SSD. Full specifications below.
| | |
| --- | --- |
| Notebook | A15FD Gaming Notebook 15.6″ Full HD 1920×1080 Display w/ Built-in 1.3MP Webcam, HDMI Port, Li-Ion Battery, & Universal AC Adapter |
| CPU | Intel® Core™ i7-3610QM Mobile Processor 2.30 GHz 6M Smart Cache, Max Turbo Freq. 3.30 GHz |
| Motherboard | Intel HM76 Chipset Mainboard |
| Memory | 8GB (4GBx2) DDR3-1333 GSkill SODIMM Memory |
| Graphics | NVIDIA GT 640M 2GB PCIe Video |
| Storage | 120GB OCZ Agility 3 SSD |
| Optical Drive | 8X DVD±R/RW/4X +DL Super-Multi Drive (NB-353-DVDRW) |
| Display | 15.6″ (16:9) 1920×1080 LED Matte |
| Sound | Built-in Stereo Speakers |
| Networking | Built-in 10/100/1000 Mbps + Wireless b/g/n + Bluetooth v3.0 |
| Keyboard | Built-in Keyboard |
| Mouse | Built-in Touchpad |
| Battery | 6-cell Li-Ion Battery Pack 4800mAh |
| Webcam | Built-in 1.3 Mega Pixel Webcam |
| I/O | HDMI, VGA, 2x USB 2.0, 2x USB 3.0, Ethernet, 3 in 1 Media Reader, 3.5mm Headphone/Microphone, Kensington Lock |
| Operating System | Microsoft® Windows 7 Home Premium (64-bit Edition) |
| Dimensions | 280mm x 260mm x 27.1mm (14.96″ x 10.24″ x 1.07″) |
| Weight | ~ 2.8kg (~ 6.17 Lbs.) with Battery |
| Warranty | 1-Year Limited Warranty with Lifetime Technical Support |