CM Storm Stryker Case Review
CM Storm Trooper in White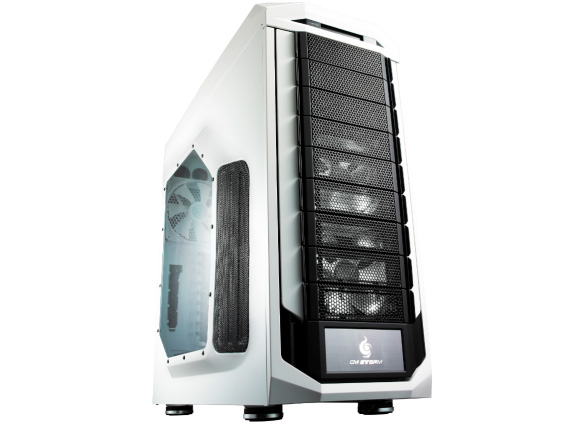 Truth be told, when I first laid eyes the CM Storm Trooper last year, I wasn't quite sold. Not because it wasn't a good case, no, on the contrary, it was a great case; possibly among the best Cooler Master has ever made. But, compared to some of the other stuff on the market (some even from Cooler Master themselves), it just seemed a bit dull – a bit boring even.
Why? Well, it's a high end gaming case designed to house some of the most beautiful, most expensive computer components in the world, and Cooler Master forgot to give it a windowed sidepanel. Oops! In addition, the outward appearance of the case seemed kinda dull to me. Sure there were some vents here and there, and there was a handle, but to be honest it simply seemed like one of those cases that you hide in a corner rather than proudly display at the next LAN party. In terms of its appearance, I didn't really feel it was much competition even against some of its cousins, the HAF 932 or the HAF X.
If only we could get the CM Storm Trooper with a windowed sidepanel and a more flashy paintjob…
Meet the CM Storm Stryker. When I got my first glimpse of the CM Storm Stryker, I thought it was a brand new case. While it looked near identical to the CM Storm Trooper, it had a white paintjob, some beautiful white LED fans lighting up the black mesh up front and, perhaps the biggest improvement, a windowed sidepanel. The combination of the name change along with the new aesthetics really got me thinking Cooler Master had unveiled a whole new case, but it really wasn't. (Probably something to do with a certain solder unit of the Imperial Navy)
Fresh paintjob on a functionally awesome case… what could go wrong?
CM Storm Stryker Specifications