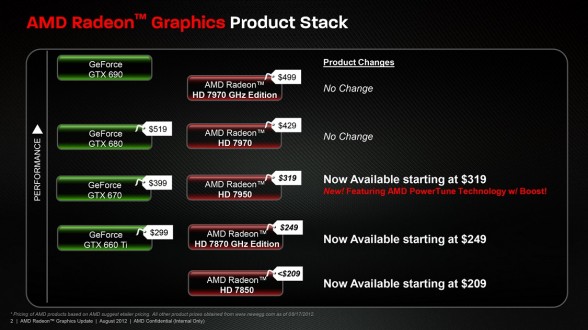 According to a recent report over at AnandTech, AMD is preparing a new round of price cuts for their Radeon HD 7800 series graphics cards despite already cutting prices on the cards numerous times previously. This move by AMD is more than likely triggered by Nvidia's recent launch of the GeForce GTX 660 Ti, which is capable of performing around the level of the Radeon HD 7950.
The new price cuts on the HD 7800 series graphics cards are as follows:
Radeon HD 7870 – $249
Radeon HD 7850 -$209
In addition to the Radeon HD 7850 price cuts, the Radeon HD 7950 is receiving a price cut as well, moving down to $319, which puts it a lot closer to Nvidia's GeForce GTX 660 Ti's pricing of $299. The price cuts should take place by the end of the week and updated pricing should be available in the coming weeks.
AMD is also planning a new gaming bundle as well and will be including the new Square Enix title, Sleeping Dogs, which will replace the DiRT Showdown bundle. More information at the jump below.
Source & Image Source: AnandTech