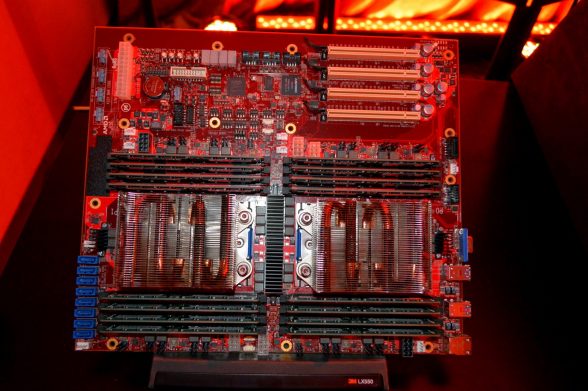 Although AMD's upcoming consumer Zen CPU, codename Summit Ridge, has been all the talk in the past few months, an even bigger, more important chip coming down the pipeline is AMD's upcoming 32-core Zen based chip, codename Naples. This is important because Intel's most profitable sector is in the enterprise where they hold over 99% marketshare in the CPU market. With AMD planning to jump back into the market, it could significantly change the landscape especially considering their upcoming Zen architecture is promising massive gains in performance.
While AMD hasn't released many official specifications or benchmark figures on its new CPU, some keen eyes from the guys at WCCFTech managed to spot some benchmarks that may have inadvertently leaked into the GeekBench database.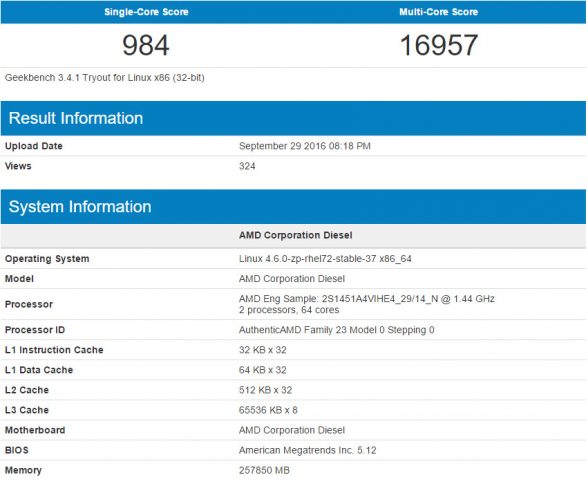 Here we can see that the benchmark is for an AMD Engineering Sample running at 1.44GHz with a boost clock up to 2.9GHz as denoted by its part number "2S1451A4VIHE4_29/14_N". It has 64 cores listed, but because it's two CPUs, each CPU will contain 32-cores. Interestingly, it also has a massive 65536 KB L3 cache which is massive and isn't something you'd typically see on a CPU.
The motherboard is an AMD Diesel based motherboard which may be the one shown above. In this specific system, it looks like it has 257850MB of DDR4 memory.
As for the Geekbench score, the system scored 16,957 for the multi-core.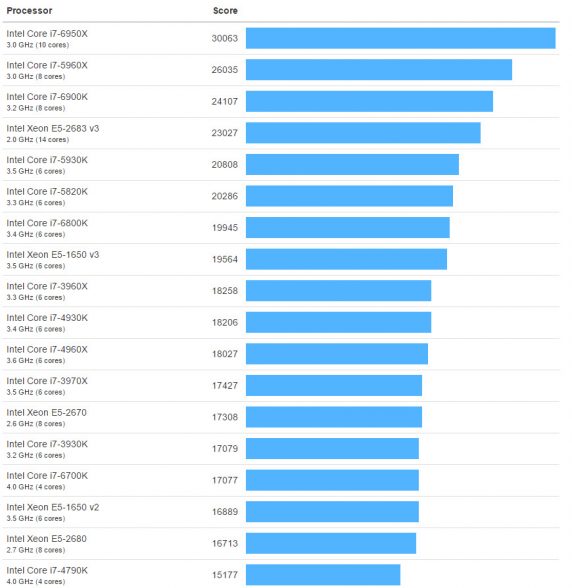 While we weren't able to pull any information on a comparably clocked Intel chips, here's some Geekbench scores with Intel chips. At a score just shy of 17,000, the AMD Engineering Sample still some ways away from dethroning the top end Core i7, but keep in mind this is a very early engineering sample with very low clock speeds. At 64 cores on a dual socket motherboard, even a 100MHz clock speed increase could mean some huge differences in multi-core performance.
AMD expects to begin shipping their Zen based server CPUs in 2Q2017.
Source: Geekbench via WCCFTech
Image Source: Anandtech