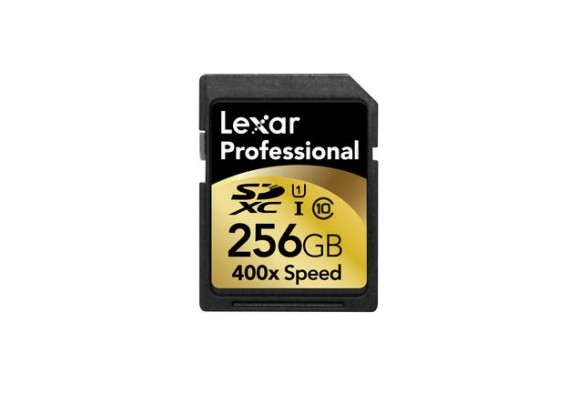 Press Release
New High-Capacity 400x SDXC UHS-I Card Offers Impressive Performance and Extended Capture of High-Resolution Images and 1080p Full-HD and 3D Video
Lexar, a leading global brand of flash memory products, today introduced the industry's first 256GB Secure Digital Extended Capacity (SDXC™) UHS-I memory card, the Lexar® Professional 400x SDXC UHS-I card. The Class 10 card leverages the SD 3.0 specification to dramatically accelerate workflow and allows photographers to capture, store, and transfer a large number of high-quality photos and extended lengths of 1080p full-HD and 3D video with a minimum guaranteed sustained read transfer speed of 60MB per second.* When paired with a compatible card reader, such as the Lexar® Professional USB 3.0 Dual-Slot Reader, the Professional 400x SDXC card quickly and reliably transfers images and video from the memory card to the computer.
"Professional photographers and videographers are being tapped to capture more HD video, in addition to still photos, when out on assignment. These new demands often leave them with less time and resources to shoot," said Manisha Sharma, director of product marketing, Lexar. "High-performance, high-capacity cards like this one enables these photographers to gain back time normally wasted on changing cards or transferring images."
"By utilizing Micron's industry-leading, 128Gb, 20nm NAND flash memory process technology, Lexar is the first to market a 256GB SDXC card," said Wes Brewer, vice president, products and technology for Lexar. "Using a combination of creative die-stacking techniques and uniquely engineered firmware in our UHS-I capable controller, we were able to design and produce this product sooner than our competition. With the introduction of this product, we have achieved the optimal blend of price and performance desired by our retail and non-retail customers."
The Lexar Professional 400x 256GB SDXC UHS-I card includes a free copy of the latest version of award-winning Image Rescue® 4 software to help with the recovery of lost or deleted photo and video files, even if they've been erased or the card has been corrupted.** All Lexar memory card designs are tested in the Lexar Quality Labs to ensure performance, quality, compatibility, and reliability with more than 800 digital cameras and memory card devices. The Professional 400x SDXC UHS-I card comes with a limited lifetime warranty and free dedicated professional technical support.
The Lexar Professional 400x 256GB SDXC UHS-I card will be available in October for purchase with an MSRP of $899.99 from Lexar.com and leading retail and e-tail outlets worldwide.
For additional information about Lexar Professional products, please visit Lexar's website here.