Warning
: Undefined array key "width" in
/var/www/vhosts/custompcreview.com/public_html/wp-includes/media.php
on line
1381
Warning
: Undefined array key "width" in
/var/www/vhosts/custompcreview.com/public_html/wp-includes/media.php
on line
1386
Warning
: Undefined array key "height" in
/var/www/vhosts/custompcreview.com/public_html/wp-includes/media.php
on line
1386
A couple more days till CES 2012, and information about a the Sapphire and Gigabyte custom Radeon HD 7970's have been leaked.
This leak comes over from ChipHell who's managed to snag a spec sheet of the Sapphire line of HD 7970's. There are a couple iterations of the custom Sapphire card, but the most impressive is in its Atomic series which is expected to come factory  overclocked to 1335MHz core and 5735MHz memory. That's a full 410Mhz, or 44% overclock! Right out of the box! Take a look at the leaked spec sheet below.
Another interesting card in the lineup is the FLEX 6G. It's not factory overclocked or anything like that, but it comes with 6 mini displayport outputs and a full 6 gigabytes of GDDR5. Awesome….!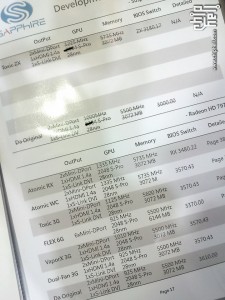 The next leak is reported from TechPowerUp who was able to get a couple pictures of the Gigabyte's custom Radeon HD 7970. Again, we are greeted to Gigabyte's "WinForce" coolers that have been the standard on Gigabyte's custom cards for some time now. Take a look at the photos below.
Source: ChipHell / TechPowerUp