Press Release
With the influx of white PC chassis reaching the market, users have been asking for white-themed versions of BitFenix accessories. Today, BitFenix is pleased to announce the Recon White fan controller and Spectre Pro All White LED fan series – two perfect additions to any white-themed system.
Recon White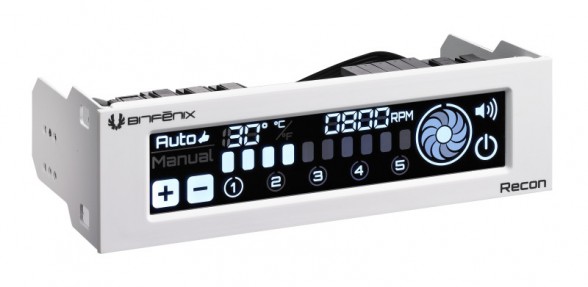 Sporting an Arctic White SofTouch bezel and a bright white LED touchscreen, Recon White looks fantastic in virtually any white case. The world's first Internet-connected fan controller, Recon White enables users to connect to it using smartphones, tablets or laptops via the Internet. Five fan channels offer plenty of connectivity for every case fan in your system, and the easy-to-use touchscreen interface displays current system temperatures and fan speeds, while giving easy access to the Recon's advanced functionality.  Now available in white, Recon™ White keeps your system cool in more ways than one.
Recon White
Materials

SofTouch™, ABS Plastic, Steel

Dimensions (WxHxD)

147 x 43 x 67mm

Form Factor

5.25″ Drive Bay

Fan Channels

x 5

Temperature Channels

x 5

Max Watts / Channel

10W

Measurement Frequency

Every 0.1 – 0.4 Seconds

Temperature Alarm Range

30℃-90℃

Temperature Range

0-100℃

Screen Size

4.7″
Spectre Pro All White LED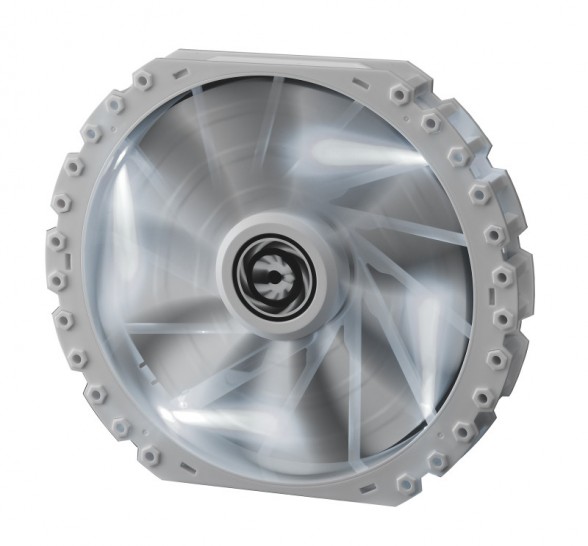 Delivering high performance with a fresh design aesthetic, the BitFenix Spectre Pro LED fan series is the gold standard for case fans. The first of its kind, Spectre Pro All White LED combines an all-white look with colored LEDs. Ideal for white-themed systems, Spectre Pro All White LED enables system builders to maintain their system's sleek white styling when off, and adding a splash of color when on for a completely unique look.
Of course, Spectre Pro All White LED still delivers the same award-winning performance and features of the regular Spectre Pro series. High air volume and pressure make these fans ideal for water cooling radiators, while a unique dual frame construction helps reduce vibration during operation. Reinforced fan blades prevent warping during high rotational speeds, and fluid dynamic bearing technology ensures quiet operation and long life.
Spectre Pro™ All White LED

120mm

140mm

200mm

230mm

Materials

PC & PBT

Available Colors

White/Red, White/Blue, White/White, White/Green

Operating Voltage

12VDC

Starting Voltage

5VDC

Bearing Type

Fluid Dynamic Bearings (FDB)

Dimensions

120x120x25mm

140x140x25mm

200x200x25mm

230x200x30mm

Current

0.18A ±10%

0.25A ±10%

0.33A ±10%

0.41A ±10%

Speed

1200 RPM ±10%

1200 RPM ±10%

900 RPM ±10%

900 RPM ±10%

Airflow

56.22 CFM ±10%

86.73 CFM ±10%

148.72 CFM ±10%

156.27 CFM ±10%

Air Pressure

1.24 mmH2O

1.38 mmH2O

1.26 mmH2O

1.81 mmH2O

Noise

18.9 dB(A)

22.8 dB(A)

27.5 dB(A)

25.6 dB(A)
Pricing and Availability
BitFenix Recon White carries an MSRP of 34.90€ in the EU, $39 in North America. Both Recon White and Spectre Pro All White LED will be available beginning mid-October.
For more information on Recon White and Spectre Pro All White LED, please visit the BitFenix website here.