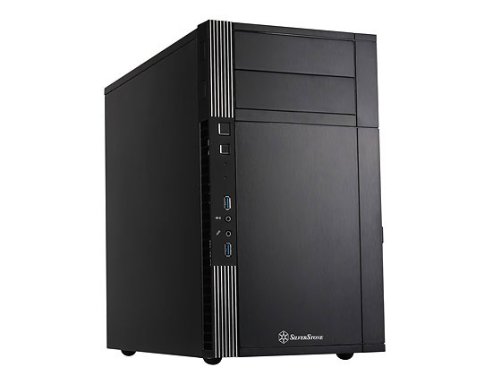 Think you need to pay Dell, HP, or Apple $2,000 for a decent photo editing, video editing, or 3d modeling workstation these days? Think again! Build your own workstation PC for under $1,000 that will do the same exact thing and then some!
Not the PC you were looking for? Drop by our Computer Builds section for more!
Budget: $1,000
CPU – Intel Core i5 2500K
Since we're running on a budget, we'll take the best we can afford at under $1,000, and that's the i5 2500K. While it's recommended that you purchase an Intel Core i7 2600K as it will be able to take advantage of multithreaded photo editing, video editing, and 3D modeling applications (yielding ~30% boost in performance), the Intel Core i5 2500K will still provide excellent performance for the price.
Additionally for those looking for a little bit more performance, feel free to drop by the forums for help on overclocking your new system!
Motherboard – MSI Z68MA-ED55 (B3)
This time around, we're going with a mATX board that's going to come with everything you'll need for this system. The nice thing about the mATX formfactor is because of its size, the PC can be a lot smaller which means it'll be a lot easier to move just in case you need a semi-portable workstation to handle your photo editing or video editing on the go.
The MSI Z68MA-ED55 has support for LGA 1155 CPUs (such as the i5 2500K) with excellent capability for overclocking, up to 4 DIMMs (32GB) of DDR3 support, 2x SATA 3 6Gb/s, 4x SATA 2 3Gb/s, USB 2.0 and USB 3.0 support as well. Not only that, the board also uses MSI's Military Class II components, which means the board will come with high quality solid capacitors, super ferrite chokes, and Hi-c CAPs with tantalum cores.
Additionally, the board is currently on sale at Amazon for only $139.99 with a $30 rebate making it only $109.99!
Memory – 16GB Corsair Vengeance 1600MHz DDR3 Low Profile 1.5v Memory
Since this is a workstation machine, we're going to go with 16GB of Corsair's very stable and very reliable Vengeance Low Profile DDR3. Obviously for those only interested in doing light photo editing and web browsing, 16GB might be a bit overkill, so feel free to grab 8GB Vengeance DDR3, but for those planning on doing some serious work such as editing large video files, dropping in special effects, or editing high megapixel images, 16GB is the way to go.
Video Card – None
For budget reasons, we're not going to go with a video card. That's because most photo editing, video editing, and 3d modeling is CPU based. However, for those with CUDA accelerated applications, you might want to consider an Nvidia CUDA based graphics card such as the EVGA GTX 560. With a CUDA accelerated application such as Adobe Premiere CS5, the graphics card is able to accelerate rendering of files which means less time spent rendering and more time playing games because yes, this card is an excellent gaming graphics card as well. Of course, if you're not planning on gaming at all, you might want to consider the i7 2600K before you drop $170 on a graphics card.
Boot Drive – Crucial m4 128GB SSD
In house synchronous NAND, firmware custom designed for the NAND, top notch reliability, and a great price as well. Interested? You should be. Check out our full review of the Crucial m4 128GB SSD if you're not convinced!
Storage Drive – Seagate Barracuda Green 2TB
Video files are huge. RAW photo files are huge as well. That's why we're going to need a Seagate Barracuda Green 2TB hard drive. This drive will provide more than enough storage space for all your needs. Of course, don't forget that you can always add more drives as they become necessary. That's the great thing about building a custom PC.
Don't need 2TB? Check out the Seagate Barracuda 7200RPM 1TB Hard Drive.
Optical Drive – OEM DVD Drive or OEM Blu Ray Drive (Any Manufacturer)
For this build, we went with a simple, basic OEM DVD Drive. That's because a, we needed to fit the budget and b, because we needed to install Windows. Obviously if you need a Blu Ray drive, go get it. It's always nice to relax with some HD movies once in a while.
PSU – Corsair CX430
As you can see in the build, we haven't recommended a video card. This means that we probably won't need a very high powered power supply either. CPUs draw a surprisingly little amount of power for the amount of performance they deliver and Corsair's CX430 will do the job just fine. Of course, if you do end up purchasing a GTX 560 or something, be sure to toss in a higher powered powered supply such as the TX650.
Case – SilverStone PS07 mATX Case
For today's build we're going to go with the SilverStone PS07 mATX case. This is an excellent mATX case, providing excellent airflow at a great price. It also carries a professional look which means it'll fit right into your office (or home office). Interested in more details? Check out our review!
CPU Cooler – Cooler Master Hyper 212 Plus
Best CPU cooler for around $25. You just can't beat this one. Buy it and don't look back.
Operating System – Windows 7 64 bit
Total price on Amazon (For most people free shipping + no tax) for this build is $1,000.78 – $40 rebates, so it'll be around $960 or so.  If you don't need an operating system, you can always drop it to drop the price another $100.

Finally, remember that if you have any questions, need some help, or need to fit the build into your budget feel free to visit the forums at http://forums.custompcreview.com. Myself, or the community here will be more than happy to help you out with your own custom build or answer any computer questions you may have. If this build doesn't fit your needs, feel free to drop by our Computer Builds section to find more computer builds, or drop by our forums to request a custom one!
Also, be sure to join us on Facebook, Twitter, Google Plus, or YouTube. Be updated on the latest news, reviews, tutorials, custom computer builds, and more!