For the most part console games and mobile games dominated E3's floor space, but that doesn't stop some smaller PC game developers from showing off their own offerings and giving E3 expo-goers an all-around good time.
One of such company is Wargaming.net, who had one of the hottest PC gaming booths around. This Belarus based gaming company pushed its turbines to full throttle and proudly showed off its greatest work to date, World of Tanks, as well their newest game World of Warplanes (still in beta). Similar in concept to World of Tanks, World of Warplanes will take the player into the cockpit of WWII's most famous fighters and pit them toe-to-toe against other players for an all out aerial brawl.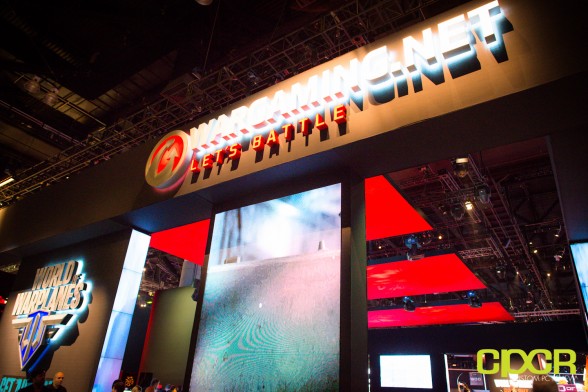 Wargaming.net definitely wins my vote for having one of the more beautiful booths out at E3. While being overshadowed by massive game developers such as Nintendo, Microsoft, Sony, etc. the booth had plenty of action happening with some expo-goers spending nearly their entire time here.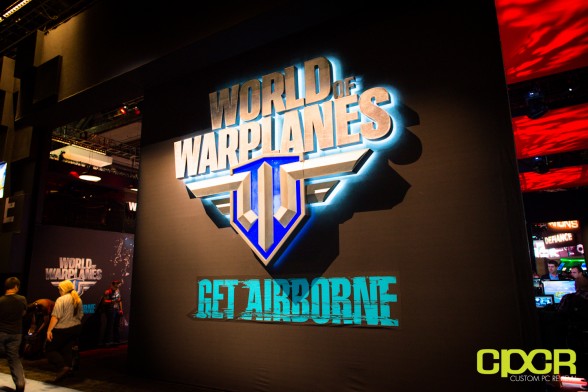 Standing tall and proud at the entrance of the booth is the logo of War Gaming's newest work, World of Warplanes. Right underneath we find their slogan, "Get Airbone".
Moving on inside the booth, one third of the booth was dedicated to World of Warplanes, which was still in beta. All machines were fully equippped Alienware desktops with SteelSeries gaming peripherals. For those playing World of Warplanes, booths featured Logitech gamepads and joysticks as well. Inside, we find the developers and marketing employees actively giving out helpful tips to the players who are brave enough to join the fight. Unfortunately, all the tips in the world aren't going to make up for the steeper learning curve for World of Warplanes. Course, those familiar with flying games will feel right at home.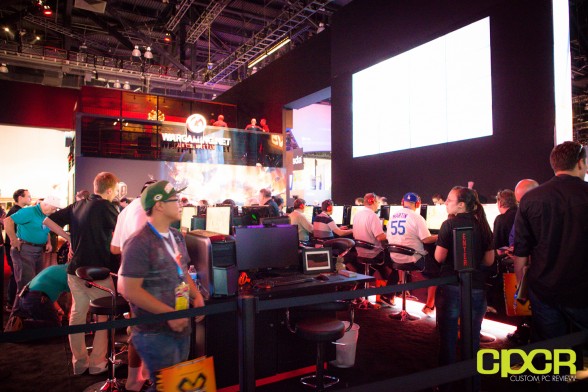 With one third of the booth featuring Wargaming.net's newest World of Warplanes game, the other third featured World of Tanks, Wargaming.net's already highly successful game. Again, we see plenty of Alienware and SteelSeries equipped machines here and tons of employees out there to help new players not get owned as bad. Of course, with large scale battle games like World of Tanks, you'll probably want to go in with the expectation of getting owned. There's definitely going to be a bit of a learning curve.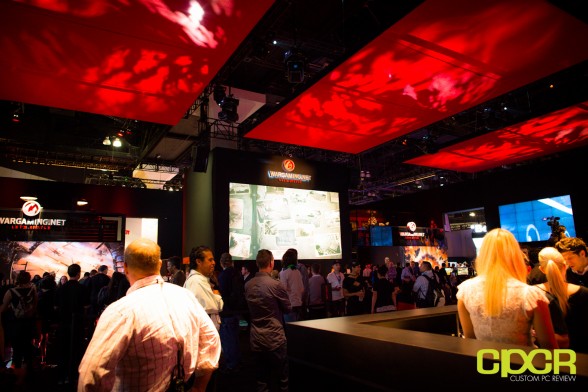 The last third of the booth featured a large screen with some very uncomfortable seating (To be honest) showing off trailers for World of Warplanes, World of Tanks and World of Battleships. Additionally, there was also a booth stationed with announcers and tons of giveaway prizes. With t-shirts, dogtags, swagbags, avaiator sunglasses, iPads, Alienware laptops, SteelSeries and Logitech gaming gear being given away, Wargaming.net probably had the best swag of everyone at E3 too!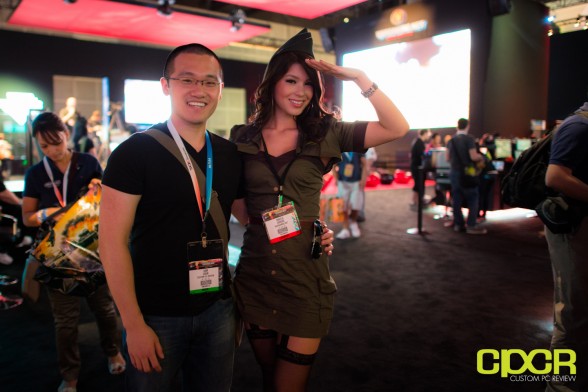 And… of course, what's a hoppin' booth without some booth babes, right? Oh by the way, she says "Get Airbone!"
Those interested in trying out some of Wargaming.net's offerings, be sure to check out their site at Wargaming.net. World of Tanks is already available to play and World of Warplanes is currently in closed beta. Did I mention everything they have is free to play? It's definitely priced right.