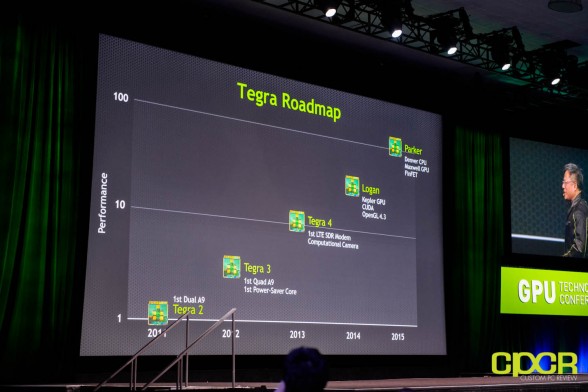 In addition to revealing their updated GPU roadmap, Nvidia recently also revealed an updated Tegra roadmap which includes a couple new Tegra mobile SoCs.
The first upcoming Tegra SoC on the roadmap is called Tegra Logan (Tegra 5), which will succeed the recently introduced Tegra 4 SoC. The defining feature of the new Tegra Logan SoC is that it will be the first Tegra SoC to integrate 28nm Kepler graphics on the chip itself. With Kepler graphics integration, Logan will have native support for OpenGL 4.3 and full support for CUDA 5. This leverages Nvidia's extensive experience as a GPU manufacturer as Kepler graphics on the SoC should give Tegra Logan far superior graphics performance in comparison to other SoCs on the market. According to Nvidia, the Tegra Logan SoC is expected to ship in early 2014.
In addition to the Tegra Logan SoC, Nvidia also revealed the Tegra Parker (Tegra 6) SoC, which will be succeeding Tegra Logan. Tegra Parker is quite special as it's going to be Nvidia's first Tegra SoC to use FinFET 3D transistor technology, which will reduce die size and power consumption. In addition to FinFET 3D transistor technology, Tegra Parker is to receive a Nvidia Project Denver x64 processor along with Nvidia Maxwell graphics, which is expected to be released for desktop and mobile GPUs in 2014. Nvidia expects the difference in performance from Tegra 2 to Tegra Parker (Tegra 6) to be around the neighborhood of 100x. The Nvidia Tegra Parker SoC is expected to be released in 2015.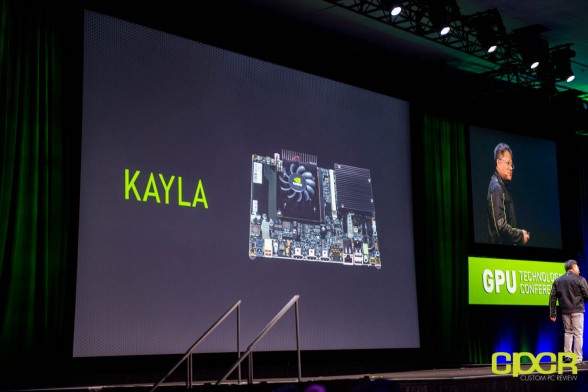 As a demonstration Nvidia CEO Jen-Hsun Huang also showed off a prototype system dubbed Kayla, which is running a Tegra 3 processor in combination with a low powered graphics card (exact model not specified).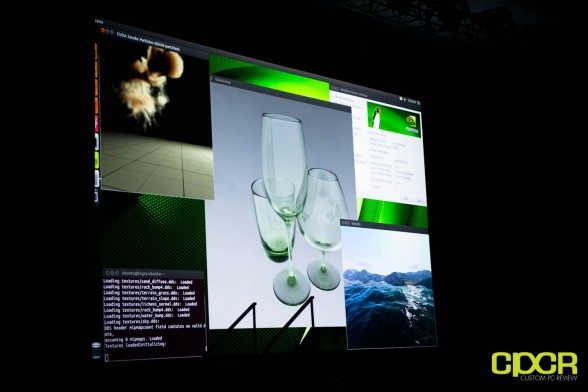 Nvidia demo'ed Kayla by having Kayla run complex graphics such as real time ray tracing and OpenGL effects simultaneously. This kind of graphics has traditionally only been limited to desktop and notebook graphics, so this is extremely impressive. Since Tegra Logan is expected to receive Kepler graphics, this type of graphics performance may be a sampling of what's to come as early as next year.