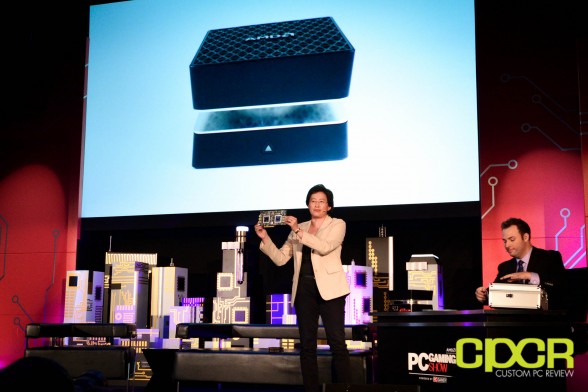 Worried that one AMD Radeon R9 Fury X won't be enough? That's OK because AMD has just the solution in store for you.
At the PC Gaming Show, AMD CEO Dr. Lisa Su showed off the upcoming dual GPU version of the Radeon R9 Fury X (X2?) graphics card which is being used to power a number of demos at the event. Carrying two of AMD's latest flagship Fiji XT GPUs on a single PCB, this monster is capable of crunching over 17 TFLOPS!
Despite this level of power, the yet unnamed card is actually not much longer than a single Radeon R9 Fury X. This is thanks to the use of HBM's stacked memory design which has a significantly smaller footprint than GDDR5. This will give system builders the flexibility of building significantly more compact systems without sacrificing power.
To show off the engineering behind the upcoming graphics card, Dr. Lisa Su presented the card without a cooling solution, but it'll be interesting to see what type of cooling AMD has selected for the card.  The Radeon R9 Fury X graphics card revealed earlier has a stock closed-loop watercooling solution, so it wouldn't be surprising to see its dual-GPU brethren having the same design. AMD hasn't made any official indication on what the cooler will look like just yet.
Ultimate performance comes with a great price. Taking into account that the AMD Fury X graphics card costs $649, we can confidently say that this card isn't going to be cheap. AMD hasn't made any comments on pricing information at this time, but I wouldn't expect the upcoming graphics card to be priced any less than $1,000.