So after I posted the video on the Blackberry Playbook vs the Amazon Kindle Fire I did a bit of browsing and I found this really sweet article off lilputing which teaches us how to install the beta version of OS 2.0.
For those who don't know, Playbook OS v2.0 will include a lot of the features that SHOULD'VE been included upon release of the Blackberry Playbook such as a native e-mail client for starters and a whole lot more. Anyway, this update should make your Blackberry Playbook a whole lot functional. Plus, updating to OS v2.0 is pretty simple so why not?
Anyway, here's the directions from lilputing. I've adapted them a bit here, but it's pretty much the same. Their source link is down below. The whole process shouldn't take more than 30 minutes (Depending on your internet connection)
You first need to find your pin number and write it down. This may be found by going to Settings –> About –> In the drop-down menu, select "Hardware". The first entry will be the PIN number. Mine was 8 numbers, but it may be letters and numbers.
Go to https://bdsc.webapps.blackberry.com/android/beta/bbtablet20/register/. There should be a box that says "PIN:". Enter the pin. A green check will pop out if you've entered the pin properly. It's optional, but you may also enter your e-mail. Click the "I have read and agree to the license above" and submit.
Go to Settings –> Software Update (If you don't see it, wait 5-10 minutes and try again)
You should be able to see the 2.0.0.4869 update. It should be 502MB. Download now and let it run.
That's it!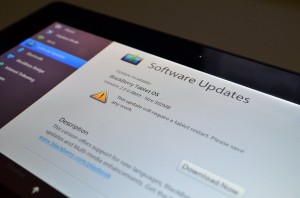 Anybody going to do the update? How are you liking it so far?