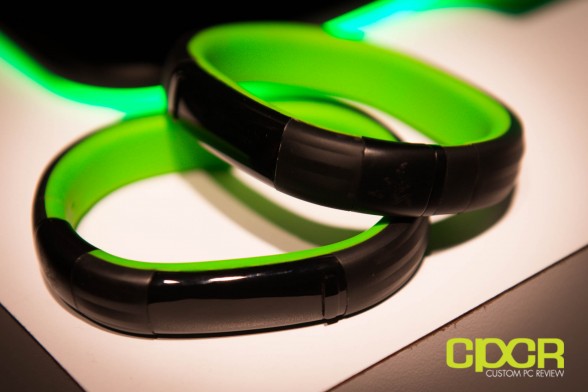 As usual for CES, PC gaming peripherals giant Razer had probably some of the most exciting stuff to show at CES 2014.
Razer Nabu
Without a doubt, CES 2014 was dominated by smart wearable devices. From Google Glass clones to smartwatches, everybody and their moms had something to show and Razer did too.
Dubbed the Razer Nabu, the Nabu is a social wristband wearable that also does notification and tracking.  Hardware wise, it's a simple device. The entire unit is constructed of a comfortable rubber material. There's a notification LED up top and there's an OLED screen at the bottom. The top of the device quickly notifies you of anything that may be happening while the larger OLED display displays additional details. There's also a single button around the OLED display and the unit comes apart to reveal a micro-USB port for charging as well. According to Razer, the Nabu will carry a battery life of up to 7-10 days, so you probably won't need to use the charging port that often.
Aside from being a neat stats tracker for tracking your location, steps walked, stairs climbed, etc. and a notifications device for letting you know you have a call, text, e-mail, etc. the most unique feature about the Nabu is that it's designed to be a social device. Razer has implemented a secure, encrypted Nabu to Nabu wireless communications protocol which allows Nabu units to communicate with each other. As you may imagine, this opens up a world of possibilities such as the ability to friend and follow each other on social media once two Nabu users shake hands. But, that's not all… Razer is also opening up the Nabu with an open API for anyone who wants to develop functionality for the Nabu.
Unfortunately, demo units at CES weren't actually functional units and it seems like the Razer Nabu is more of a concept than anything at this moment. However, Razer is confident that they'll be able to deliver functional units to developers soon for a price of around $50-$60 in the next couple months with full retail launch coming shortly after that.
What do you think? Leave a comment below!
Project Christine
The second and arguably the coolest announcement for CES 2014 is Razer's new gaming PC concept, Project Christine. The idea behind the Project Christine concept PC is to eliminate the complexity of the PC for the less tech savvy crowd, yet still giving them the ability to easily upgrade to the latest and greatest computer hardware.
In order to do this, Razer put every piece of hardware into individual modules so that upgrading a GPU is as easy as pulling out a module and sticking a new one in. For cooling the beast, Razer is using a mineral oil design that's capable of allowing the entire unit to be cooled without the use of any fans making the entire unit completely silent. Each module will come with connectors for the hardware along with two dual stage quick disconnect valves which allow the mineral oil to flow when installed and prevents any leaks when the modules are removed.
Razer has not revealed any pricing information or release dates at this time, but Project Christine is still in the early stages of development at this point. Razer is considering possibly implementing a monthly subscription plan where users will be able to exchange older hardware modules with the latest and greatest hardware modules. This will allow gamers the benefit of always having the latest technology – for a price.
The Project Christine prototype Razer displayed at the CES 2014 show floor was was not functional; however, given that Razer has done some pretty crazy things in the past such as Project Fiona ultimately becoming the Razer Edge, I wouldn't put it past the company to actually make something out of Project Christine.
http://www.youtube.com/watch?v=2IJFQE7vvoc