AMD Radeon R9 Nano Now Priced at $499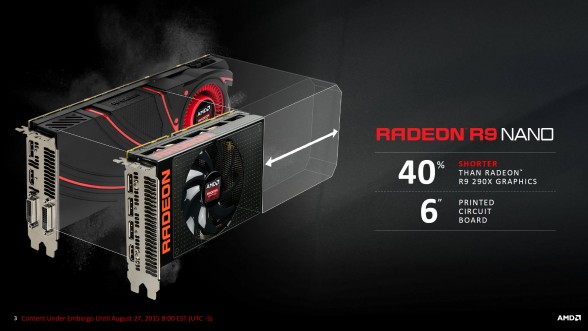 The R9 Nano was easily the most powerful mini-ITX sized graphics card available when it launched back in September of last year. That being said, its rather high pricing may have kept a lot of potential customers away. At $649 the Nano was a tough sell as it filled a niche in the market, but was also priced to compete against much more powerful graphics cards such as NVIDIA's 980 Ti, and even AMD's own flagship Fury X. Today that's all about to change as AMD has announced significant price cuts to the R9 Nano, which will now retail for just $499.
As of today, 11 January, this small card will have an even bigger impact on gamers around the world as AMD announces a change in the AMD Radeon R9 Nano graphics card's SEP from $649 to $499. At the new price, the AMD Radeon R9 Nano graphics card will be more accessible than ever before, delivering incredible performance and leading technologies, with unbelievable efficiency in an astoundingly small form factor that puts it in a class all of its own.

Source: AMD.
Of course, at $499 the R9 Nano still has some hefty competition as both NVIDIA's GTX 980 and AMD's R9 Fury can be had within that price-range, if raw performance is your only concern. However, if you're looking to build a small form-factor build, the R9 Nano just is now significantly more enticing. Also, while not all retailers, and vendors have adjusted their pricing yet, we did manage to find a Saphire NITRO model available on Newegg with the new pricing.