CES 2013: ROCCAT Ryos MK Pro, Power-Grid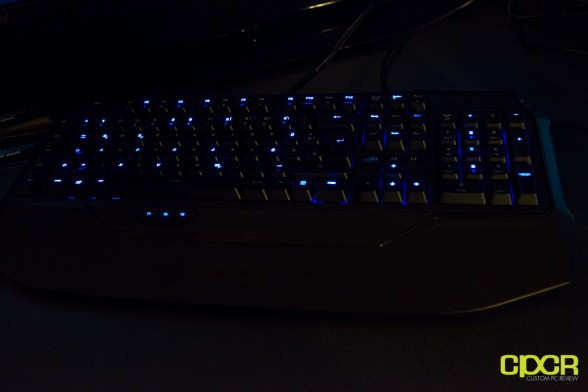 As we were wrapping up our CES adventure, we were given the opportunity to visit the ROCCAT suite and man am I glad we did.
The first thing that caught my eye was the newly announced Ryos MK Pro keyboard sitting at the desk. The Ryos is a fully backlit mechanical keyboard that's expected to come in all four most common Cherry MX keyswitch options (blue, brown, black, red). As our meeting progressed we were shown some cool features that that the keyboard had including the different lighting switches.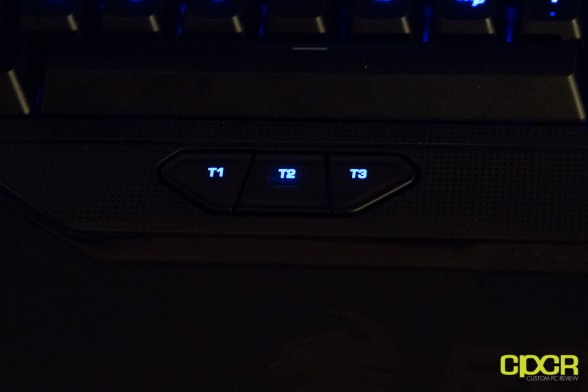 The first mode demonstrated will allow you to preset certain actions for LEDs on the keyboard when a certain key is pressed. For example, when ALT is pressed, only a certain combination of keys could be set to light up.
Another lighting mode demonstrated was the screen saver mode that would allow you to program the keyboard LEDs to perform certain prerecorded actions. A really cool thing the ROCCAT reps noted was that they would be releasing an API so that anyone with programming knowledge could program functions into the keyboard. We were told that a programmer was working on creating a lighting mod that would turn the screen saver function into a music equalizer so keys would light up to the music playing.
The final lighting mode we saw would quickly turn the led on and the turn it off after a short delay. This created a cool trailing effect with the LEDs.
The Ryos MK will also come in three different versions – the Ryos MK, Ryos MK Glow and the Ryos MK Pro. The Ryos MK Pro will include all the lighting options mentioned above as well as a USB pass through and audio/mic passthroughs. The Ryos MK Glow will have the lighting but will forgo the different passthroughs. Finally, the Ryos MK will neither have the LEDs nor the passthroughs which is ideal for people not looking for a good mechanical keyboard without all the extra bells and whistles.
That said, the keyboard we were shown was very much pre-production and most features weren't available since the driver software isn't available yet. The features we were shown is just a small part of what the keyboard can do as the modes were actually programmed into the firmware itself. That said, the Ryos with its dual 32-bit ARM Cortex processors and 2MB of onboard flash looks like a product worth looking forward to in the coming months.
Until then, be sure to check out the ROCCAT Ryos MK Pro product page here.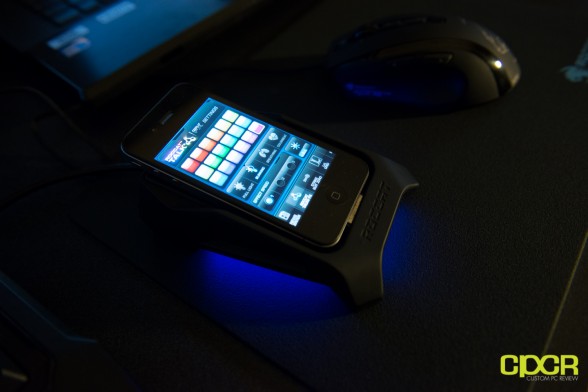 Also shown at the ROCCAT suite was Power-Grid. Power-Grid was first shown off by ROCCAT nearly a year ago. Power-Grid basically interfaces your mobile device with your PC and will allow you to monitor and control different aspects of your PC from your mobile device.
The way Power-Grid works is that it connects via a wireless connection to your PC. On your PC, you will be able to add and remove different tabs as well as different modules inside those tabs, which can present different types of information such as RSS feeds, monitoring, ROCCAT Talk, etc.
While the applications here are limitless, we were shown a couple applications such as system monitoring, which showed CPU usage, memory usage, etc. right on the iPhone ROCCAT had on display. I personally find this to be great news as it'll allow me to do stuff like monitor CPU usage in a certain game or monitor my overclocks.
The best thing about ROCCAT Power-Grid though is the price. It's free. Of course, those with ROCCAT products with ROCCAT Talk enabled can also interface Power-Grid with ROCCAT Talk to change stuff like lighting modes and other functions on the fly. ROCCAT is expecting to release within the next couple weeks pending Apple certification of their iOS app.
For more information on ROCCAT Power-Grid, check out the product page here.