Sapphire HD7770 GHz Edition Vapor-X Review
Meet the New Vapor-X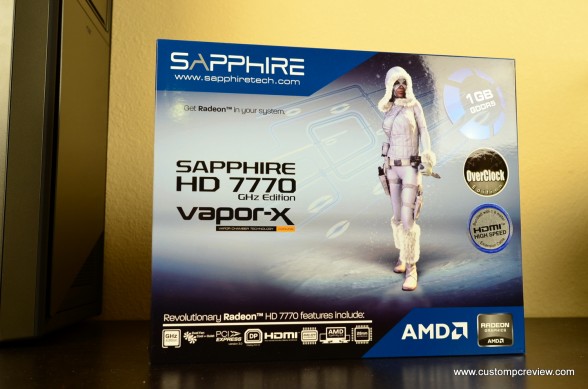 AMD undoubtedly earned its place again in the history of computer graphics when they introduced the first graphics card with a 28nm GPU, the HD7970, in December of last year. Engineered with AMD's ground breaking GCN (Graphics Core Next) Architecture, it brought features such as PCIe 3.0, advanced power management, Eyefinity 2.0, and most importantly, unparalleled performance.
Of course, as expected of cutting edge, high end computer hardware, you'll have to expect to pay a premium. A reference design 7970 these days will set you back $550, which isn't exactly chump change. So what about the people who don't need all the muscle or simply don't have the dough, but still want access to some of the features the new silicone brings? This is where the 7700 series comes in.
Code named Cape Verde XT, the 7700 series was designed for lower powered PCs but still retains the features of the GCN. Manufactured using the same 28nm manufacturing process used for the 7900 series, the 7700 series is designed to be a more budget friendly line of graphics cards yet still powerful enough to suit the needs of most casual gamers. For more information about the AMD HD 7700 series, check out our review of the HIS HD7750 iCooler graphics card.
| | | |
| --- | --- | --- |
| | HD7750 | HD7770 |
| Fabrication | 28nm | 28nm |
| Transistor Count | 1.5 Billion | 1.5Billion |
| Core Clock | 800MHz | 1000MHz |
| Stream Processors | 512 | 640 |
| Texture Units | 40 | 40 |
| ROPs | 16 | 16 |
| Buffer Size | 1GB GDDR5 | 1GB GDDR5 |
| Memory Interface | 128-bit | 128-bit |
| Memory Bandwidth | 72GB/s | 83.2GB/s |
| Memory Frequency | 1.15GHz(4.5 GHz Effective) | 1.15GHz(4.5 GHz Effective) |
Today we'll be taking a look at the Sapphire HD 7770 GHz Edition Vapor-X graphics card. Aside from being overclocked 10% higher than the reference design, this card also comes with the Vapor-X cooler. Ever since its introduction a couple years back, Sapphire has been hard at work refining the Vapor-X to perfection. The Vapor-X cooler we'll be looking at today is the newest iteration which should provide even better performance.
Specifications
| | |
| --- | --- |
| Model Name | Sapphire HD 7770 GHz Edition Vapor-X |
| Chipset | Radeon HD 7770 PCIe Series |
| ASIC | RadeonTM HD 7770 GPU |
| Manu. Process (Micron) | 28nm |
| Memory Size (MB) | 1024MB |
| Memory Type | GDDR5 |
| Engine CLK (MHz) | 1100MHz |
| Memory CLK (Gbps) | 4.5Gbps |
| Memory Interface (bit) | 128bit |
| Power Supply Requirement | 400 Watt or greater power |
| | |
| Bus Interface | PCI Express 3.0 x16 |
| Display Port | 1xDisplay Port 1.2 |
| HDMI | 1xHDMI 1.4a |
| DVI | 1xDual Link DVI1xSingle Link DVI |
| VGA | No |