M-Audio BX5 D2 Studio Monitor Review
Navigation:
The Way It's Meant to be Heard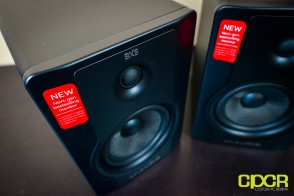 Typically when shopping for new computer audio systems, we tend to look for speakers designed specifically for computer systems. Speakers from Logitech, Corsair, JBL, Bose, etc. often come to mind and, don't get me wrong, some of these choices are more often than not, perfectly enough for most computer users out there. However, when it comes to sound quality, most of these manufacturers put their own spin into the speaker whether it's boosting the lows, giving the top end a little flair, or simply using lower end components that can't be driven as hard without running into tons and tons of distortion.
For that perfectly balanced, perfectly flat response, you'll have to go a bit more professional such as a reference monitor or a studio monitor. Now, when I'm talking about this type of monitor, I'm not actually talking about a computer screen or anything like that. What I'm actually talking about are speakers designed for professionals who need completely accurate audio reproduction such as film makers, recording studios, DJs, etc. This means a flat response curve all the way through the entire frequency range.
Today we'll be reviewing a pair of studio monitors, the M-Audio BX5 D2. For those unfamiliar, M-Audio has been in the professional audio industry for quite some time now and have quite a good reputation in the industry for producing top quality products at reasonable prices. The BX5 D2 speakers themselves are active studio monitors, which means they are internally powered and require no external amplifier to drive. Each speaker has a 5″ Kevlar woofer, a 1″ natural silk dome, and a bi-amplified design which can output 70 watts of distributed power.
Can a pair of professional studio monitors greatly enhance your computing experience? Let's find out!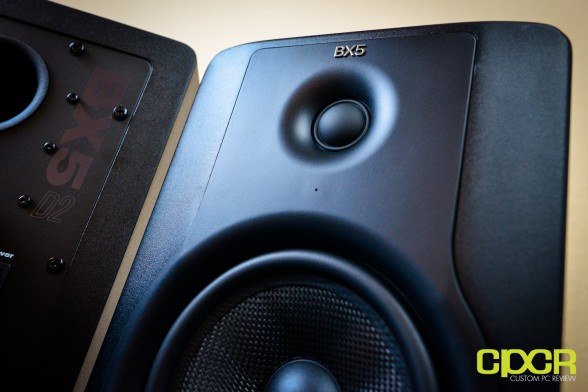 M-Audio BX5 D2 Specifications
| | |
| --- | --- |
| frequency response | 53 Hz – 22 kHz |
| crossover frequency | 3 kHz |
| low-frequency amplifier power | 40 watts |
| high-frequency amplifier power | 30 watts |
| maximum signal-to-noise (dynamic range) | > 100 dB (typical A-weighted) |
| polarity | positive signal at + input produce outward LF cone displacement |
| input impedance | 20 k ohms balanced, 10 k ohms unbalanced |
| input sensitivity | 85 mV pink noise input produces 90 dBA output SPL at one meter with volume control at maximum |
| power | factory programmed for either 115V ~50/60 Hz or 230V ~50/60 Hz |
| protection | RF interference, output current limiting, over temperature, turn-on/off transient, subsonic filter, external mains fuse |
| cabinet | vinyl-laminated MDF |
| size | 7.7" x 7" x 10"; 19.5cm x 17.6cm x 25.2cm |
| weight | 11 lbs./unit; 5 kg. |