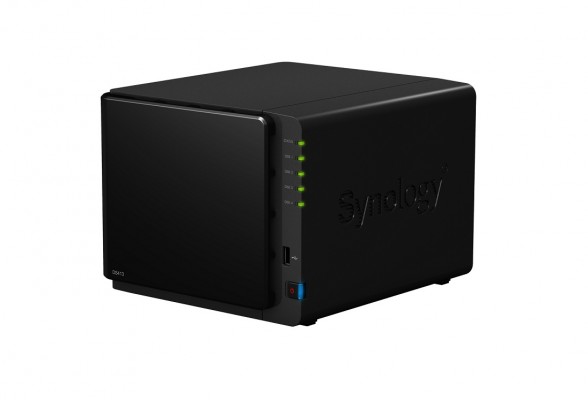 Press Release
Synology America Corp. today announced the launch of the DS413, the latest offering for business users.
The new 4-bay DiskStation uses the attractive new case design and offers hot swap capability to help users maximize their uptime.  Consuming less than 4 watts in hibernation, it is the greenest DiskStation yet.
The DS413 features also features a hardware assist for encrypted performance.  This allows users to get the most out of the 256-bit AES shared folder encryption with greatly improved read and write speeds.
"The DS413 makes for a valuable update to the DiskStation family," said Joshua Wise, Product Manager at Synology America Corp.  "The updated case design is attractive and functional, and should be an affordable and welcome addition to any office."
When paired with the DiskStation Manager (DSM) 4.1 operating system, it brings a number of features ideal for office users.
•             Cloud Station allows remote assets to keep files up to 5GB each in sync
•             QuickConnect allows for direct download links without needing port forwarding
•             VPN server (and client) allows for creating secure connections between networks
•             Shared folder sync between DiskStations to minimize downtime
For more information, please visit the product page here.