Lamptron FC Touch and FC9 Fan Controller Review
Navigation:
Two High End Fan Controllers Reviewed
Being PC enthusiasts, we love to buy huge cases and load them up with tons of fans. This is beneficial as more fans typically translate into better airflow and of course, better cooling performance to chill our hot hardware. However, with more fans, more cooling, and more airflow, one problem that's bound to happen is increased noise. While a bit of noise is perfectly acceptable when you're doing something intensive like rendering a video or playing Battlefield 3 with a headset, it can get annoying when you're trying to appreciate some Beethoven and your PC sounds like a 747 about to taking off. To make a PC a bit more quiet, there are a couple of options. The first of course is to buy a silent case. Although these are very effective at reducing noise with noise insulating foam, they tend to have to limit airflow and have higher internal temperatures. The second is to buy silent fans from silent fan makers such as Noctua. Although they provide adequate airflow while staying at acceptable noise levels, they can get very pricey. The last option of course, is to purchase a fan controller to lower the speed of your fans when your PC is idle. After all, it doesn't matter how silent your fan is, at 3,000RPMs, it's guaranteed to be loud.
Lamptron FC9 Fan Controller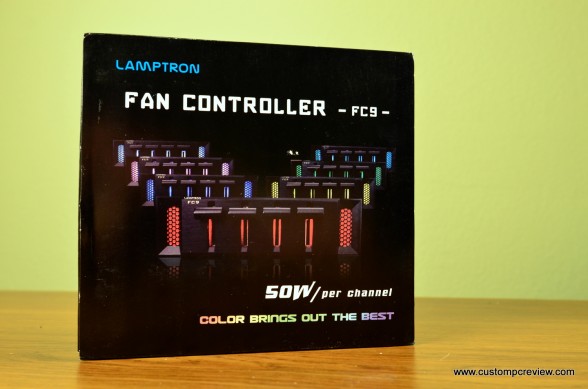 Today's review will be focused on two fan controllers from computer peripherals manufacturer Lamptron. They're not really a company we hear about every day, but they offer quite a selection when it comes to fan controllers.
The first fan controller we'll be taking a look at is the Lamptron FC9 Fan Controller. This fan controller is a basic fan controller designed for simply controlling your fans via sliders. The fan controller is unique in the fact that it can support up to 50w per channel and includes onboard adjustable LED backlighting. Out of the box, it will have support for up to four fans simultaneously.
Specifications
Dimension:148.5mm*42.5mm*75mm(5.25″ Bay)
Power Output:Up to 50 watts per channel
Control Channel:4 Channels
LED Color Available:White, Blue, Green, Cyan, Red, Purple, Yellow
Panel Color Available:Black Anodized/Silver
DC Input:3 X +12v (Standard 4 Pin Molex)
DC Output:0V- 12V DC Fan Connectors:4 X 3-pin connectors
Recommend PSU wattage: 600w or higher
Lamptron FC Touch Fan Controller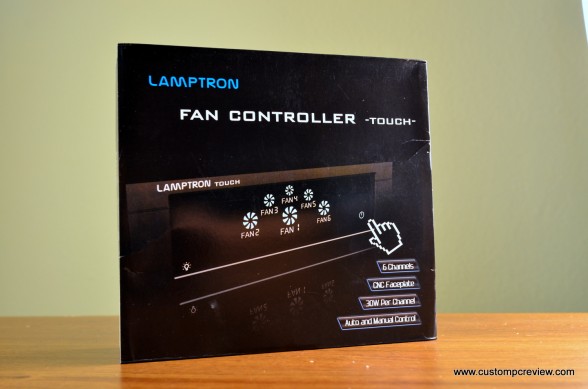 The second fan controller we'll be taking a look at is the Lamptron FC Touch Fan Controller. Like the FC9 Fan Controller, the FC Touch is designed to be used in a 5.25″ bay, includes a high quality CNC milled faceplate, and is of high quality construction. However, unlike the FC9 Fan Controller, the FC Touch is much more advanced, sporting a fully functional touch screen with the capability of displaying information such as voltages, fan speeds, temperatures, etc. Out of the box, it will also have support for up to six fans simultaneously.
Specifications
Faceplate Color: Black Anodized/Silver Aluminium
Dimension:148.5mm X 42.5mm X 64.5mm (5.25inch bay)
Screen Dimension:118mm X 31.5mm
Power Output:Up to 30W per channel
Control Channels:6