ASRock Announces Ridiculously Extreme X79 Extreme11 Motherboard
Navigation: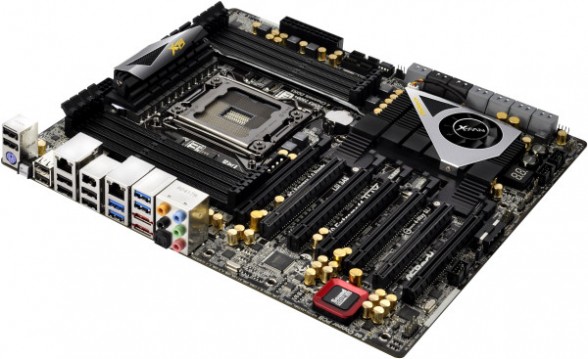 Of all the motherboard manufacturers out there, it seems like ASRock is the only manufacturer still seriously pushing the X79 platform and today, they've released a new "Extreme" board that really lives up to its name. What's to be ASRock's flagship X79 board, the ASRock X79 Extrme 11 has possibly every premium feature you could want from a high end X79 motherboard including full support for 4 way SLI/CrossFireX via two PLX PEX 8747 bridges, support for 8 SATA3/SAS drives through an LSI SAS 2308 controller, a full copy of Creative's 7.1ch Sound Core 3D sound processor onboard (Creative's own Recon3D soundcard only supports 5.1 channel!), a 24+2 digital power phase design with dual stacked mosfets, and more!
Those looking to own the "emperor" of all Extreme boards, this is probably it. Pricing and availability is still unknown at this time. For more details, be sure check out the next page for the full press release.