SSD Performance in a Flash Drive Formfactor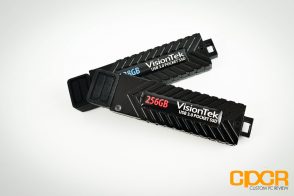 Aside from the insanely great performance, shock resistance, and low power consumption, one benefit of SSDs is the ability for them to be extremely compact. As a SSD only requires silicon rather than spinning disks, SSD form factor is really only dictated by how a company chooses to arrange the chips onboard.
As such, we're starting to see quite a few external SSDs take advantage of this form factor flexibility. One such product is the VisionTek USB 3.0 Pocket SSD which crams a full SSD into a form factor just slightly bigger than your average flash drive.
VisionTek USB 3.0 Pocket SSD Specifications
Manufacturer
Visiontek
Model
USB 3.0 Pocket SSD
Interface
USB 3.0 (Backwards Compatible with USB 2.0)
Encryption
N/A
Capacity
128GB
256GB
512GB
Sequential Read Performance
450MB/s
450MB/s
450MB/s
Sequential Write Performance
150MB/s
155MB/s
155MB/s
Endurance
175TBW
345TBW
695TBW
Warranty
2 Year Limited
The VisionTek USB 3.0 Pocket SSD is available in capacities of 128GB, 256GB, and 512GB. Sequential read performance is rated at 450MB/s across the board while sequential write performance is rated at 150MB/s for the 128GB drive and 155MB/s for the 256 and 512GB drives.
Warranty on the VisionTek USB 3.0 Pocket SSD is 2 years limited with an endurance rating of 175TBW for the 128GB drive, 345TBW for the 256GB drive and 695TBW for the 512GB drive.
Let's take a closer look!
A Closer Look at the VisionTek USB 3.0 Pocket SSD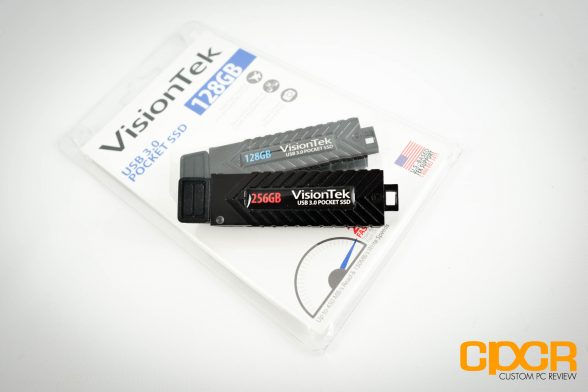 The VisionTek USB 3.0 Pocket SSD comes in easy to open blister packaging.
Here's a look at the VisionTek USB 3.0 Pocket SSD. It's a pretty good looking product and feels very physically durable thanks to its outer metal casing. Protecting the USB connector is a small rubber cap which is a pretty decent quality cap, but as we all know, small rubber caps can easily get lost.
The design of the VisionTek USB 3.0 Pocket SSD is actually one we're pretty familiar with as Avant showed it off several years ago. Since Avant manufactures SSDs for a variety of vendors, I'd bet that that's where VisionTek sourced their drive.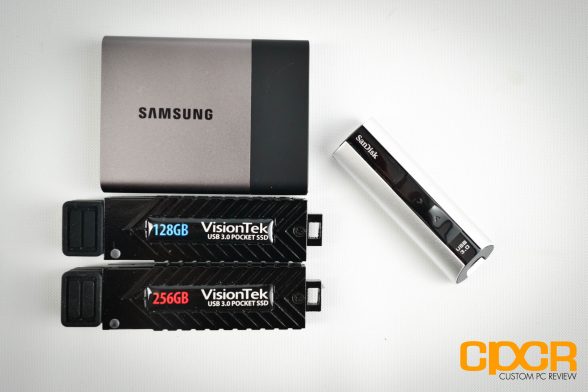 Here's a size comparison between the VisionTek USB 3.0 Pocket SSD, the Samsung PSSD T3, and the SanDisk Extreme Pro USB 3.0 flash drive. While the VisionTek USB 3.0 Pocket SSD isn't as small as the SanDisk Extreme Pro, it's still slightly smaller than Samsung's PSSD T3 and doesn't require an additional cable to connect to a PC.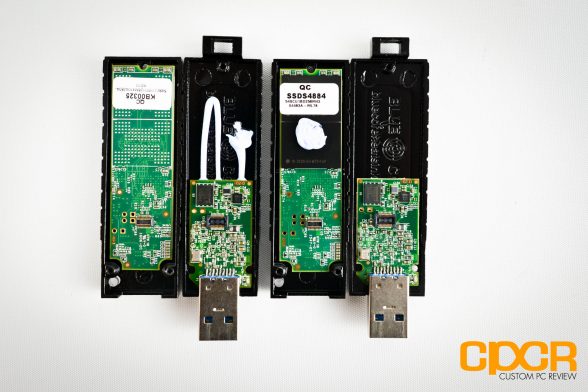 Opening the VisionTek USB 3.0 Portable SSD was as simple as removing 3 screws. Personally I feel this is a much more durable option compared to clips used in most other external drive solutions.
Internally, VisionTek split the drive into two PCBs, one with the actual SSD hardware and the other carrying the USB bridge chip and the USB connector. Connecting the two PCBs is a proprietary connector.
The bridge board carries an ASMedia ASM 1153E SATA to USB 3.0 bridge which is ASMedia's third generation bridge chip supporting USB 3.0 and the UASP protocol.
The SSD board contains a Silicon Motion SM2246XT controller which is a Silicon Motion's relatively new 2-channel, DRAM-less variant of the popular Silicon Motion SM2246EN. Our 128GB model also included two packages of SanDisk MLC NAND while the 256GB model included four packages.
One thing I did notice is that VisionTek is using some sort of thermal glue to help dissipate heat, but it's poorly applied. In this instance I believe a thermal pad would've been a much better choice.
Testing Setup
Special thanks to CyberPowerPC, Kingston, OCZ Storage Solutions and HSPC for sponsoring our test bench!
VisionTek USB 3.0 Pocket SSD
Today we'll be reviewing the Visiontek USB 3.0 Portable SSD in 128GB and 256GB flavors. The 128GB model is utilizing the 01120Abt firmware while the 256GB model is using the 20151027 firmware.
VisionTek USB 3.0 Pocket SSD Performance
USB 3.0 Performance
ATTO Disk Benchmark v2.46
ATTO Disk Benchmark is one of the industry's oldest and most popular benchmarks for testing disk read/write speeds. This benchmark allows read and write testing using predefined block sizes and gives us a good idea of read/write speeds with different sized files. Most SSD manufacturers prefer using this benchmark when advertising SSDs as it tests using compressible data, which tends to yield best performance.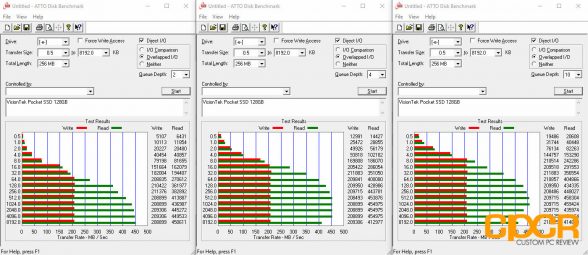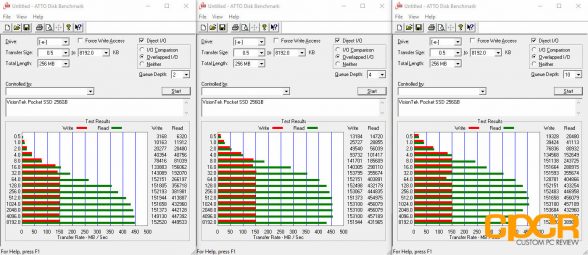 Performance Analysis
In ATTO Disk Benchmark, the VisionTek USB 3.0 Pocket SSD was able to achieve ~450MB/s sequential reads and ~150MB/s sequential writes. This is in line with its rated specifications. What's interesting is that the 128GB model was not only able to achieve 150MB/s sequential writes, it was ultimately able to reach  ~210MB/s sequential writes.
Crystal Disk Mark 3.0.1 x64
Crystal Disk Mark is another popular benchmark which allows us to measure sequential read/write speeds, 512K random read/write speeds, 4K random read/write speeds, and 4K QD32 random read/write speeds. With this benchmark, tests can be run using both random fill (incompressible data) and 0 fill (compressible data). Realistically in typical computer usage scenarios, data being transferred will consist of a mixture of both incompressible and compressible data.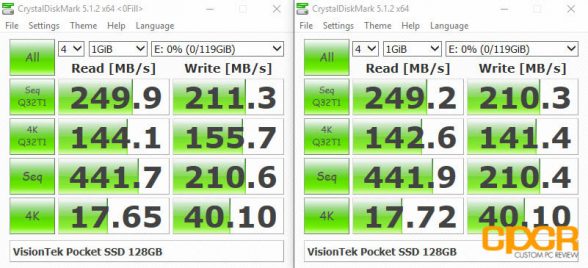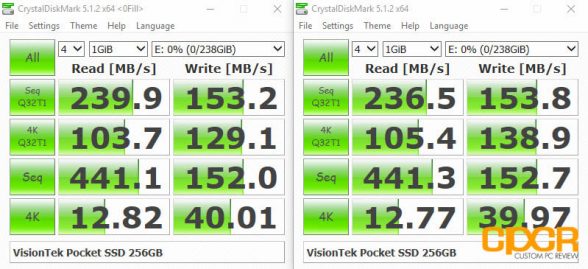 Performance Analysis
Crystal Disk Benchmark results mirror what we saw from ATTO Disk Benchmark. Since VisionTek is utilizing the Silicon Motion 2246XT controller, there's no performance difference between random and sequential datasets. Again, what's interesting is that the 128GB version is able to reach 210MB/s sequential writes, which is 50MB/s over its rated performance.
Real World Testing
Since it's difficult to translate what 450 MB/s, 250 MB/s, 120 MB/s, etc. means in minutes and seconds in real world applications, we've also prepared several real world testing scenarios transferring files to and from the drive, and recording the amount of time necessary to complete the operations.
In this test, we'll be transferring four different sets of files:
ISO – Single 1x Windows 7 x64 ISO totaling 2.2GB
Music – 1,007x MP3's totaling 5.0GB
Photo – 443x Sony ARW RAW pictures totaling 10.0GB
Video – 44x x264 1080p MP4 videos totaling 12.0GB
Copy From
In our copy from test, we'll be copying our filesets one at a time from our test drives to an OCZ RevoDrive 350 to reduce any chance of the host bottlenecking performance. The OCZ RevoDrive 350 is a PCIe Gen 2 x8 SSD capable of up to 1,800 MB/s sequential reads and 1,700 MB/s sequential writes.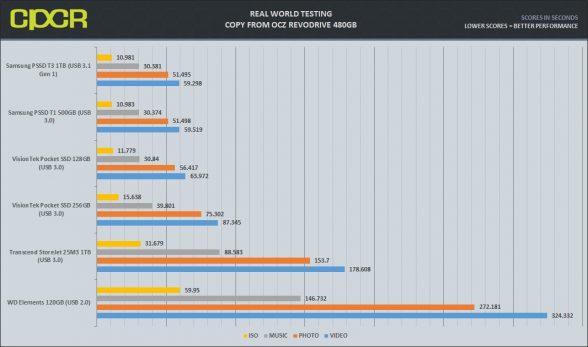 Copy To
In our copy to test, we'll be copying our filesets one at a time from the OCZ RevoDrive 350 to our test drives.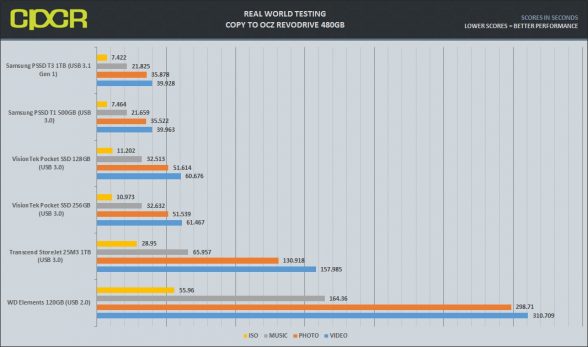 Performance Analysis
In our real world testing, the VisionTek USB 3.0 Pocket SSD performed very well, significantly outperforming the external hard drives tested. Against the Samsung PSSD T1 and the Samsung PSSD T3 however, the VisionTek USB 3.0 Portable SSD is still slightly slower. The 128GB capacity with its higher write speed was also able to consistently outperform the 256GB capacity drive in our copy from tests.
VisionTek USB 3.0 Pocket SSD Conclusions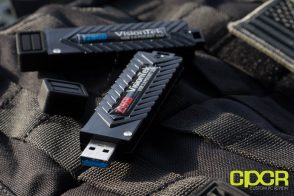 So for full disclosure's sake, this review has been a long time coming because my original 128GB Pocket SSD sample died on me while testing. VisionTek did end up sending a new unit out which performed flawlessly. While I can't be 100% sure why the original drive died, I did notice when I opened the drive that it used some NAND marked "10-2118-01-MTX-1AP" which is something I've never seen before. As VisionTek doesn't manufacture their own NAND, they have to source NAND from whatever's available and unfortunately this sometimes isn't exactly top tier stuff. Fortunately, the replacement 128GB Pocket SSD I received contained quality SanDisk branded NAND, but this does mean that everything I write here may be obsolete in the next few months if VisionTek decides to use a different batch of NAND. Keep that in mind.
With that out of the way, performance on the VisionTek Pocket SSD is fairly good, but does lack a bit compared to competing external SSD offerings. It's still significantly faster than any of your typical USB hard drives on the market, including the premium USB 3.0 solutions out there. In our file transfer tests, the Pocket SSD spent most of its time right behind the Samsung PSSD T3 which is the fastest USB 3.0/3.1 external SSD we've tested. This is fantastic especially for content creators who constantly need to move large video or audio files around on external drives.
While performance is a great selling point, I think what really differentiates the VisionTek USB 3.0 Pocket SSD is how small the device is despite having a full size SSD crammed inside. This is something that even SSD giants like Samsung, SanDisk and Crucial haven't been able to achieve which is a huge accomplishment for VisionTek.
The VisionTek USB 3.0 Portable SSD 128GB is available for $44.98 (~$0.35/GB) and the 256GB is available for $119.24 (~$0.46/GB). VisionTek also offers a massive 512GB edition which is available for $267.85 (~$0.52/GB). Per gigabyte, the least expensive is the 128GB capacity drive.
Overall I think the VisionTek USB 3.0 Portable SSD is a decent offering, but I find it difficult to recommend against the Samsung PSSD T3 we reviewed recently (at least for the 256GB+ models). The Samsung PSSD T3 is cheaper, faster, offers more features, and has a longer warranty. Unless you require the gumstick form factor, the Samsung PSSD T3 is the way to go. For those who only want 128GB of storage, the VisionTek USB 3.0 Pocket SSD may be worth considering, but I'd recommend spending the extra and purchasing a Samsung PSSD T3 instead.
Sample provided by: VisionTek
Available at: Amazon