Warning
: Undefined array key "width" in
/var/www/vhosts/custompcreview.com/public_html/wp-includes/media.php
on line
1381
Warning
: Undefined array key "width" in
/var/www/vhosts/custompcreview.com/public_html/wp-includes/media.php
on line
1386
Warning
: Undefined array key "height" in
/var/www/vhosts/custompcreview.com/public_html/wp-includes/media.php
on line
1386
Warning
: Undefined array key "width" in
/var/www/vhosts/custompcreview.com/public_html/wp-includes/media.php
on line
1381
Warning
: Undefined array key "width" in
/var/www/vhosts/custompcreview.com/public_html/wp-includes/media.php
on line
1386
Warning
: Undefined array key "height" in
/var/www/vhosts/custompcreview.com/public_html/wp-includes/media.php
on line
1386
Nothing Quite Like It…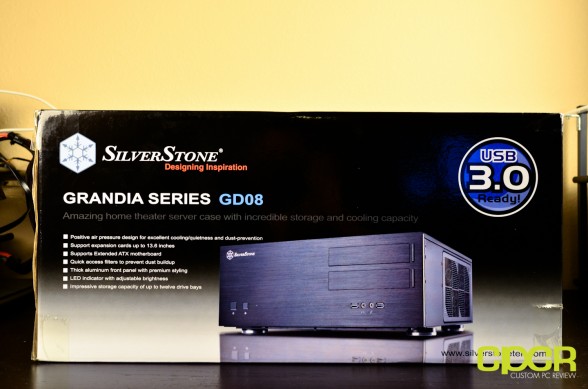 Home theater PCs have always been a popular niche PC and it's not difficult to understand the appeal of having one. Imagine a typical AV stack these days. You've got your AV receiver, you've got your DVD/Blu-Ray player, you've got your cable/satellite box, maybe a separate PVR unit, a game console or two, and maybe even a hard drive or two with a media player device. That's a lot of stuff.
Now if you think about it, with the exception of the AV receiver and maybe the cable/satellite box, a typical PC can do all of that and more – given that the proper hardware is purchased. That said, one thing about PCs is that most of them come in cases that doesn't really fit well with your AV receiver or your satellite box. Additionally, most TV stands just aren't built to accommodate a full tower case. This is where the HTPC case comes in. HTPC cases typically look like your average AV receiver so it'll fit right at home in your AV stack, except you've got a computer in the case instead of stuff like audio amps.
Today we'll be checking out the SilverStone Grandia GD08 HTPC case. I'm not going to go into specifics here, but let's just say we're looking at a HPTC case capable of handling eight 3.5″ drives, 13.6″ graphics cards, SLI/CrossFire, and more. Got your mouth-watering? Good. Next page please!
Specifications
Model No.

SST-GD08B(Black)
—
—
—

Material

Aluminum front panel, SECC body

Motherboard

SSI-EEB, SSI-CEB, Extended ATX, ATX, Micro-ATX *1

Multimedia

—

Drive Bay

External
5.25″ x 2 (support optical drive only)
—
Internal
3.5″ x8, 2.5" x2

Cooling System

Front
—
Rear
2 x 80mm fan slot
Side
1 x 120mm intake fans, 900rpm, 18dBA
1 x 120mm fan slot
Top
oversized vents
Bottom
3 x 120mm intake fans, 900rpm, 18dBA
(backwards compatible with 1 x 120mm fan + 3 x 80mm fans, or 6 x 60mm fans)
Internal
—

Expansion Slot

7+1

Front I/O Port

USB 3.0 x 2
audio x 1
MIC x 1

Power Supply

Support standard PS2(ATX) up to 220mm, recommend depth is under 180mm *2

Operating system support

—

Expansion Card

Support graphic cards up to 13.6 inches

Limitation of CPU cooler

138mm

Limitation of PSU

220mm

Net Weight

7kg

Dimension

440mm(W) x 175mm(H) x 425mm(D)

Extra

Support Kensington lock
A Closer Look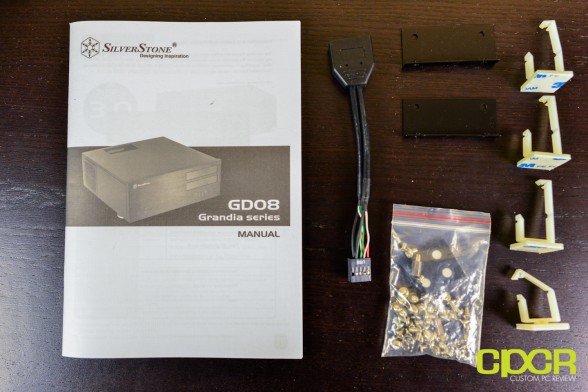 Starting with the accessories, we get the user's manual, a USB 3.0 header to USB 2.0 header adapter, a baggie filled with mounting hardware, plastic cable management "thingys", and two 3.5″ hard drive brackets for mounting a 3.5″ drive outside the hard drive caddy. More on this last piece later.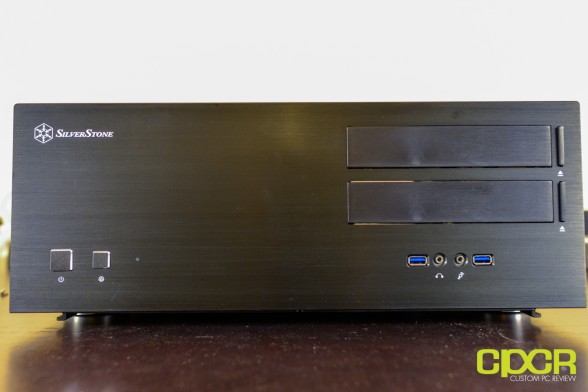 Starting on the left side of the front of the case, we get some high quality, very classy looking power and reset buttons. On the right, we get 2x 5.25″ optical bays followed by two USB 3.0 ports and a microphone and headphone jack right underneath. The entire front panel is constructed of brushed aluminum.
Moving over to the right side, we get a large, removable filter, which covers two 120mm fan slots. Instead of having just a mesh, SilverStone gave the fan filter on the Grandia GD08 a very interesting pattern. This is because it's designed to cause the least amount of resistance while still allowing excellent airflow.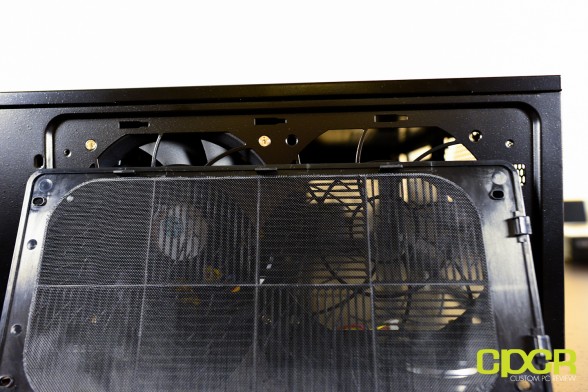 Here we've removed the fan filter, which simply clips onto the case. You can see that there's currently a single 120mm fan pre-mounted with room for an optional 120mm fan as well.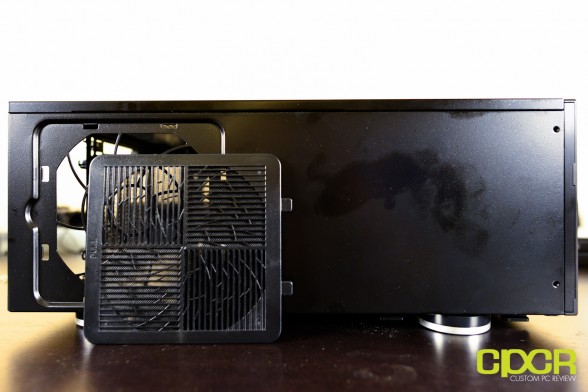 The other side of the case features a fully filtered area for the power supply fan. As you can imagine, this will only work with standard-sized power supplies. Additionally, we can also see that the side of the case attracts a ton of fingerprints, so if you have greasy fingers, be prepared to wipe it down often.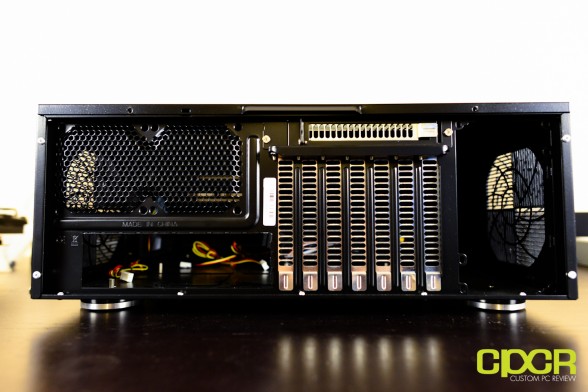 Moving around the back, there's plenty of action going on here. Starting from the left, we've got two mesh areas capable of supporting 80mm exhaust fans. Right beneath that, we've got the I/O area. To the right of that, we've got 7x expansion slots with an eighth up top for devices such as USB 3.0 expansion ports that don't require a PCIe slot. To the right of that, we also get the power supply mount. If I had to describe the design, it's pretty much a regular mid tower case on its side.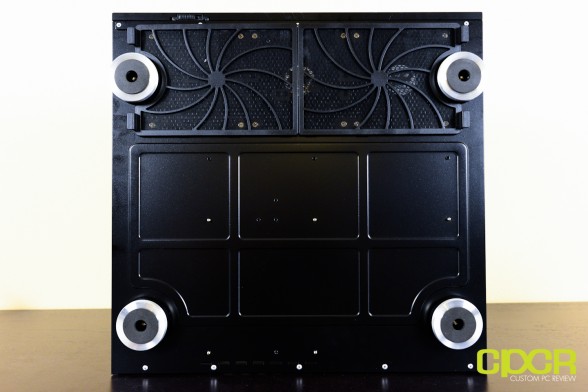 The bottom of the case features four feet with rubber material which helps the case stay put and significantly raises the case off whatever surface it's on so the fans at the bottom of the case can draw in cool air. At the bottom of the case near the front, there are also two more dust filters, which cover mounting spots for three 120mm fans. Two 120mm fans are included while a third may be optionally mounted as well.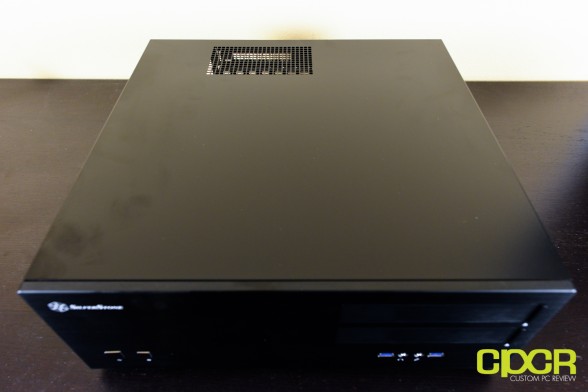 For the most part, the top of the case is quite plain with the exception of a meshed area near the rear of the top which serves as a vent. It's right above where the graphics card(s) would sit, which is great for those who purchase graphics cards that have custom coolers that don't push heat out the rear.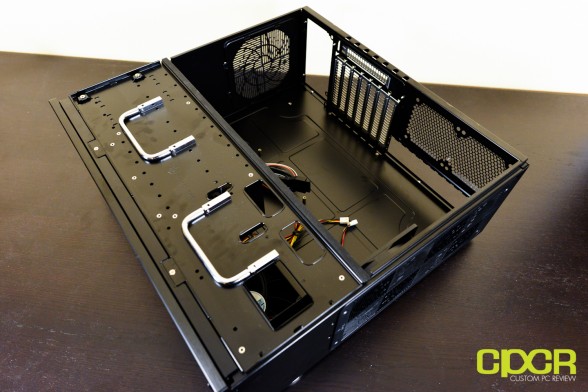 Although the Grandia GD08 is an HTPC chassis, it's actually quite large for an HTPC case as it is capable of fitting up to E-ATX motherboards. Make no mistake, while this case is larger than your average HTPC case, it's still significantly smaller than many cases on the market – even cases that are designed for mATX motherboards. The secret? SilverStone's amazingly efficient use of space. Looking into the inside of the case, it's very clean with the front portion of the case reserved for a hard drive/optical drive caddy. The closest comparison you could draw here is that the entire case is pretty much going to be your standard mid tower case on its side – except smaller.
Taking a look at the hard drive/optical drive caddy, we can see that it's definitely quite interesting. Over to the left side, we have mounting spots for two 5.25″ optical drives. Unfortunately, only optical drives are supported here, so if you're planning on installing a fan controller or something, you'll be out of luck. Right above the mounting spots for the optical drives, we also get mounting holes for horizontally mounting two 2.5″ drives as well. Moving to the right, we get support for four 3.5″ drives which are mounted vertically. However, this is only possible if larger graphics cards are not used. Additionally to the right of that, another three 3.5″ drives may be installed as well. Additionally one more hard drive may be mounted on the case itself to the left of the caddy by using the 3.5″ hard drive mounting hardware included in the case accessories.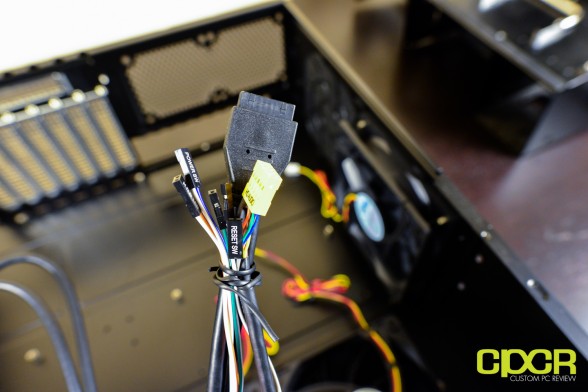 Here's a look at the front panel headers along with the front panel audio header and the front panel USB 3.0 header. Remember, a USB 3.0 header to USB 2.0 header adapter is included for those using motherboards that don't yet support USB 3.0.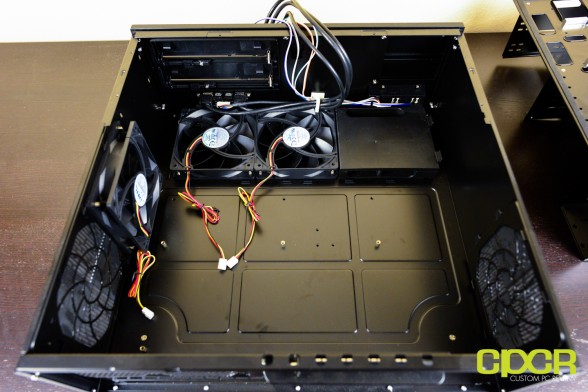 Taking a look at the innards of the case, we can see that SilverStone is including three fans with the case, all serving as intake fans. This will allow the case to maintain positive air pressure, which reduces dust inside the case. Given the amount of meshed areas for ventilation in the case, this is probably a good idea.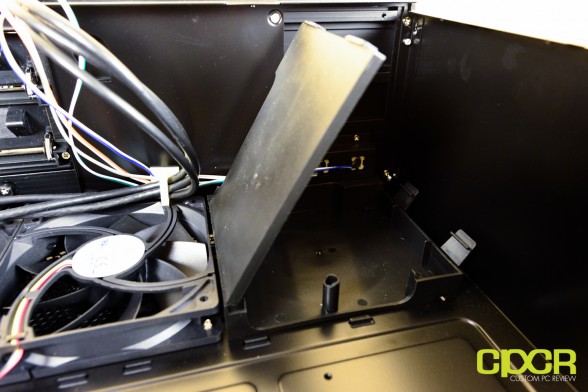 While there's no cable management in the bottom of the case, the Grandia GD08 does include a little cable management box which will allow you to store cables. For those who need additional cooling, this box may be removed in favor of another 120mm fan.
Test System
CPU: Intel Core i5 2500K & Phanteks PH-TC14CS Cooler
Motherboard: Asrock Z68 Fatal1ty Professional Gen 3
Graphics: MSI Radeon HD6970 + ARCTIC Accelero Xtreme 7970
Memory: 16GB Kingston HyperX Genesis DDR3 2133MHz
Boot Drive: Kingston V+200 120GB SSD
Storage Drive: Western Digital 1TB Caviar Blue
Power Supply: Corsair HX650
DVD Drive – ASUS OEM DVD Drive
Installation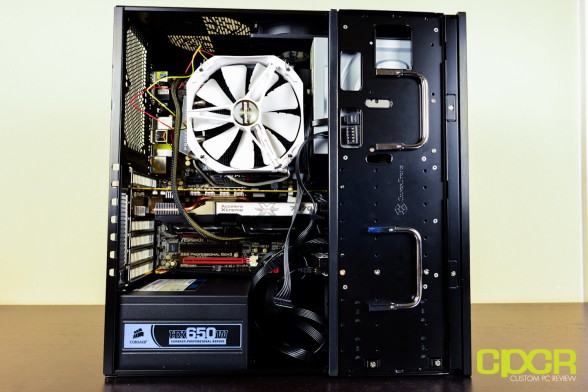 Typical of SilverStone cases, installation wasn't the easiest affair. The entire case itself had zero thumbscrews, and nothing was tool-less with the exception of the fan filters. So get ready to exercise your screw driver skills. Additionally, some parts of the case had different screw sizes to make it just a bit more difficult so you'll definitely want to track exactly where each screw goes. Cable management was a bit difficult as well since cables can't be routed through the bottom. The little cable management box was definitely nice, but it will definitely take time for organization. Safe to say, definitely reserve an more than an hour or two for installation.
Despite this, the entire test system did fit very well into the case, including the monster Radeon HD6970 with the ARCTIC Accelero Xtreme 7970 cooler that stretches nearly 13″ long. In addition, our Phanteks PH-TC14CS with its horizontally mounted 140mm fan was able to fit in with an optical drive installed as well.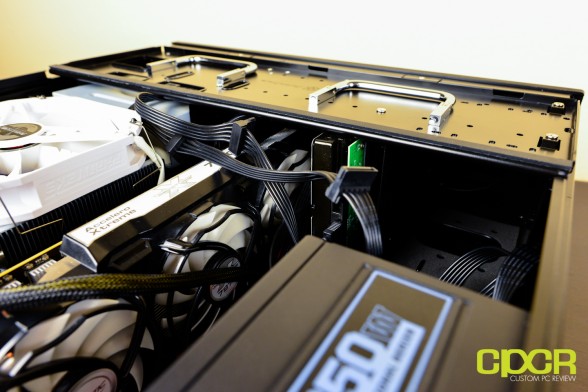 We can see here that hard drives are installed vertically. Those wondering why I placed the hard drive here instead of in the mounting points to the right, that's because there's no fan underneath the rack to the right whereas there is a fan underneath where it's placed. Additionally, while it's difficult to see, the Accelero Xtreme 7970 mounted on the Radeon HD 6970 is able to duck right underneath the hard drive caddy, so even the largest graphics cards should fit without any issues.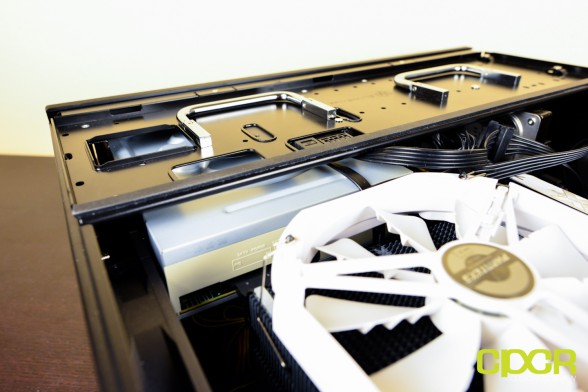 Above, the optical drive, we have an SSD installed, which is why there's a SATA cable and a SATA power cable coming out here. I think this is actually a very cool design decision by SilverStone as it's able to take advantage of the 2.5″ form factor and utilize it in a very efficient way.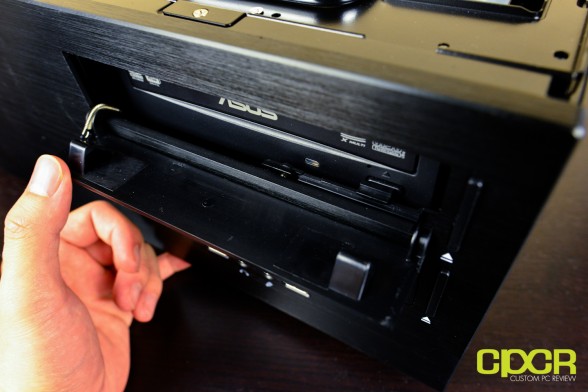 The optical drives are covered by an optical drive bay cover, so the entire front panel matches very well. The little piece inside may be adjusted to most of not all brands/types of 5.25″ optical drives.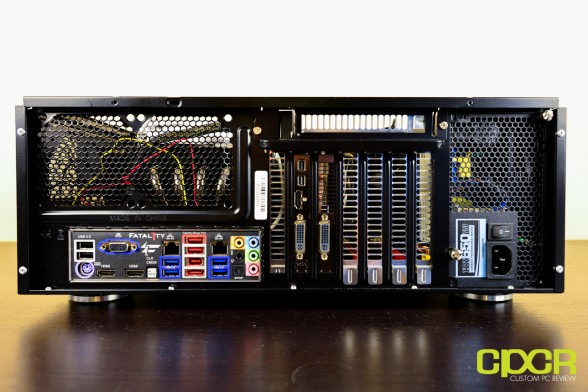 Finally, we've got the rear of the case with everything installed. There's plenty of ventilation holes back here which means positive air pressure should work very well for this case.
Performance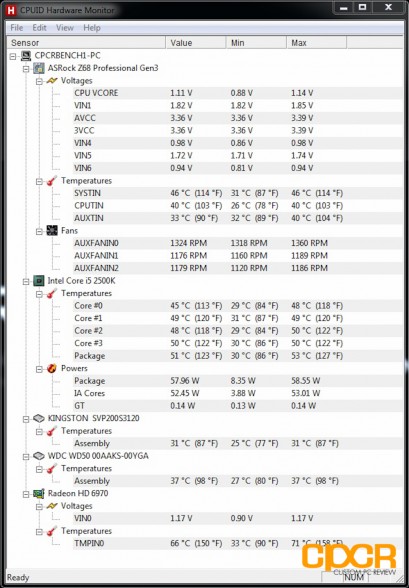 With the test system built into the Grandia GD08, I ran a full 30 minutes of AIDA64 stress test in combination with Furmark to create as much heat as possible for the case. Looking at the results here, I was very pleasantly surprised. With the exact same CPU cooler and the same test system at the exact same clock speeds, the Grandia GD08 was clearly able to outperform the cooling capabilities of the NZXT Phantom 410 mid-tower reviewed previously by around ~1-3ºC depending on core.
With the GPU, it was even more impressive with the max temperature peaking at 6ºC lower than what we saw on the NZXT Phantom 410! That said, we did see the hard drive and the SSD taking a hit with the SSD's temperatures being 2°C higher and the Western Digital Blue's temperature up by 3ºC. However, this is expected as there's virtually no air flow going to the SSD with the optical drive blocking the fan below it, and the hard drive is getting heat blown at it from the hot GPU. That said, 31°C for a SSD shouldn't be much of a problem as SSDs in laptops easily hit these temperatures while those who opt to purchase a graphics card with a rear exhaust style cooler should see very good temperatures with the hard drive.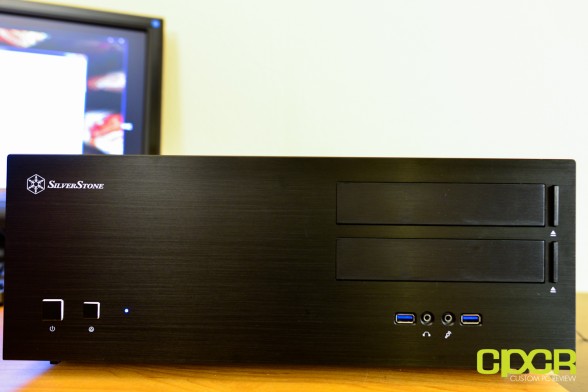 Noise performance was decent and perfectly acceptable even with the fans on at 100%, but for a home theater environment, it will probably be a bit too loud. Therefore, it will be my recommendation for those interested in this case to purchase a motherboard either with a ton of 4 pin PWM fan headers and replacing the included fans with 4 pin PWM fans, or purchase a motherboard with the ability to control the speed of the fans via 3 pin fan headers. Unfortunately as mentioned earlier, front mounted 5.25″ fan controllers will be a no go for this case.
Conclusion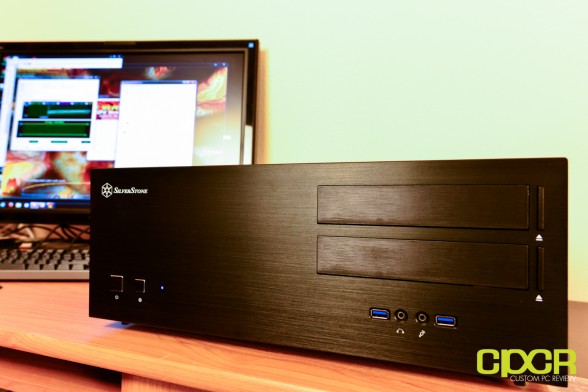 If there's one thing SilverStone does right, it's going to be case aesthetics. Those who know SilverStone will know that they're very good at working with brushed aluminum for everything and the Grandia GD08 is no exception. The brushed aluminum finish for the front panel is beautifully done and of course, don't forget that nice, classy SilverStone logo on the top left corner. While this might not be that flashy case you'll bring to a LAN party, this is the perfect case to stick in your AV stack, right next to your AV receiver and your DVD play… oh wait, you don't need one.
I'm not going to lie, installation was a hassle and that's pretty much what happens when you buy SilverStone. No individually packaged and labeled screws, no tool-less optical/3.5″ drive bays, and no thumbscrews whatsoever on this case. Like I said earlier, be sure to set aside a couple of hours prior to putting this whole system together. That said, if you know SilverStone, you'll know that they don't just stick to the normal formula when building cases. They always throw a ton of unique features in their cases and they tend to utilize the space very well. Support for mATX, ATX and E-ATX? Yes! Support for up to 8x 3.5″ drives and 2x 2.5″ drives? Yes, yes! Support for graphics cards up to 13.6″? Yes, yes, yes!
In terms of performance, it's very obvious that SilverStone has put a lot of thought into their design and the testing results reflect that. With the exact same testing setup installed, the SilverStone Grandia GD08 was able to outperform the NZXT Phantom 410 mid tower case  in both CPU and GPU temperatures by a very significant margin. This is especially impressive as the Phantom 410 comes with 2x 120mm fans and 1x 140mm fans while the Grandia GD08 only comes with 3x 120mm fans.
The SilverStone Grandia GD08 is currently available on Amazon for $145.90.
Bottom Line
With the Grandia GD08, you are getting one of the highest quality HPTC cases around with a top-notch brushed aluminum finish. For that, you're not likely to find any other case manufacturer who offers anything quite like it. Drop in the top-notch performance, the capability of fitting up to 8x 3.5″ drives, support for eATX motherboards, and a full round of fan filters, and you're really not going to find any HTPC case quite like it. Sometimes, the positives really do outweigh the negatives. Not every time, but this is one of those times.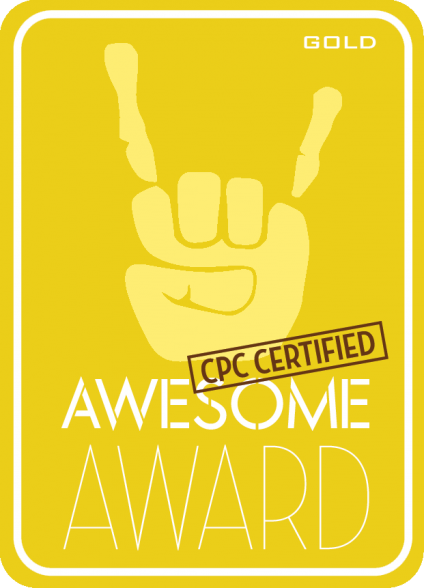 Special thanks to SilverStone for making this review possible.
The SilverStone Grandia GD08 is currently available on Amazon.