Sapphire HD 7750 1GB Low Profile Review
Low Profile's Finally Got Game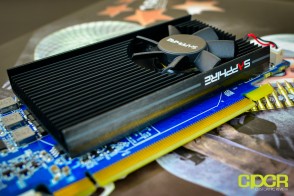 A little while back, we reviewed the Sapphire HD 7770 Vapor-X, which was a custom designed Sapphire card designed to give budget gamers excellent performance for under $150. Today, we'll be reviewing another Sapphire card that was recently introduced, the Sapphire HD 7750 1GB Low Profile.
Now the Radeon HD 7750 isn't exactly a new graphics card as it's been out for quite a while and we've actually reviewed the HIS HD 7750 all the way back in February, but today we'll be reviewing the low profile edition of the Sapphire 7750, which is designed to be used in small form factor PCs such as HTPCs for example.
In terms of specifications, the Sapphire HD 7750 1GB Low Profile is pretty much all reference, so it's got 512 stream processors, 1GB GDDR5 running off a 128 bit memory interface, 16 ROPs, 40 TUs, and a clock speeds of 800MHz core / 1125 MHz memory. This also means that performance wise, we should see results identical to what we saw from the full sized reference HD 7750, except in a smaller package.
Specifications
| | AMD Radeon HD 7750 | Sapphire HD 7750 LP |
| --- | --- | --- |
| Fabrication | 28nm | 28nm |
| Core Clock | 800MHz | 800MHz |
| Stream Processors | 512 | 512 |
| Texture Units | 40 | 40 |
| ROPs | 16 | 16 |
| Buffer Size | 1GB GDDR5 | 1GB GDDR5 |
| Memory Interface | 128-bit | 128-bit |
| Memory Frequency | 1125MHz (4.5 GHz Effective) | 1125MHz (4.5 GHz Effective) |