[section label=1. Introduction]
Going Extreme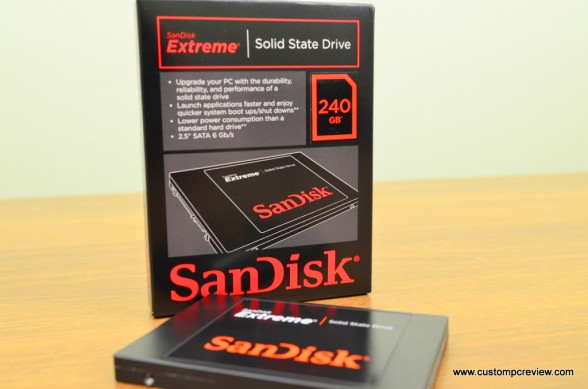 Remember when SanDisk tried to squeeze itself into the SSD market with the SanDisk Ultra SATA 2 SSDs back in 2011? Yeah, neither do I. That's because back when it was first released the drives suffered from extremely slow sequential copy speeds, even trailing some mechanical drives at times, and their high cost per GB ratio made consumers turn their heads away at the sight of them. The two combined factors doomed the Ultra line.
Now SanDisk is back with a vengeance with the "Extreme" line of SSDs. Offering sizes of 120GB, 240GB and 480GB, this new enthusiast/server line includes some vast improvements over its slower cousin. The first major difference is that it uses SATA 6Gb/s interface instead of the narrower SATA 3Gb/s. But more bandwidth is useless if the drive can't perform, so SanDisk added the speedy SF-2281 controller and top quality 24nm SanDisk Toggle Mode MLC NAND flash memory manufactured from their own foundry.
We rarely get to review a solid state drive with toggle NAND, so let's see how well it performs.
SanDisk Extreme 240GB Specifications
Read/Write: 550 MB/s read, 520 MB/s write,
I/OPS: 33K random read IOPS, 83K random write IOPS
Power: 0.5W Active, 1.9W Max Operating, .5W Idle
MTBF:2 million hours
Weight: 78g
Interface: SATA 6 Gb/s
Warranty: 3-year limited
[section label=2. A Closer Look]
A Closer Look at the SanDisk Extreme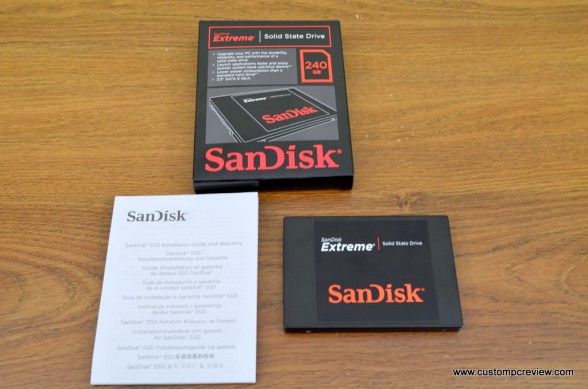 As with most SSDs on the market, there isn't much that comes included with the SSD. The box, the manual, and the SSD itself is pretty much it.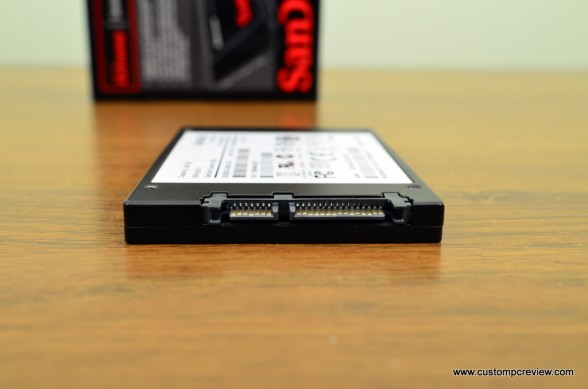 Here in its usual spot, we see the SATA 3 6Gb/s interface along with a SATA power connector.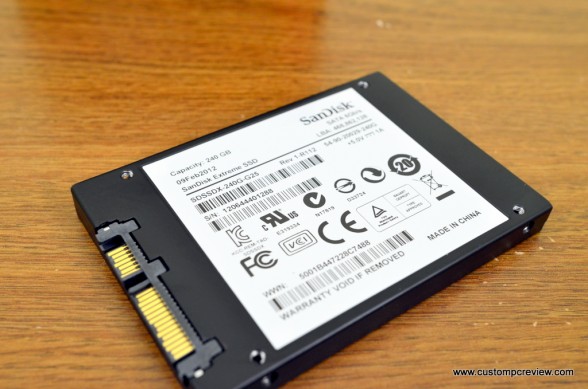 The back of the SSD with some information about the SSD. Don't remove the sticker, otherwise your "WARRANTY VOID IF REMOVED".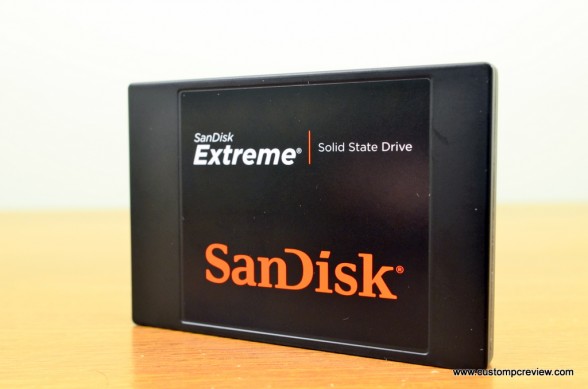 The enclosure is completely metal, which shows SanDisk's dedication to quality. The front side sticker blends with the black color scheme very well.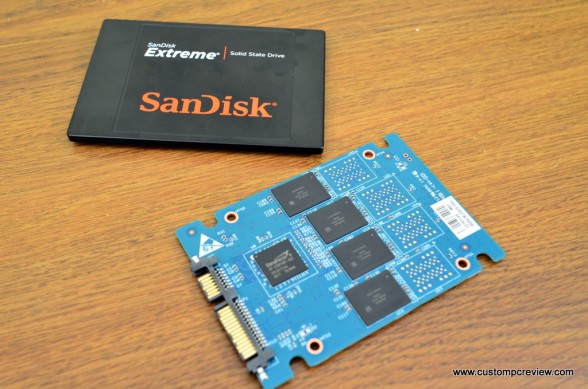 Here we did some warranty voiding action to show you what's inside.  On one side of the PCB we can see 4 modules of 32GB NAND chips along with the SandForce SF-2281 chip to the left.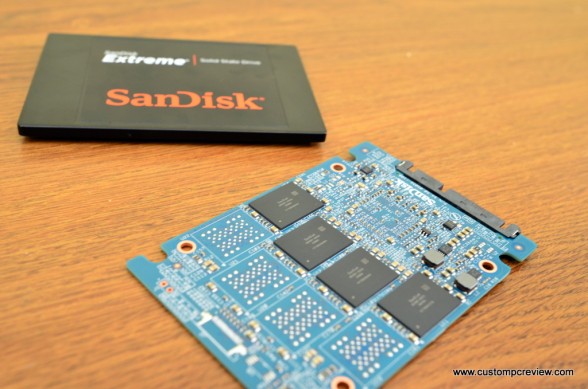 The back side of the PCB houses the other 4 NAND modules.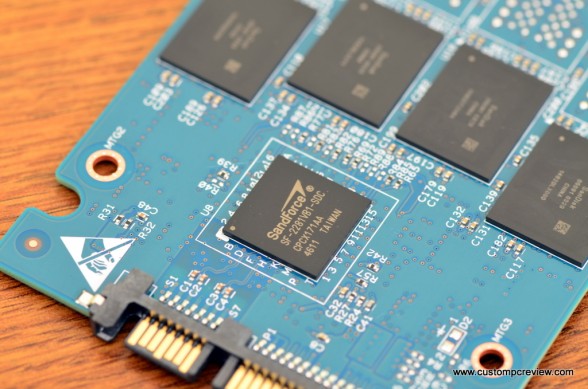 Here we can see the SandForce SF-2281 controller in all its glory.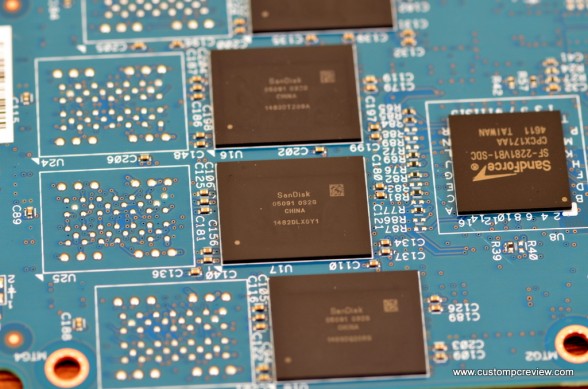 Here's a closer look of one of the NAND chips. Note how all the NAND modules are branded with SanDisk. This definitely leads me to believe that these chips are SanDisk produced (as they do own a foundry with Toshiba) and that these are probably handpicked for this SSD. Additionally, with SanDisk knowing which specific NAND chips will be going into their SSDs, they're also able to customize their firmware specifically for this SSD, which should in theory mean higher performance.
[section label=3. ATTO Disk Bench and Crystal Disk Mark]
Sandy Bridge Test Bench
CPU: Intel Core i5 2500K
Motherboard: Asrock Z68 Fatal1ty Professional Gen 3
Graphics: Intel HD3000 Graphics
Memory: Gskill Sniper 1866MHz DDR3 1.5v
Storage: Patriot Pyro SE 120gb
Power Supply: Corsair HX650
Case: HSPC High Speed Tech Station
Special thanks to HSPC for providing us with the High Speed Tech Station (Large) for our test bench!
SanDisk Extreme Performance
ATTO Disk Benchmark
ATTO Disk Benchmark is one of the industry's most popular benchmarks for testing SSD read/write speeds. This benchmarks allows read and write testing using predefined block sizes and gives us a good idea of read/write speeds with different sized files.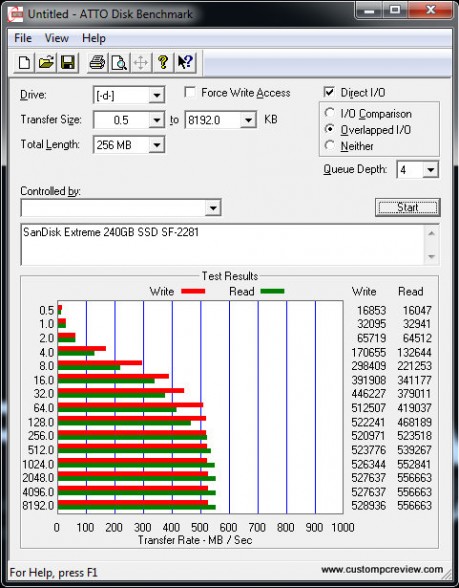 With ATTO Disk Benchmark we can see that even at a queue depth of 4, the drive is already able to push out 528MB/s writes and 556MB/s reads, which meets and slightly beats the advertised performance.
Crystal Disk Mark 3.0.1 x64
Crystal Disk Mark is another popular benchmark which allows us to measure both sequential read/write speeds as well as random read/write speeds. With this benchmark, tests will be run using both random fill (incompressible data which simulates music, video, pictures, etc.) and 0 fill (compressible data).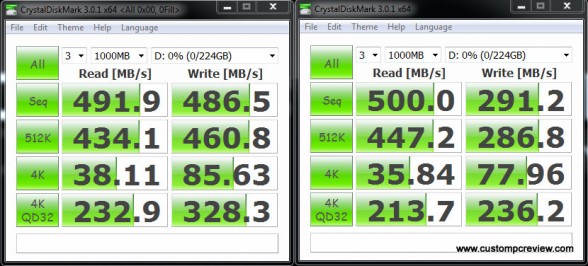 Like any other SandForce based SSD, the SanDisk Extreme 240GB performed very well in the test with compressible data. Although a bit slower than the advertised speed of 550MB/s read and 520MB/s write, it's just about where we'd expect for this type of drive.
What set this drive apart from the others is its performance in the random fill benchmark, which simulates incompressible data. Thanks to the toggle NAND flash memory, this drive was able to output a ridiculous 500MB/s sequential read and 291MB/s sequential write, blowing away all other drives we've tested so far.
[section label=4. AS SSD and PC Mark 7]
SanDisk Extreme Performance
AS SSD Benchmark
AS SSD is a very commonly used benchmark used to measure SSD performance in a number of categories. Here, tests are run using incompressible data, which most simulate real world usage. It also outputs a final score at the conclusion of the test based off the read and write performance of the drive.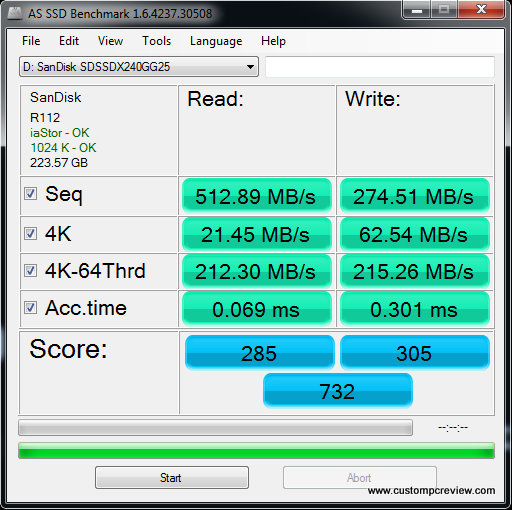 The SanDisk Extreme 240GB continues to dominate its competitors in the AS SSD benchmark, which also uses incompressible data. Additionally, it scored high in the 4k and 4k 64 speed tests, not to mention the low access times. Any OS running on this drive will definitely feel very zippy.
PC Mark 7
The PC Mark 7 storage test tests the SSD under many different real world tests such as gaming, video editing, etc. This is most representative of the SSD's performance under real world situations.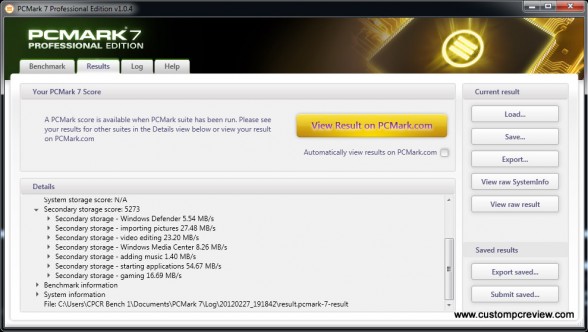 | SSD | PC Mark 7 |
| --- | --- |
| SanDisk Extreme 240GB | 5273 |
| Crucial m4 128GB | 5214 |
| Patriot Pyro SE 120GB | 5042 |
| Kingston V+200 120GB | 4711 |
| OCZ Agility 3 120GB | 4701 |
| Corsair Force 3 180GB | 4615 |
| Seagate Momentus XT 750GB | 3247 |
| WD Scorpio Black 250GB | 1727 |
The 5273 points the SanDisk Extreme scored in PCMark 7 takes the number one position in our current SSD list. The close second is the Crucial M4, which uses synchronous NAND.
[section label=5. Conclusion]
SanDisk Extreme Conclusions
As you can see from the results above, I can confidently say that the SanDisk Extreme is a much more competitive than the Ultra that came before it. This drive is nothing short of amazing. Dominating in both compressible and incompressible reads and writes, the SanDisk Extreme will be suitable for any job. Additionally, the solid metal construction and top of the line in house toggle mode NAND modules make this an excellent package overall.
One downer about this drive is that it's quite expensive. Tagged at $338 on Amazon, this drive is much more costly than any other drive in the same capacity range. However, considering its blazing fast performance and the quality of its components, the SanDisk Extreme is definitely worth its price.
Additionally, while it's not a standard in the SSD market, it's a downer to yet again see another drive carry only a 3 year warranty. While this is the standard in this market, it would have been nice to see a trend towards the 5 year warranty that Intel's new 520 series is offering.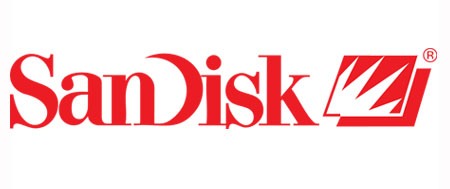 Bottom Line
With the new SanDisk Extreme SSD, SanDisk is definitely making a comeback in the computer storage market. Performing at lightning speeds, the SanDisk Extreme 240Gb is a great storage solution for anyone who don't mind spending a little more for that extra bit of performance. Whether you are an avid enthusiast or just someone looking to improve productivity, this drive will get the job done–and then some.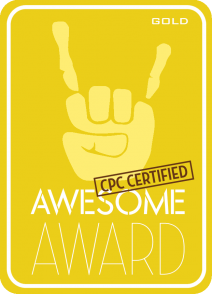 Special thanks to SanDisk for making this review possible.
The SanDisk Extreme SSD is currently available at Amazon.