[section label="Introduction"]
Powerful 4-bay NAS for Media and Business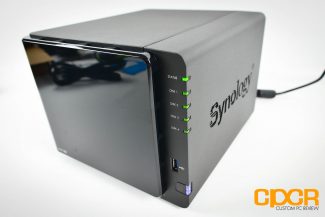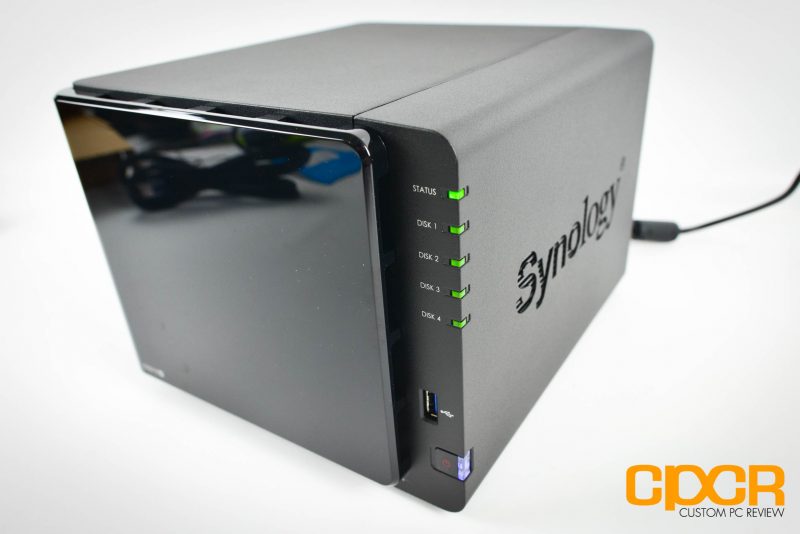 While cloud storage has become a very popular form of data storage for individuals and businesses alike, there are a few drawbacks to using the cloud.
For those who live in areas with slower internet or datacapped internet for example, cloud storage may not be an ideal solution. Aside from internet issues, data breaches, government monitoring, or simply not being allowed enough storage capacity constitute additional issues with cloud storage.
As such, there are some clear benefits when using a self hosted NAS solution and when it comes to NAS makers, few are more well known than Synology.
Today we'll be reviewing the Synology DiskStation DS916+ which is one of Synology's latest NAS units to come to market. The DiskStation DS916+ replaces the Synology DiskStation DS415+ offering a significant upgrade in the internal hardware for enhanced performance in media, encryption, or data serving applications.
Synology DiskStation DS916+ Specifications
Brand
Synology
Model
DiskStation DS916+
CPU
Intel Pentium N3710 Quad Core Processor (1.6GHz Base, 2.56GHz Burst)
Memory
2GB/8GB DDR3
Storage
4x 2.5″ or 3.5″ SATA HDD/SSD
External Storage Interface
3x USB 3.0, 1x eSATA
Networking
2x Gigabit LAN (Link Aggregation, Failover)
Additional Interfaces
N/A
Size
165mm x 203mm x 233.2mm
Weight
2.04kg
Noise Level
19.4 dB (Active)
Power Consumption
13W Idle,
30W Load
Warranty
3 Years
Check Pricing
Click Here
Looking at the specifications here, the Synology DiskStation DS916+ packs an Intel Pentium N3710 Quad Core Processor paired with an option of either 2GB or 8GB of DDR3 out of the box. This is significantly more powerful than its predecessor's Intel Atom platform based processor and is able to use less power which is a huge plus.
Aside from these improvements, the DiskStation DS916+ is largely the same as its predecessor, featuring four drivebays with the capability of expanding an additional five drivebays with a Synology DX513 expansion unit.
[section label="A Closer Look"]
A Closer Look at the Synology DiskStation DS916+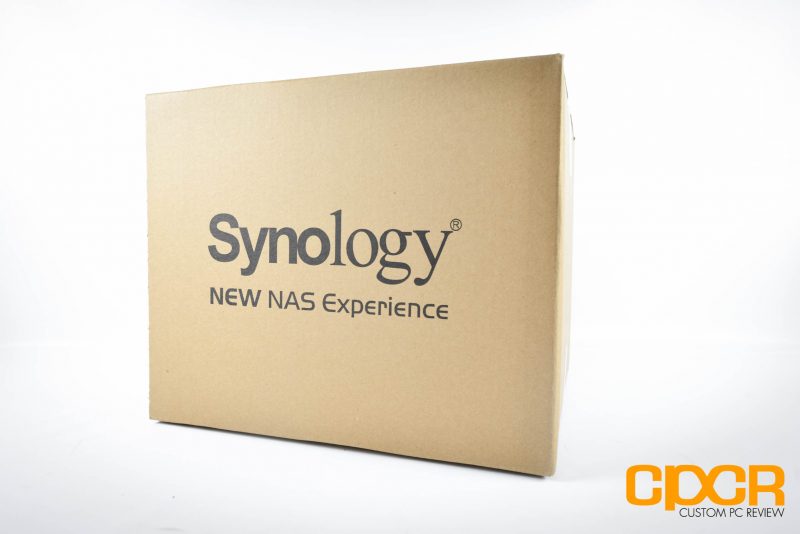 Here's a look at the packaging for the Synology DiskStation DS916+ 4-bay NAS. It's not much to look at, but given that NAS systems aren't generally sold on retail shelves, packaging just needs to be functional.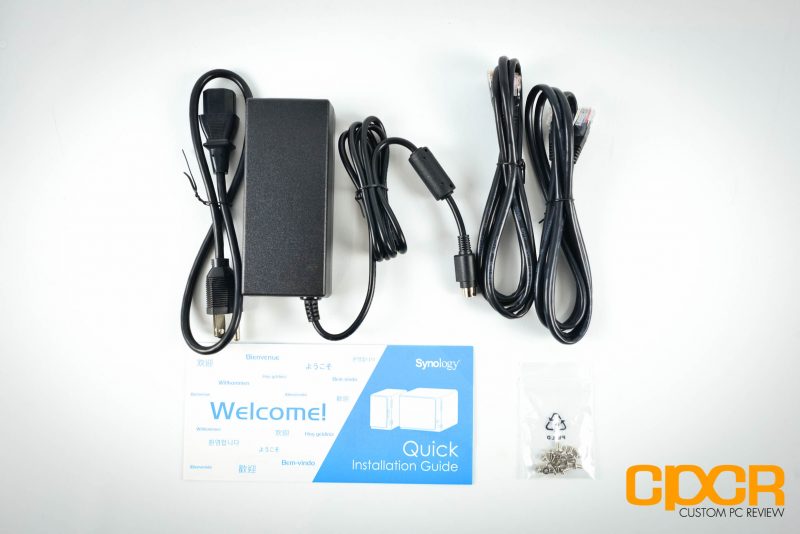 Included is a few accessories including some documentation, a power adapter, two Ethernet cables, and a bag of mounting screws.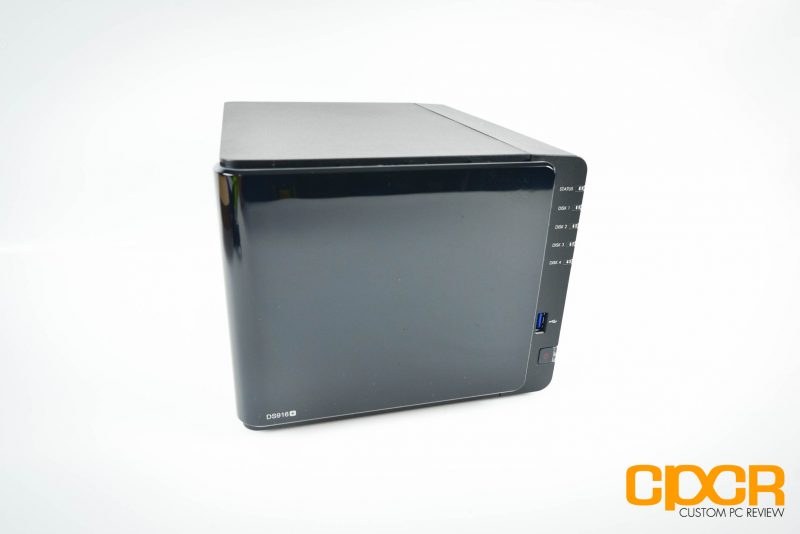 Here's a look at the Synology DiskStation DS916+. The Synology DiskStation 916+ fits into Synology's "Plus" lineup of NAS units which feature more powerful internal hardware designed for workgroups and small to medium sized businesses.
In front, the DiskStation 916+ features a very glossy front panel which hides the drives behind it. On the right side is several status LEDs, a USB 3.0 port, and a power button.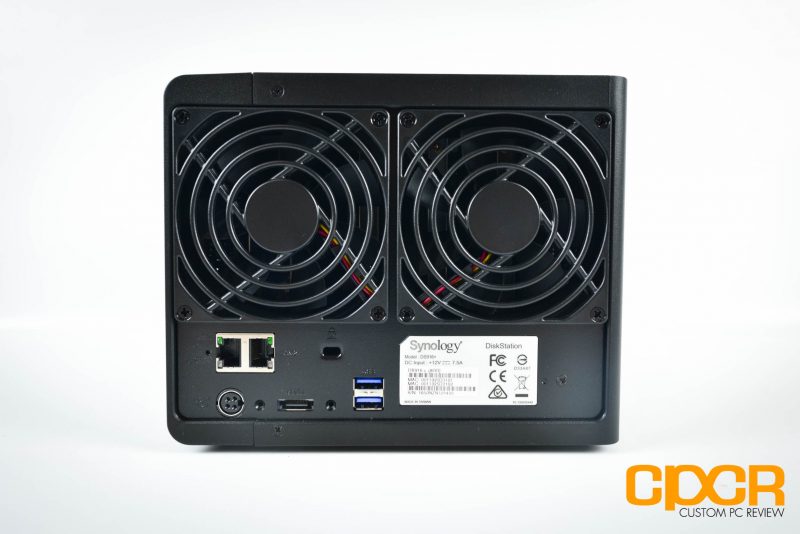 Spinning around to the rear of the unit, we get all the I/O ports as well as the two large 92mm fans. I/O ports on the Synology DiskStation DS916+ include two Gigabit Ethernet ports, an eSATA ports, two USB 3.0 ports, DC power in port, and a lock port.
Removing the drive cover reveals the four drive bays on the Synology DiskStation DS916+. Each drive sits in an individual drive caddy which can support either 2.5″ or 3.5″ HDDs or SSDs. Interestingly enough, the new drivetrays will allow tool-less installation of drives, which is a big plus.
For our review, we utilized four 2TB Seagate Enterprise HDDs. While these drives are a bit overkill, we highly recommend picking up HDDs with TLER functionality on NAS units to prevent disk corruption issues.
[section label="DSM 6.0″]
Synology DSM 6.0
Synology's OS for the DiskStation NAS units is DSM, or DiskStation Manager. This software package has historically been one of the most easy, intuitive, yet feature filled NAS OSes on the market.
Currently Synology is on DSM 6.0, which has numerous functionality improvements over previous DSM versions however, still keeps the interface extremely easy to use.
Getting up and running is as simple as creating a Shared Folder and accessing it through the network. More advanced applications can also be installed which will allow the DiskStation to become a web server, database server, cloud server, e-mail server, surveillance system server, and more.
Here's just a small look into the DSM software, which I regard as one of the best NAS OSes on the market, combining both ease of use for novices and tons of functionality for more advanced users.
[section label="Performance"]
Synology DiskStation DS916+ Performance
For testing, I tested the performance of the Synology DiskStation DS916+ using a single client as well as using multiple clients to test the performance advantages of its link aggregation functionality.
Single Client Testing
For single client testing of the Synology DiskStation DS916+, we utilized Intel NASPT (NAS Performance Tester) which tests NAS performance using a variety of workloads.
For our testing, we formatted the Synology NAS units to SHR (Synology Hybrid RAID) and other NAS units to either RAID 0 for two-bay units and RAID 5 for all other units. We tested both unencrypted performance and encrypted performance.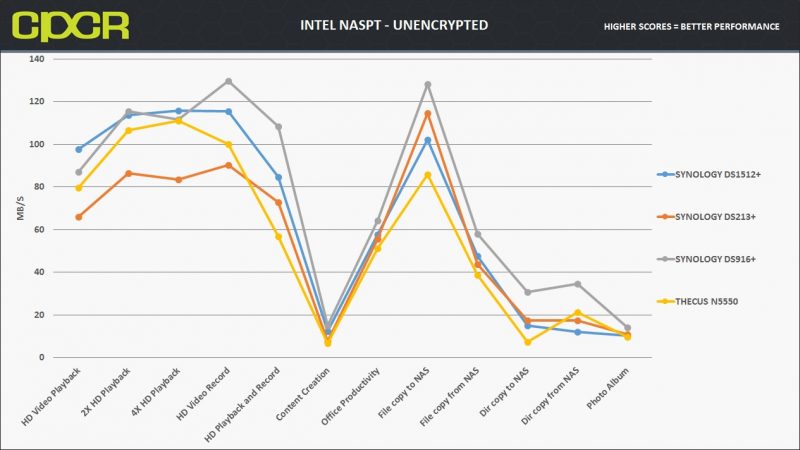 Here we can see that the Synology DiskStation DS916+ is a solid performer, outperforming all the other NAS units in our testing.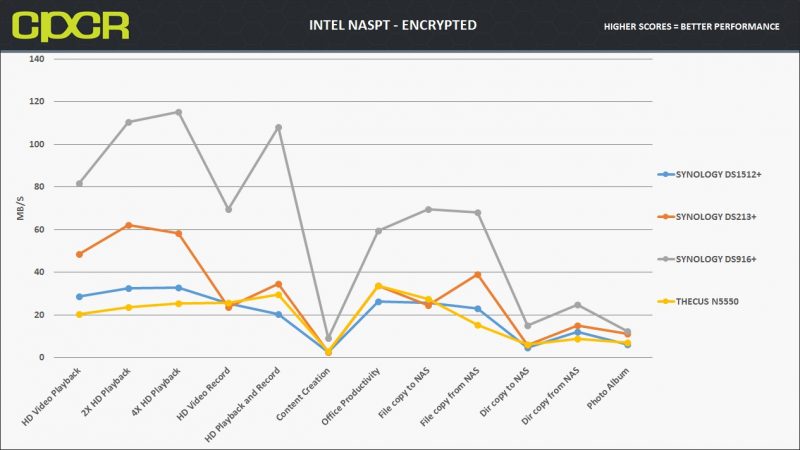 However, where the Synology DiskStation DS916+ really shines is in tasks that heavily utilize its processing capabilities. Encrypted drive performance is significantly higher than other NAS units as the Intel Pentium N3710 is able to encrypt and decrypt data significantly faster than ARM or PPC based processors.
Multi-Client Testing
In order to test maximum performance of the NAS, I utilized IOMETER's networked testing capability to simultaneously load each NAS with three clients reading or writing 128K random data at QD32. NAS units with two Ethernet ports are configured to utilize Link Aggregation.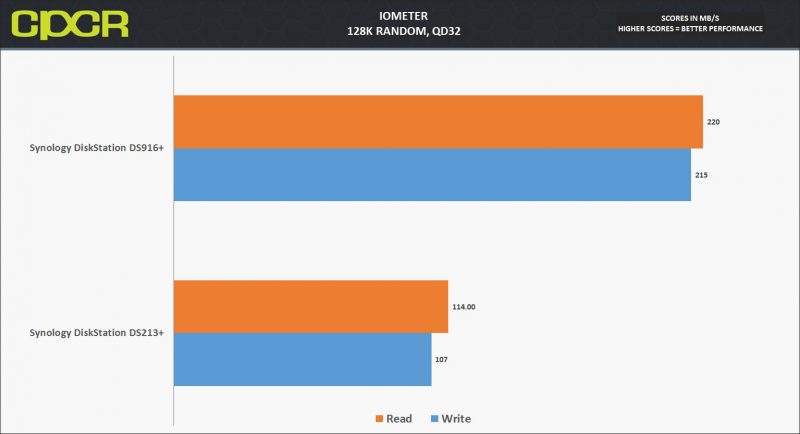 Here we can see that the Synology DiskStation DS916+ is able to support write performance up to 220MB/s sequential reads and 215MB/s sequential writes thanks to its ability to use Link Aggregation. This however does require that you own a router or switch capable of supporting the feature.
[section label="Conclusion"]
Synology DiskStation DS916+ Conclusions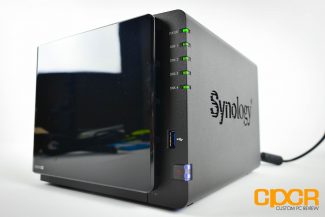 Overall the Synology DiskStation DS916+ is pretty much a typical Synology incremental upgrade. The hardware has been substantially improved, but the overall design of the unit is very similar to its predecessors. That said, the Synology 4-Bay NAS design isn't bad looking at all and the hardware upgrade will be a welcome change for those looking for a more robust home or business NAS solution.
For those considering the DiskStation DS916+, the biggest benefit with this NAS is if you're planning to utilize it for tasks such as transcoding media or those who need encrypted drive functionality. With the more powerful CPU inside, the DS916+ is a top choice for these tasks.
However, do keep in mind that the DiskStation DS916+ doesn't include a HDMI port, so it may be worthwhile to consider other NAS units if you're in the market for something to not only store and transcode videos, but also play them back as well. Additionally, it's also worth mentioning that the DiskStation DS916+ doesn't include any lockable drivebays which may be an issue with offices that need that extra layer of physical security. While it does have a Kensington lock port, it doesn't do much good if the drives themselves are missing.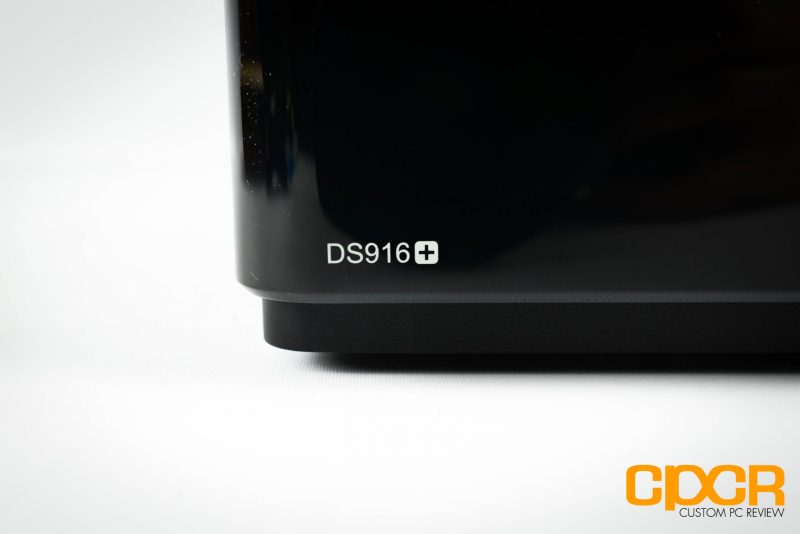 Pricing on the Synology DiskStation DS916+ will start at $549.99 for the 2GB model and the 8GB model will run approximately $50 more. Of course, the onboard memory can be upgraded however, you would have to be comfortable taking it apart. Without a doubt, the DiskStation DS916+ is definitely a pricier 4-bay NAS, but it's a quality, high performance NAS and that's the price to pay for premium hardware.
Overall, the Synology DiskStation DS916+ is an excellent NAS for the home or office. Those who don't need the extra powerful hardware can opt for the cheaper Synology DiskStation DS416, but those who need additional performance will appreciate what the DS916+ can offer. Recommended!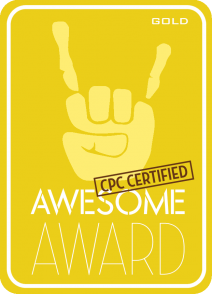 Sample provided by: Synology
Available at: Amazon