[section label=1. Introduction]
Real 5.1 Surround Sound Gaming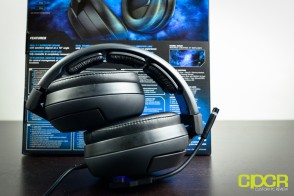 Fact: having a full 5.1 surround sound system will enhance your multimedia experience – this is something that even your grandma would probably agree on. Not only does directional sound allow you to track your enemies better (shooter fans, you know what I'm talking about), it also makes bad movies just a little easier to bear with when the sound is just that good. While full on 5.1 surround sound systems are quite common in living rooms, the same isn't necessarily true in a bedroom or office, which is where we generally place our computers. Although many companies sell 5.1 or even 7.1 surround sound computer speakers, it's generally more hassle than it's worth to setup a system like that for the computer. Thankfully, surround sound headsets exist, so you don't have to choose between a complicated 5.1 speaker setup with tons of wires running everywhere and having true surround sound.
One such product is the ROCCAT Kave 5.1 Surround Sound gaming headset. Being a true 5.1 surround sound headset, it has 3 x 40mm drivers + 1 x 30mm subwoofer driver in each earcup to deliver real positional audio. ROCCAT claims that they've also paid great attention to comfort by adding in super thick earpads, open back circumural earcups, and an innovative headrest designed from the ground up. Additionally, it also features a removable  noise cancelling, omni-directional microphone and an in-line volume control dongle that doubles as a USB amplifier.
The ROCCAT Kave certainly looks like an interesting product on paper, but you probably didn't come here to stare at its spec sheet, so let's move on to the review!
ROCCAT Kave Specifications
| | |
| --- | --- |
| Manufacturer | ROCCAT |
| Model | Kave 5.1 |
| Center/Front/Rear Driver Units | Frequency response: 20~20,000HzMax. SPL at 1KHz: 114±3dBMax. input power: 100mW (30mW)Drive diameter front: 40mmDrive diameter rear: 40mm |
| Vibration Driver Units | Frequency response: 20~100HzMax. input power: 1000mWDrive diameter: 30mm |
| Microphone | Frequency response: 20~18,000HzSensitivity at 1KHz: -36dBDirectivity: omni-directionalDiameter: 4×1.5mm |
| System | Connection: 4 X 3.5mm jack plugImpedance: 32 OhmCable length: 3,4m total (2,0m Remote > PC)Between ear cups and remote: 140cmBetween remote and splitter: 180cmBetween splitter and PC: 20cm |
[section label=2. A Closer Look]
A Closer Look at the ROCCAT Kave 5.1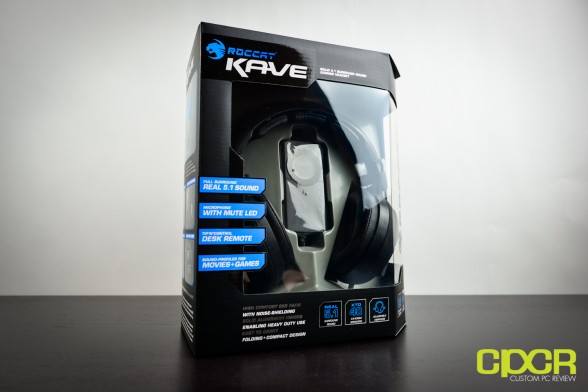 Here's a look at the box for the ROCCAT Kave 5.1 Surround Sound Gaming Headset. The box has a window up front giving you a glimpse of the headset.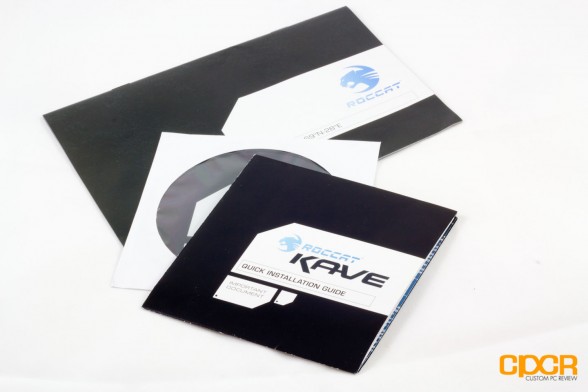 Accessory wise, you are not gonna find much. There's an installation guide, a CD with a surround sound demo and some "ROCCAT Stuff", and a booklet with a ROCCAT membership card attached.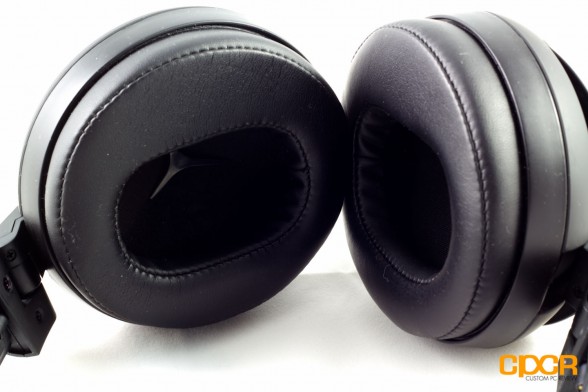 The earcups are enourmous, and so are the earpads on them. There should be plenty of space in the middle to house even the largest of ears, and the extra thick, pleather wrapped earpads look to be very comfortable.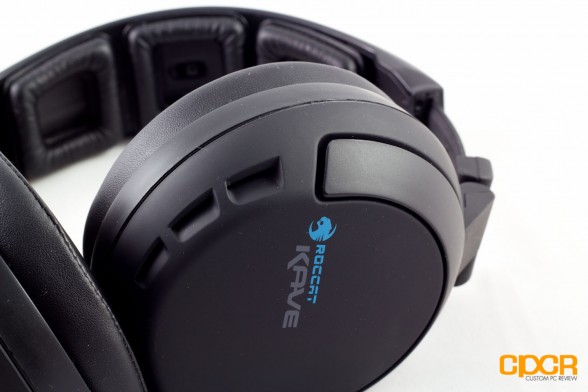 The ROCCAT Kave 5.1 has open back earcups, which means that there are little cutouts on it to create a more "open" sound and prevents heat buildup from frying your ears. A disadvantage of the open back design is that it also lets environmental noise in and what you're listening to out. The earcups are crafted from plactic, but they feel very solid. The exterior also received a matte finish to prevent smudges.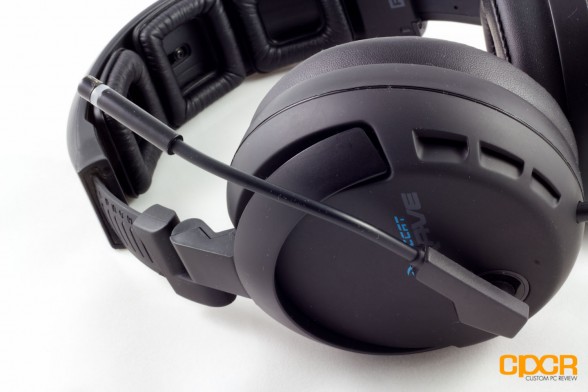 The omni-directional noise cancelling microphone can swivel 360°. I guess this is to help those gaming demigods who like to wear their headsets backwards for that added challenge.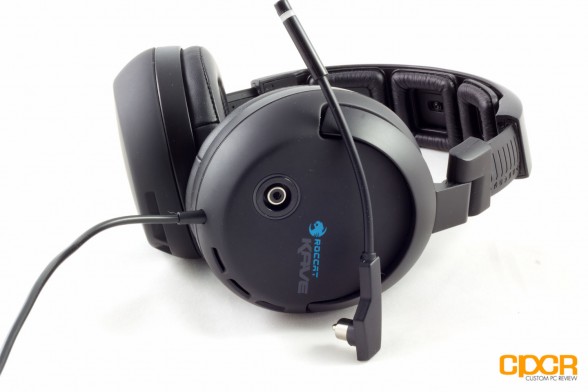 Did I mention that the microphone is completely removable?  I guess ROCCAT added this feature to make transporting the gigantic Kave a little easier. The little ring around the socket glows blue when the microphone is attached.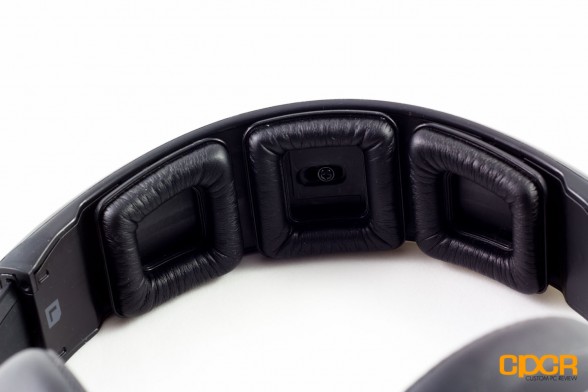 The headrest features a very unique design. Instead of having one large piece of padding stretching across the entire span of the headband, ROCCAT divided it into three parts and carved out the center. I'm not sure how well this will work out though, since the Kave is pretty heavy and the padding feels pretty thin.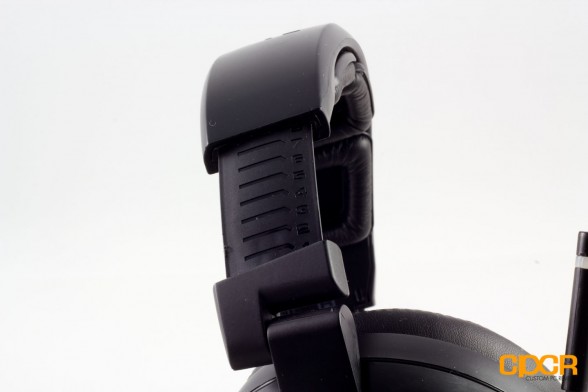 There are numberings on the headband to help you even out the length on both sides without having to eyeball it yourself. The hinges between the headband and the earcups are held together by solid aluminum rods. Assuming that you won't purposely try to break your headset, the hinge should survive a couple of drops or tosses.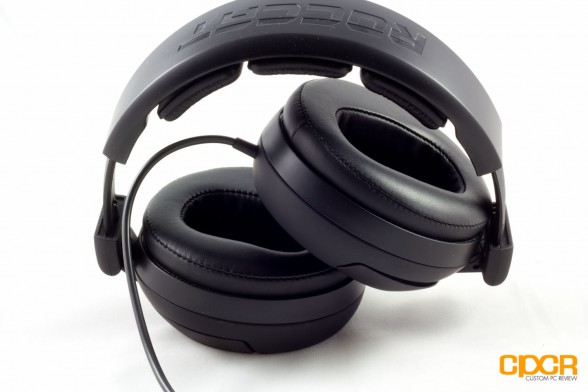 The earcups on the ROCCAT Kave can also be folded up. This was obviously to conserve your precious bag space. Although I applaud the ROCCAT's intention, the folded Kave is like a bear curled up into a ball trying to squeeze into a golf hole – it's still a colossus when and will still be a pain to pack, especially given it's awkward shape.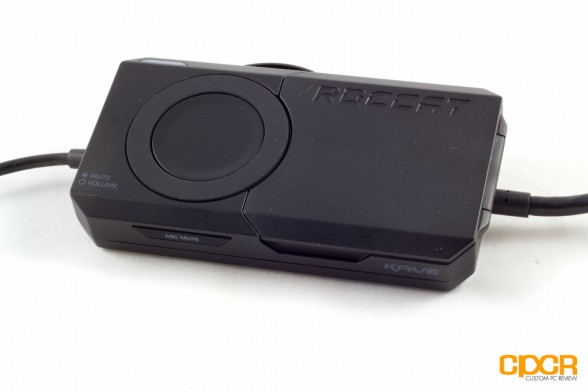 A more appropriate name for the inline control dongle would be the inline control panel, as it's massive and should sit on your desk at all times. Embedded within the exterior is a volume control wheel, a mute all sound button (center part of the volume control wheel), and a mute microphone button on the bottom. Counter-intuitively, the BLUE LED on tip of the microphone activates when the mic is OFF and turns off when the mic is ON.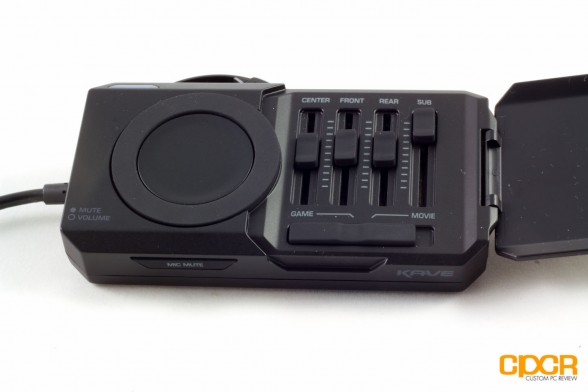 Removing the cover on the right side, we find a volume mixer for the center, front, rear, and subwoofer drivers. There's also a selection switch for game mode and movie mode.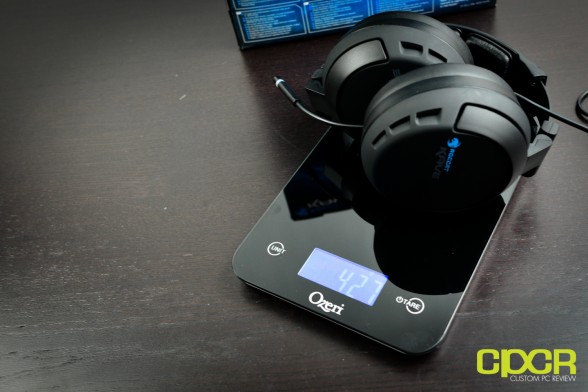 The ROCCAT Kave is definitely a heavyweight – weighing 427 grams even without the dongle. This is unsurprising since it is a true 5.1 surround sound headset with 4 drivers in each earcup.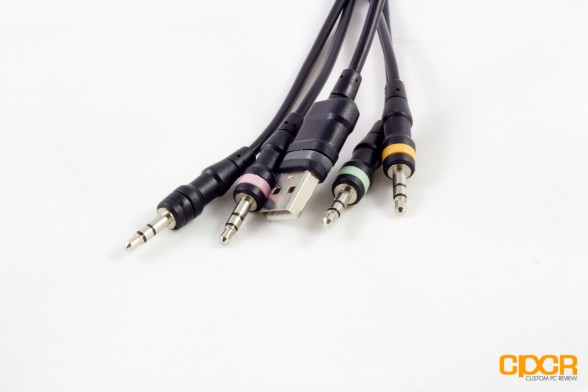 Finally we have the connectors. There's the usual front-in, rear-in,center-in and sub-woofer connectors, then there's the USB connector for the in-line amp and the microphone. For the headset to work properly, the USB connector must be plugged into the PC along with the 3.5mm connectors as it acts as an amplifier. There are no USB soundcards included here. 

[section label=3. Performance]
ROCCAT Kave 5.1 Performance
Gaming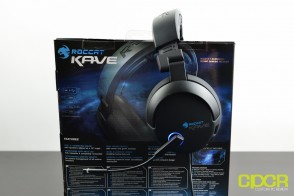 Since the biggest selling point of the ROCCAT Kave is obviously its 5.1 surround sound capability, I hopped into Battlefield 3 to see just how well it can track my foes. Unsurprisingly, the Kave's directionality performance met and exceeded my expectations. Not only was it able to help me pin-point nearby enemies with spot-on precision even in when height was involved, the level of immersion was also greatly enhanced as it produced a wider soundstage than stereo headsets. Sound effects were splendid thanks to the combination of decent 40mm drivers and a pair of darn fantastic subwoofers. The 40mm drivers had good treble and mids, and tanked through firefights without pooping out distorted sounds or adding in noise. The subwoofers were literally the best subwoofers I've heard on a pair of headset. Their bass output was deep and extraordinarily clear, but wasn't so powerful that it drowned out the drivers. However, the magic really happened when they all worked together. Having the subwoofers handle the bass and the drivers handle the mids and highs, it brought out every little sound I needed to hear. This made everything, especially gunfire, sound much more complex and genuine.
Movies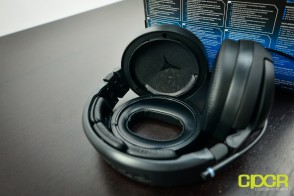 The Kave excelled at this benchmark as well. Its directional sound alone made movies much more enjoyable. That's not to say audio output wasn't good, in fact, it was excellent. Like the gaming test, the Kave was able to flesh out a lot of the small sound details that you may normally miss with a pair of normal stereo gaming headset. The bass delivered realistic explosive effects, which made watching mission impossible 3 a blissful experience. Mids were excellent too, with the dialogues in Valkyrie being crystal clear and distortion free. Treble was the same story, screeching of tires and glass shattering was all clearly outputted.  There was a little noise when I pushed the volume up to the maximum, but it wasn't pronounced enough to completely destroy the movie experience. Switching between movie mode and gaming mode did not produce a significant difference other than sounds being slightly louder when operating under movie mode.
Music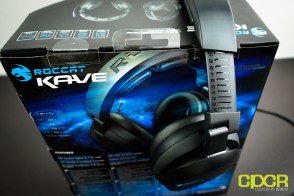 After tinkering with the sound settings for a bit, I found that the Kave handled bass better than the other sound ranges. Trebles rolling off violins in classical pieces didn't faze the Kave's 40mm drivers, and dubsteps sounded quite enjoyable thanks to its great subwoofers. Rock music was equally excellent; treble, mids, and lows were all good, although the mids sounded slightly flat. A little distortion was detected when I pushed the volume to maximum. But at that point, the Kave was so loud that I had to lift from my ears. Speaking of maximum volume, the in-line USB amplifier (also doubles as volume control) was disappointing. The amplification was very inconsistent for each of the drivers and the bass slider didn't seem to do anything at all. No noise, distortion, or drown-outs was detected at lower levels.
Comfort and Usability

The ROCCAT Kave was very comfortable overall, but its headrest could use a little redesign.  The in-line volume control dongle was a joy to use; I especially liked the ring-styled volume control wheel. The dongle also came with rubber feet on its backside and prevented any silly sliding mishaps. The vents on the earcups did their job, as my ears felt marginally cooler wearing the Kave in comparison to wearing my SteelSeries Siberia V2. The earpads on the earcups was incredibly soft, and despite the slightly excessive pressure the earcups exerted on the sides of my head, they still managed to keep me pain free for a very long time. T he passive noise insulation the earpads provided was decent enough to block out fan noise, but failed to reduce my TV in the background to an acceptable level. The major killer here, though, was that the padding on the headrest wasn't thick enough to support the Kave's enormous weight. After about an hour of continuous use, the top of my head felt a little uncomfortable. The Kave's build quality was excellent. ROCCAT used solid aluminum for the hinges, and very durable plastic for the headrest and earcups. The cable wasn't braided, but the rubber around the wires feel pretty tough and should stand up to some abuse. The Kave's fold-able design did indeed make it more backpack-friendly, but even in its folded state, it was still too large to be called "portable".
Microphone
The detachable microphone did its job well. My voice was clearly relayed across Skype with no distortions or static. It also had excellent noise cancellation; my keystrokes on my 6GV2 (Cherry MX Black) keyboard did not bother the person I was conversing with despite that I bottomed out the keys.
[section label=4. Conclusion]
ROCCAT Kave 5.1 Conclusions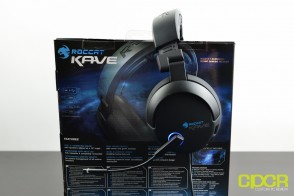 Personally, I believe ROCCAT really has a fantastic true 5.1 surround sound gaming headset with the Kave. It was a phenomenal piece of gaming gear (especially for first person shooters) and a very well rounded multimedia companion. That said, it's not without flaws, and its biggest drawback lays within the unremarkable USB amplifier and its headrest.
As expected, directionality was amazing with this headset. It helped me pinpoint of the position nearby enemies in Battlefield 3 with dead-on accuracy. The directional sound didn't just leverage my performance; it also delivered a superior sense immersion a stereo headset can't hope to match. Thankfully, the "quality over quantity" case wasn't present with the Kave: audio quality in games was excellent despite it being a true surround sound headset with multiple drivers. On the topic of drivers, the level of balance ROCCAT engineers achieved with the 40mm drivers and the subwoofers is almost legendary. They just complement each other so perfectly. The end result is blissful, detailed sound effects to go with your pursuit of obtaining your daily helping of dead enemies.
Since the ROCCAT Kave is meant for gaming, I wasn't expecting much when it came to pure musical performance. But to my surprise  it actually delivered some pretty good results.  Although I had to tweak some sound settings to match my liking, the end result was definitely worth it. The subwoofers helped the headset achieve a dubstep-worthy status, while the 40mm drivers churned out great mids and highs. However, despite its decent performance, if you are an audiophile who's critical about the tinniest detail, then you should look elsewhere as the mids sounded a bit flat. The in-line USB amplifier wasn't anything to write home about. The amplification it provided was inconsistent across the drivers and the slider for the bass was more like an on/off switch for the subwoofers.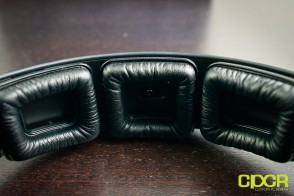 In terms of comfort and usability, the ROCCAT Kave hit the mark perfectly in a few aspects but completely slipped in others. Most of the comfort points were attributed by the ear-cups.  Their perfectly shaped circumural design, coupled with thick, luxurious earpads and cooling vents made them exceedingly comfortable. That advantage however, was offset by its questionable headrest padding design as it failed to properly distribute the weight of the Kave. To add insult to injury, the padding on the headrest was skimpy and made the top of my head feel a bit uncomfortable after extended use. Considering the weight of the Kave, I think this was too big of a detriment to overlook.
As for noise isolation, its passive noise insulation was able to filter out fan noise pretty well but couldn't prevent my TV (set on a moderately low volume) from being a distraction unless I pumped up the volume. Fortunately, the ring-style volume adjustment wheel on the in-line dongle was a pleasure to use; it was easy to locate and adjusted the volume in small increments which made precise adjustments possible. Construction quality was top-notch. The hinges were crafted from solid aluminum, and the plastic didn't feel like it's going to break anytime soon. The cables were not braided, but the rubber around the wires felt like they could survive a couple of run-overs by your chair.
The microphone on the ROCCAT Kave 5.1 had excellent noise cancellation and was great for everyday use. During my Skype conversations it brought the clicking of my Cherry MX Black switches down to a very acceptable level; it was an impressive feat, since I tend to bottom out the keys when I type and it can get LOUD. It also almost completely eliminated mouse clicks. The audio quality was pretty good, my voice was clearly translated in Skype with no distortion and noise. The microphone was also detachable, which made storage easier but at the same time made it more prone to be MIA.
Currently going for $109.99 on Amazon, I feel that the ROCCAT Kave 5.1 is reasonably priced. This may seem like a hefty sum at first glance, but considering the fact that it's got 6 more drivers than your typical stereo gaming headset, and it's one of the best true 5.1 surround sound gaming headsets, I think it's worth it. However, if you are super keen on comfort, make note of the awkward headrest before swiping your credit card. While the headrest won't put a dent in your skull, it can be a little uncomfortable after extended use.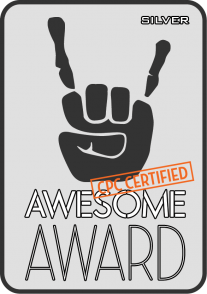 Sample provided by: ROCCAT
Available at: Amazon