Razer Hammerhead Pro In-Ear Gaming Headset Review
In-Ear Headphones for Gamers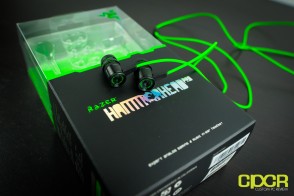 I've always found it odd that while we have a general oversaturation of over the ear gaming headsets on the market, it's comparatively quite rare to find in-ear headphones that are designed specifically for gaming. True, Razer has the Moray and SteelSeries recently launched the Flux In-Ear and In-Ear Pro, but generally speaking, not a whole lot of companies produce in ear headphones specifically designed for gaming. With internet cafes, LAN events, and tournaments being as loud as they are these days, it seems like in-ear gaming headsets should be the way to go given that they offer far superior passive noise cancellation in comparison to over the ear headsets and they're quite a bit smaller and lighter to boot, which allows for a lot easier transportation.
Luckily it seems like Razer is catching onto the fact that there is such a void in the market and have introduced the Razer Hammerhead along with the Hammerhead Pro – the only difference between the two is that the Hammerhead Pro comes with an inline microphone and play/pause/call/stop/etc. button while the Hammerhead standard doesn't. Today though we'll be reviewing the Hammerhead Pro, which does include the extra, but in terms of audio quality, both headphones should deliver the exact same experience.
Ready to learn more about the Hammerhead Pro has to offer? Flip the page to find out!
Specifications
| | | |
| --- | --- | --- |
| Manufacturer | Razer | Razer |
| Model | Hammerhead | Hammerhead Pro |
| Formfactor | In-Ear | In-Ear |
| Interface | 3.5mm | 3.5mm |
| Driver Diameter | 9mm | 9mm |
| Frequency Response | 20 – 20000 Hz | 20 – 20000 Hz |
| Impedance | 16 Ω | 16 Ω |
| Microphone | N/A | Omnidirectional |
| Warranty | 6 Months | 6 Months |
| Check Pricing | Click Here | Click Here |