Review: Razer Blackwidow Ultimate 2014 (Razer Green Switches)
Same Ultimate Keyboard, Now with Razer Mechanical Switches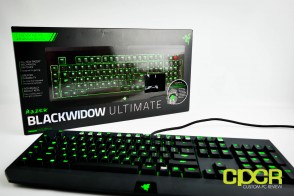 Back in late 2012, we received the opportunity to check out the 2013 refresh of the Razer Blackwidow Ultimate mechanical gaming keyboard which proved to be one of the best mechanical keyboards of its time as it not only had great styling, but great functionality and performance that well represented the Razer name in high performance gaming peripherals. Since then the Razer Blackwidow Ultimate continued to be one of our favorite mechanical gaming keybords, but with numerous competitors coming out with cheaper, similarly well performing mechanical gaming keyboards these days, there's definitely been room for Razer to step up their game.
Now earlier this year at CES, one very interesting thing we heard from a number of gaming peripheral manufacturers was that the Cherry MX switch patents were expiring sometime this year. Seemingly as a result, a couple vendors began asking us for feedback regarding the possibility of them producing their own mechanical switches while some vendors such as Thermaltake went as far as showing off keyboards with ready to go Cherry MX clone switches.
Razer Blackwidow Ultimate Specifications
| | |
| --- | --- |
| Manufacturer | Razer |
| Model | Blackwidow Ultimate |
| Key Switch | Razer Green |
| Keycaps | Laser Etched |
| Backlighting | All Keys Except Spacebar and Fn key |
| Key Rollover | 10KRO |
| Polling Rate | 1000 Hz |
| Interface | USB 2.0 |
| USB Hub | 1 Port, USB 2.0 |
| USB Cable | 6ft Braided, Gold Plated Connector |
| Dimension | 18.72 in x 6.74 in x 0.79 in |
| Weight | 3.31 lbs |
| Warranty | 1 Year |
| Additional Features | Game Mode, Media Keys, LED Backlit |
| Check Pricing | Click Here |
While a whole lot of manufacturers did a whole lot of talking about the future of their mechanical keyboards and switches, one manufacturer who didn't even mention mechanical keyboard at CES was Razer, so imagine my surprise when I received a press release out of the blue regarding Razer's new in-house mechanical switch along with a sample of the new 2014 Razer Blackwidow Ultimate with the new switches for review.
Safe to say I was quite excited to receive such an opportunity, so let's take a look at what the new Razer Blackwidow Ultimate has to offer.