[section label="Introduction"]
EVOLV, Evolved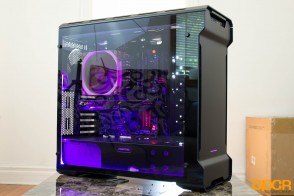 Ever since Phanteks first appeared on the market with their massive PH-TC14PE CPU cooler, Phanteks has always been a company known for making some of the most innovative products in both the PC case and cooling markets. Constantly pushing the envelope in terms of features, build quality and value, Phanteks has achieved great success in the chassis market following their debut of the Enthoo Primo back in 2013. This then led to Phanteks' introducing several more models in the Enthoo lineup such as the more budget focused cases like the Enthoo Pro and Luxe, and the stylish Enthoo EVOLV line.
Today, we're taking a look at the latest of the Enthoo EVOLV chassis, the Enthoo EVOLV ATX Tempered Glass, which is a variant of the previously released Enthoo EVOLV ATX. As the name suggests, this new variation replaces the aluminum side panels found on the EVOLV ATX with tempered glass panels on both sides, giving users a show-room like view of the internals of their system. The new chassis also features full RGB lighting for the front indicator and power buttons, as well as optional magnetic RGB lighting strips that plug directly into the chassis.
Phanteks Enthoo EVOLV ATX Tempered Glass Specifications
Model
PH-ES515ETG_BK (black), PH-ES515ETG_AG (grey), PH-ES515ETG_GS (silver)
Colors Available
Satin Black, Anthracite Grey, Galaxy Silver
Material
Aluminum (3mm) Exterior, Steel Chassis, Tempered Glass (side panels)
Dimension
235 mm x 495 mm x 510 mm (W x H x D)
Weight
22 lbs.
Motherboard Support
E-ATX *(up to 264 mm wide), ATX, Micro ATX, Mini ITX
5.25″ Drive Bay
n/a
3.5″ Drive Bay
8x (5x included)
2.5″ Drive Bay
3x  (2x included)
Front I/O
2x USB 3.0, Mic, Headphone, RGB Controls
Expansion Slots
7
Cooling System
Top: 3x 120 mm / 2x 140 mm  fans (optional) or up to 360 mm or 280 mm radiators

Rear: 140 mm exhaust (installed) or 120 mm / 140 mm radiators

Front: 2x 140 mm (installed), 3x 120 mm 120 mm or up to 360 mm or 280 mm radiators

PSU Support
PS2 up to 318 mm / 12.5 in long (including cables)
Maximum Compatibility
Graphics card: 420 mm / 16.54 in (without HDD brackets)

Graphics card: 300 mm / 11.8 in (with HDD brackets)

CPU cooler:  194 mm / 7.6 in

Warranty
5 years
[section label="A Closer Look"]
A Closer Look & Installation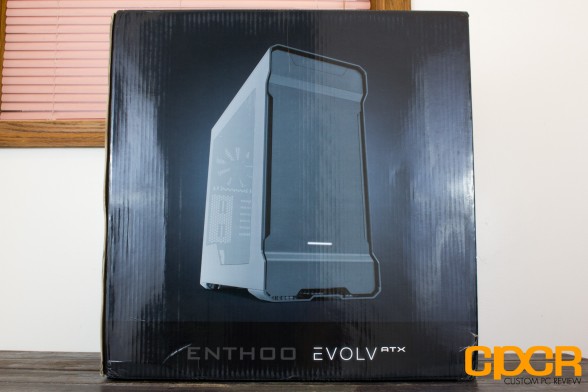 As usual, Phanteks has opted for a rather clean looking packaging. The box for the EVOLV ATX is a full color, glossy black box with nothing but a nice large picture of the chassis itself, along with the Enthoo EVOLV ATX branding.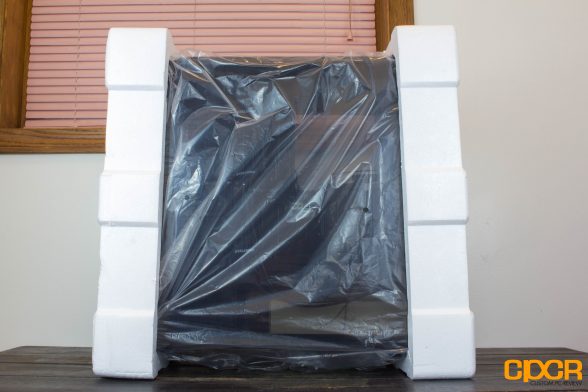 Inside the box, we'll find our chassis wrapped in plastic and protected by two thick, hard foam inserts. This type of packaging is really not preferred for a chassis, as the soft (closed-cell) foam packing provides much better protection. This is a rather small nitpick, but it is worth mentioning that our initial review sample did arrive damaged. However, the second one arrived unscathed. In reality, this isn't an issue for someone purchasing this case as you'll likely be covered by your retailers return policy, but it is something to consider if you're planning to build and ship a system in the chassis using the original packaging.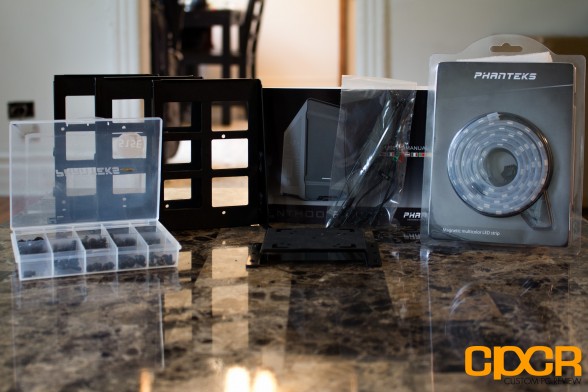 Taking a look inside the accessories box, we have the Phanteks signature screw and nut box, the user manual, a mounting bracket for a pump/reservoir, a couple of zip ties, some extra solid color-replacement LEDs for the front LED indicator (which seems redundant, as the pre-installed LED is fully RGB), three included hard drive brackets for 3.5″ or 2.5″ drives, and an optional Phanteks magnetic RGB LED strip, which can be purchased for an additional $20. This strip connects directly to the chassis, and can be controlled via the front panel (more on that later).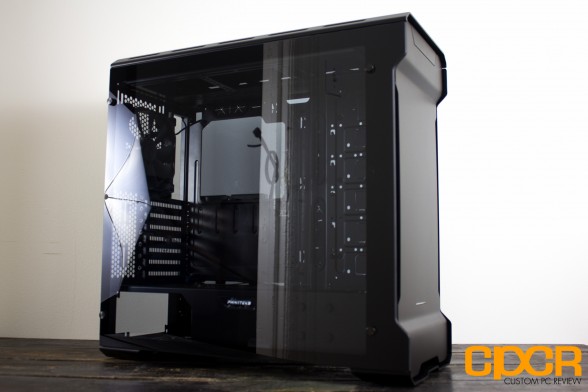 Finally, we have our first look at the case itself in all its glass-a-licious glory. Phanteks, you evil geniuses… you've definitely done it again as this one is hands down one of the best looking chassis on the market. The all glass side panels are gorgeous and give off beautiful reflections of the chassis surroundings. Each glass side panel is held on with four small thumb screws, and once removed you'll have to be very careful when handling as the glass side panels are heavy, and relatively large.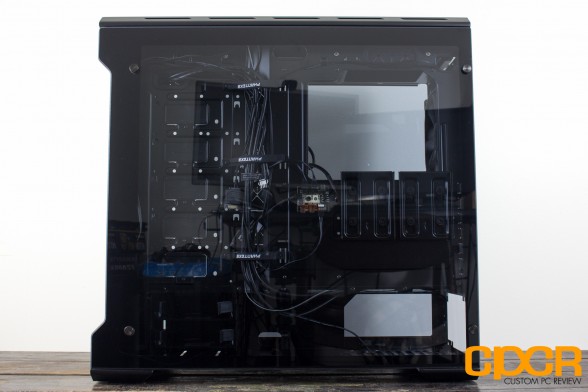 On the other side, we can see a fully exposed cable area which makes for a very interesting look. It also means you'll have to try extra hard at cable management. Although, with the options available, that shouldn't be too tough.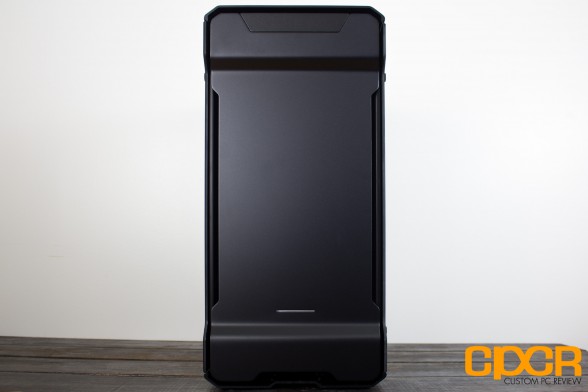 Taking a look at the front of the chassis, we have an identical layout to the standard Enthoo EVOLV ATX. The solid aluminum front panel is a staple of the EVOLV series, and features cut outs on both sides for airflow, a small RGB LED indicator light at the bottom, and a flip-up cover which hides the front I/O.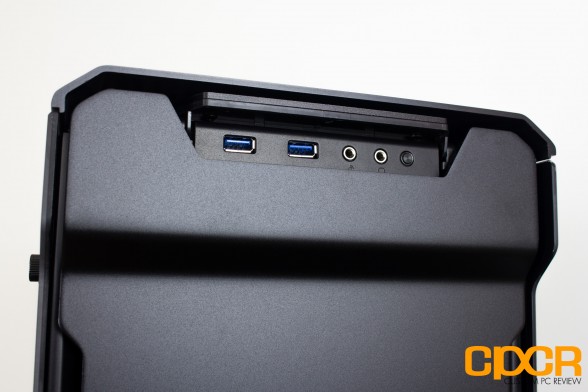 Opening up the front I/O cover reveals two USB 3.0 ports, Microphone and Headphone jacks, and the RGB controller button, which has replaced the Reset button found on the standard EVOLV ATX.  To control the LEDs, you simply long press to toggle on and off, short press for selecting between up to 10 colors, and a slightly longer press to cycle between modes, which include static, breathing, and color cycle.
Removing the front panel reveals the full length, removable dust filter which has a sturdy plastic frame which clips into the chassis. Removing that reveals two premium 140 mm intake fans, which come pre-installed with the EVOLV ATX. There's also an additional 140 mm exhaust fan mounted at the back, which rounds out the case's included cooling. This also seems to be another minor change from the standard EVOLV ATX as the black and white fans have been replaced by all black ones.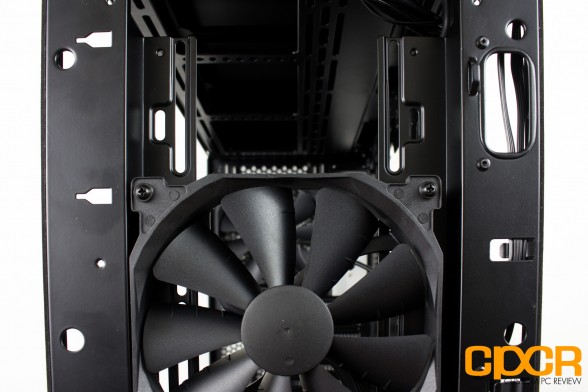 Taking a closer look, we'll find some very flexible fan mounting strips, which allows for changing the fans' position and mounting of either dual 140 mm or triple 120 mm fans.
Taking a look at the top, we have a mostly solid panel with just the power button which also features RGB lighting. We also have some very nice angled vents which are filtered for improved airflow and easy maintenance.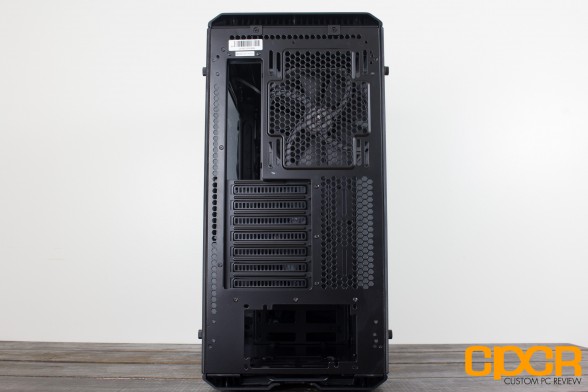 Taking a look at the rear of the chassis, we see a another slight change from the EVOLV ATX.  The white expansion slot covers have been replaced with more subtle black ones. Personally, I prefer these as the white ones kind of looked like they belonged on another case. There's also lots of ventilation back here, which is definitely nice to see.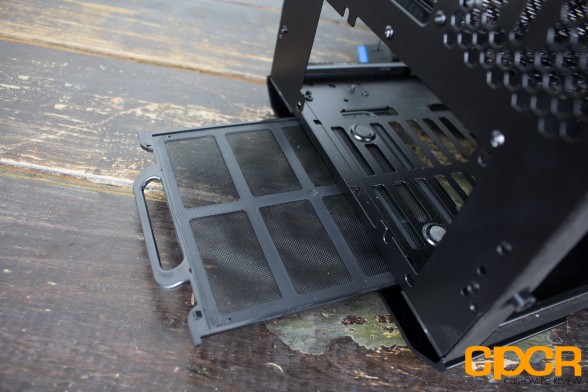 Digging a little further, we'll find a removable dust filter at the bottom, beneath the power supply.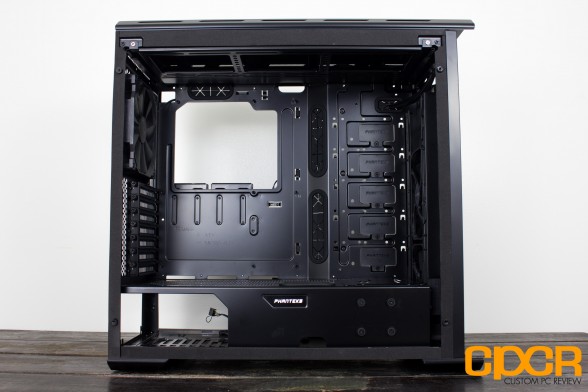 First and foremost, taking a look inside the chassis we can see that there is tons of space of open space, thanks to the modular storage options which allow the case the forgo the standard hard drive mounting cage at the front. Don't fret, there are still plenty of storage options in the case as you'll find out soon enough.
The dual chamber design allows you to show off your power supply while also hiding the cables, which is definitely awesome.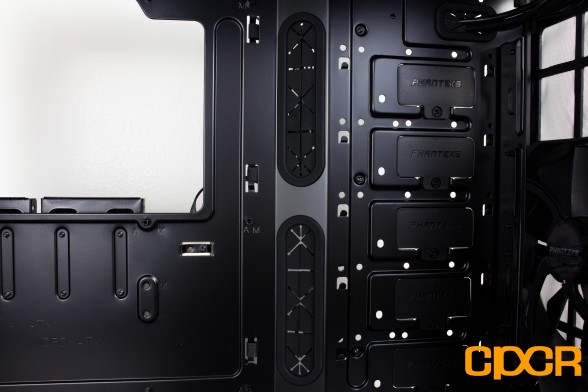 Next to the large cut out on the motherboard tray, we find a pair of large, rubber-grommeted cut outs for routing cables to the motherboard. This along with the one at the top of the motherboard and on the power supply cover, provides plenty of cable routing options.
Looking toward the front, we can see the modular hard drive mounting area which Phanteks has included in most of their newest cases. The removable covers are held on by a single screw and once removed allow for mounting of the included hard drive caddies or for additional storage options.
Below that, we'll find the removable mid-plate, which once removed along with the hard drive additional hard drive rack beneath it, allows for mounting of radiators up to 360 mm at the front of the chassis, or 240 mm with both still in place. However, both options would block access to the modular hard drive mounting up top.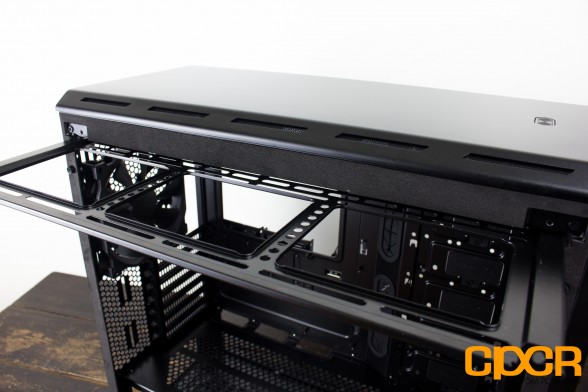 At the top, we have a removable fan bracket, which slides in and out and is secured with several color coded (silver) screws at the front and back. This allows for easy mounting of top exhaust fans or radiators without the hassle and need for extra hands. It is a very nice addition and a simple, well-thought out design.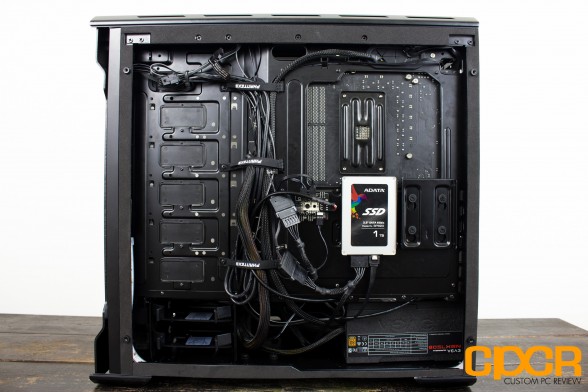 Around back, we can get a look at the cable management options. Phanteks has included their usual velcro-straps for neatly routing cables, between that and the power supply cover, I didn't have to do much at all to make it look decent enough, although a little extra effort would definitely go along way.
Back here, we'll also get a look at our other storage options which include the removable hidden hard drive cage underneath the power supply cover, which can accommodate up to two 3.5″ or 2.5″ drives. We also have two 2.5″ SSD mounting brackets on behind the motherboard tray.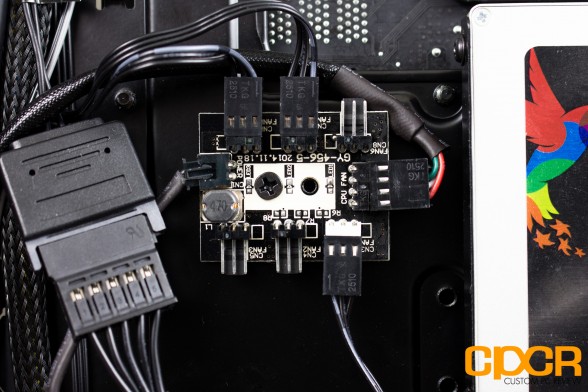 Finally, we have the Phanteks built fan controller hub, which can connect directly to your motherboard via a single 4-pin PWM connector in addition to a SATA power connector for extra power. This allows you to control all of the case's fans directly from your motherboard, allowing you to make custom fan profiles and adjust speed based on CPU temperature.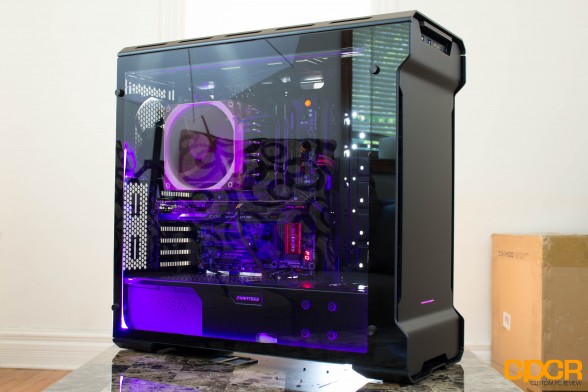 Taking a look at the final build with the optional RGB lighting strips installed we can see just how beautiful this case can look. Between the fully transparent glass side panels, the wide open clean interior and neat cable management, it doesn't take much to make your system look like a show piece in this chassis.
[section label="Conclusion"]
Conclusions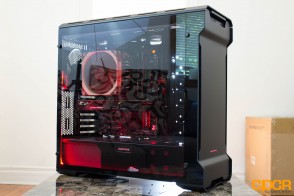 Going into this review and knowing full-well of Phanteks reputation in the chassis market, I had high expectations for the Enthoo EVOLV ATX Tempered Glass, and I have to say they've been exceeded. This case is definitely one of the most beautiful, well designed and well-thought out chassis I've ever had the pleasure of building in. That said, it is certainly not without its flaws.
The mounting system for the tempered glass side panels is frankly, a pain in the ass. If you're like me and you tinker with your machine a lot, you'll be annoyed by just how cumbersome it can be to remove the panels without worrying you'll break them. I really wish Phanteks could have implemented some sort of mechanism similar to that found on the standard EVOLV ATX, with side panels which swivel out to open, utilizing some sort of metal brackets, rather than simple thumb screws. This would allow users to open the side panels without having to remove them all together, which means finding a safe place to put them.
I also think that the RGB controller, while good, could be much better. I would have loved to see Phanteks integrate the RGB controller into their USB fan header and include some sort of USB interfacing which would allow for software control of the fans and RGB lights, for more fine tuned color schemes. This would work similar to NZXT's CAM software and Hue+ lighting system. I realize this may add to the final price of the system, but I'm more than sure users would be willing to pay for something as powerful and convenient as that. I know I would.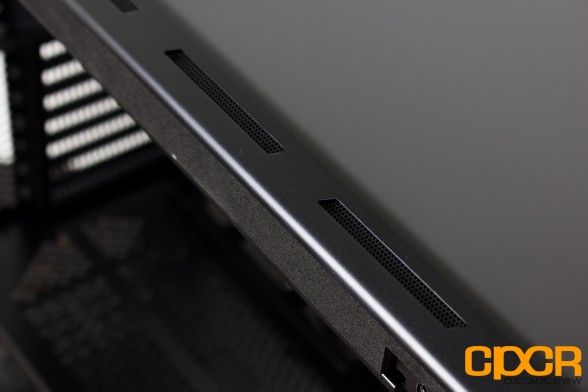 That being said, those are relatively small issues in the grand scheme of things and are mostly me nitpicking. This chassis is loaded with features, plenty of storage options, lots of potential for liquid cooling and some fantastic cable management that even I can't mess up. On top of that, we get top-notch build quality and premium materials such as aluminum and glass at a price point of ~$189, which is only $10 more than the standard non-glass EVOLV ATX. That's impressive!
Sure, not everyone will want to buy a near $200 chassis and this chassis is definitely not for everyone. However, if you want a beautiful, versatile case with outstanding build quality and lots of features, the Phanteks Enthoo EVOLV ATX Tempered Glass Edition is definitely something to take a hard look at. Recommended!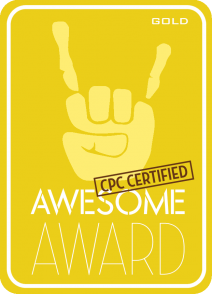 Sample provided by: Phanteks
Available at: Amazon