[section label="Introduction"]
Introduction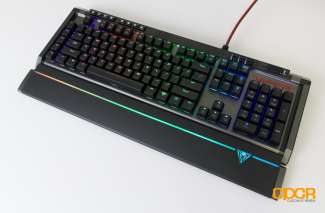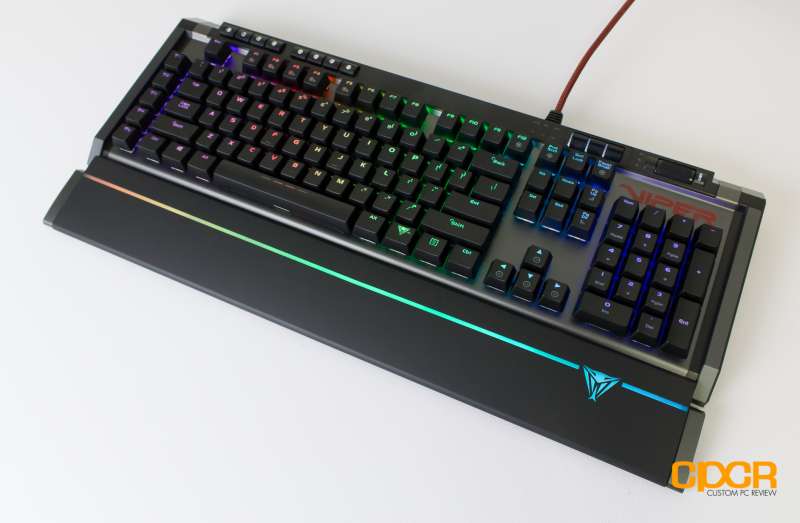 Although Patriot Memory is most well known for its memory kits, Patriot has become quite the major player in the gaming peripheral business in the past few years.
At CES 2017 earlier this year, we were first introduced to the Patriot Viper V770 mechanical gaming keyboard, which would be Patriot's flagship mechanical gaming keyboard of 2017. At the show, the Patriot Viper V770 showed quite a bit of promise as a solid premium mechanical gaming keyboard with features such as RGB backlit Kailh Red Switches, a ton of built-in features, dedicated macros, and a LED wristrest.
Over the past few months, we've had the opportunity to review the Patriot Viper V770, so let's see what advantages the Viper V770 can bring for gamers.
Specifications
| | |
| --- | --- |
| Manufacturer | Patriot |
| Model | Viper V770 |
| Layout | US Layout |
| Switch Type | Kailh Red |
| Polling Rate | 1000Hz |
| Anti-Ghosting | Yes |
| Key Rollover | NKRO |
| Backlight | RGB |
| Interface | USB 2.0, 3.5mm microphone and headphone pass-through |
| Weight | 1,398g (2.0lbs) |
| Size | 459mm x 229mm x 39mm (18.07″ x 9.01″ x 1.54″) |
[section label="A Closer Look"]
A Closer Look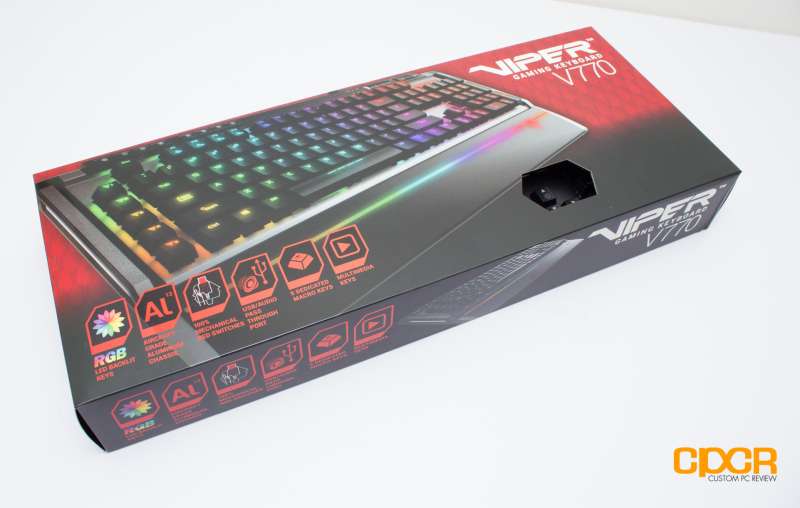 Here's a look at the packaging for the Patriot Viper V770 mechanical gaming keyboard.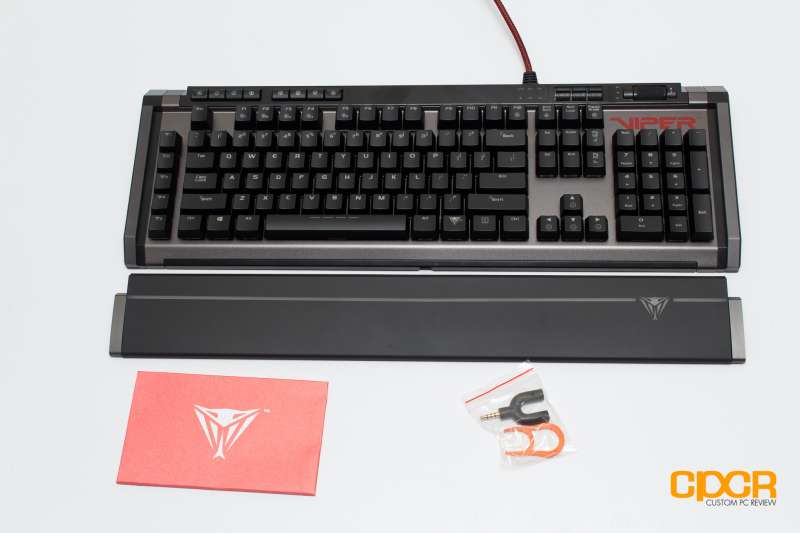 Here's a look at what's in the box. The Patriot Viper V770 comes with a number of accessories which includes a wristrest, 3.5mm jack splitter, a key puller, and a users manual.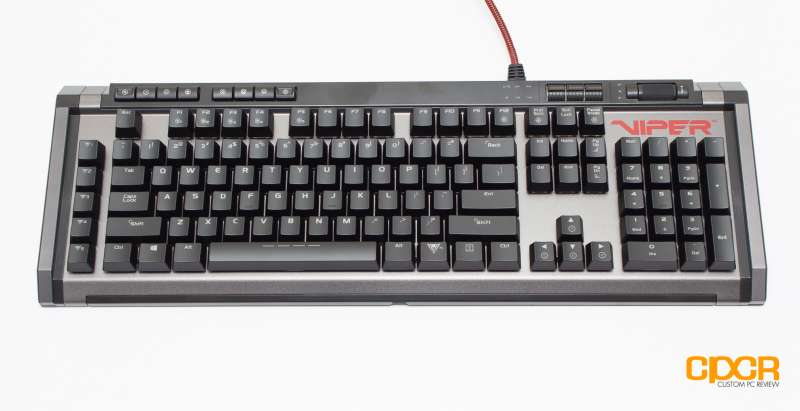 Here's a look at the Patriot Viper V770. The Viper V770 definitely has a "gamer" feel to its design, but it's not so overboard that no one but gamers would put it on their desk. On the top right is a big VIPER logo and surprisingly nothing about Patriot.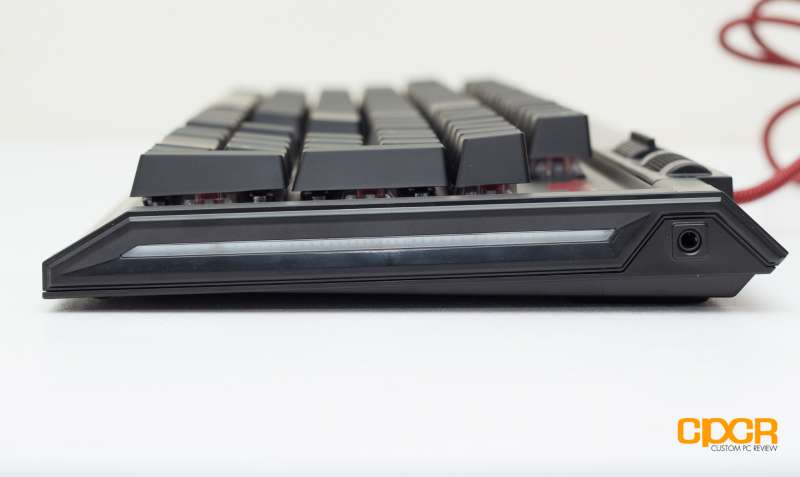 The profile shot reveals that the Patriot Viper V770 also have LED lightstrips installed on both sides. A 3.5mm audio/mic passthrough can be found on the right hand side.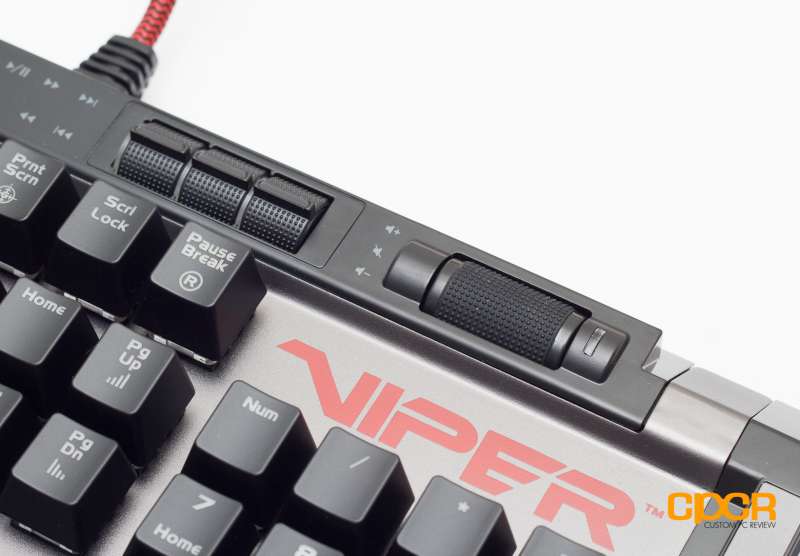 A volume wheel resides at the top right corner. It also acts as a button for mute.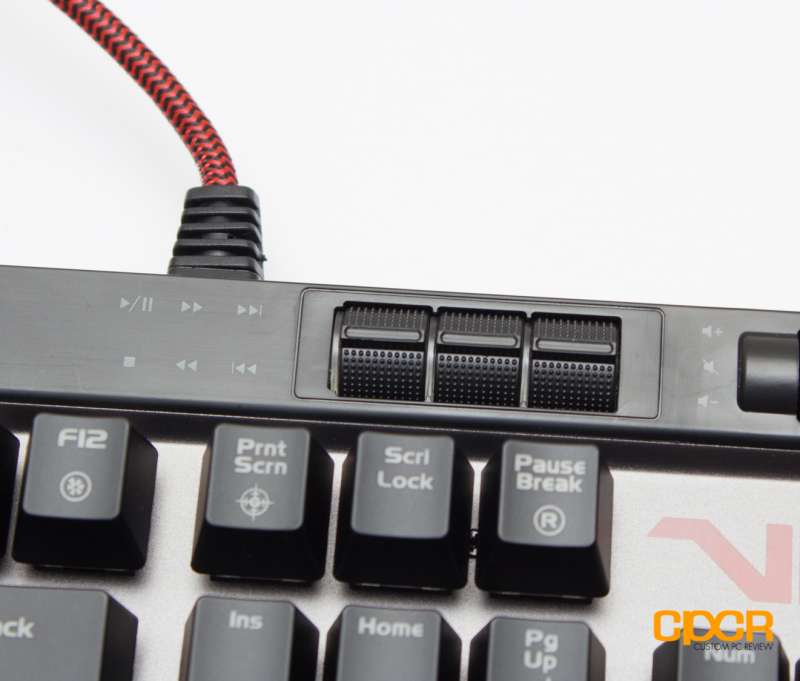 The Patriot Viper V770 condenses all the media control settings to just three flip switches which is a unique design we don't see too often.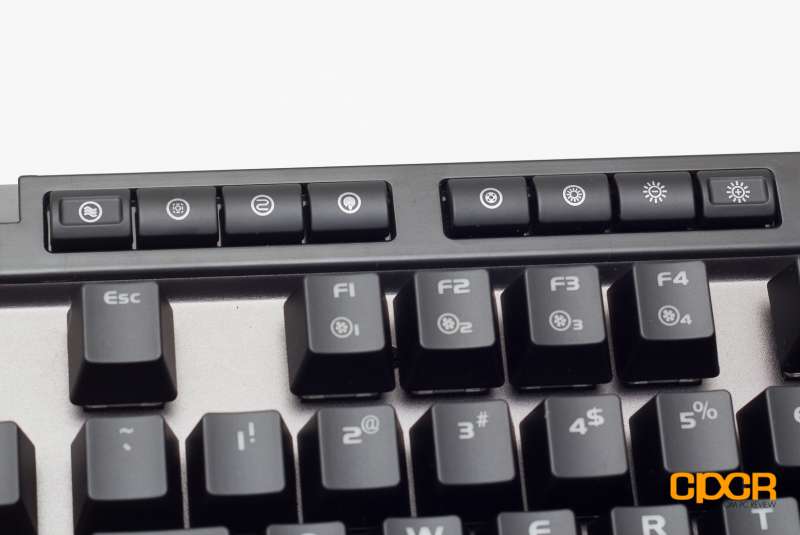 An array of dedicated controls seats above the function row. They apply various lighting pattern controls such as wave, blink, snake, and brightness levels.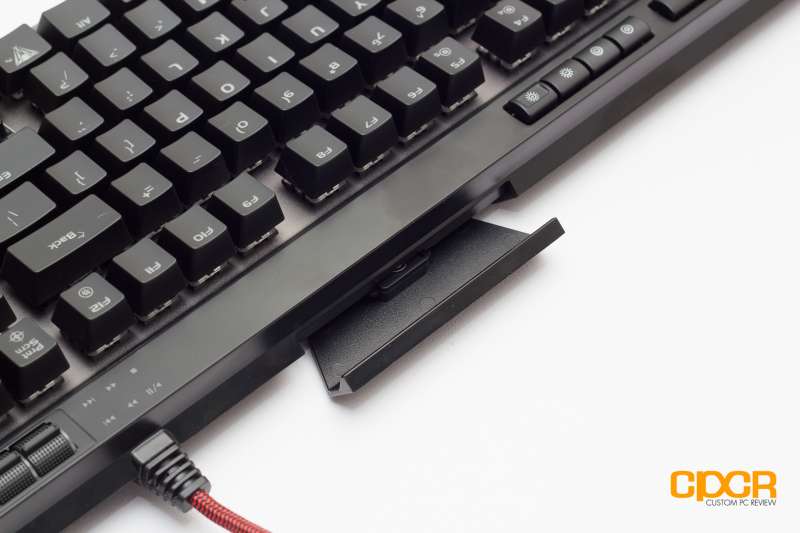 Here's a convenient feature we don't see too often – a pull-out tray for smartphones/tablets. It's wide and deep enough for most devices 7″ and under.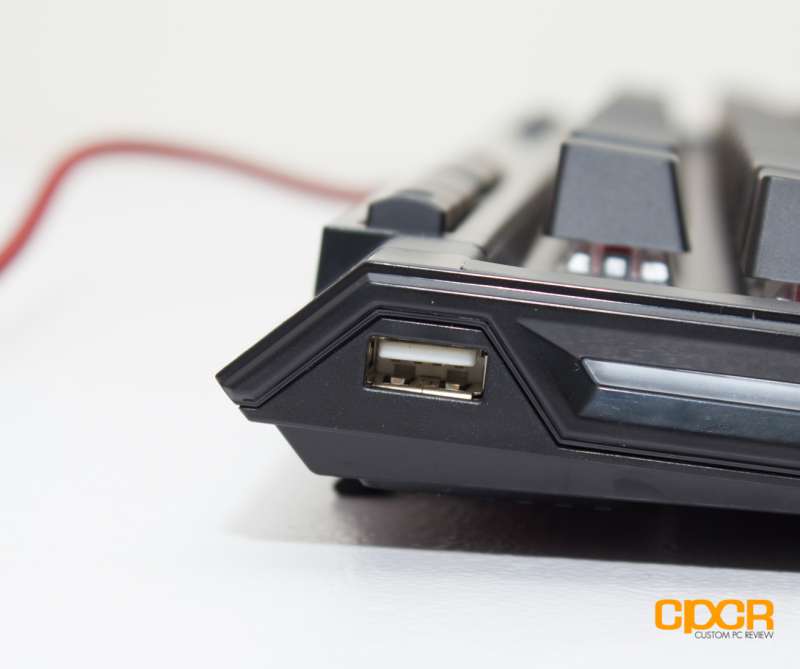 The Patriot Viper V770 has its USB passthrough installed on the left side. Unfortunately, this means that whatever you plug into it will stick out horizontally.
The Patriot Viper V770 is a gamer oriented keyboard and because of that, it's currently only available with the Kailh Red switch option. Kailh Red switches are linear switches with a relatively light 50cN of actuation force. Costar stabilizers are used for the longer keys (shift, spacebar, etc.) to maintain consistent actuation force. Keycaps are composed of standard laser etched ABS plastic.
At the bottom, there's nothing too interesting besides some extra-large rubber which keep the keyboard in place and some elevator feet to raise the rear of the keyboard.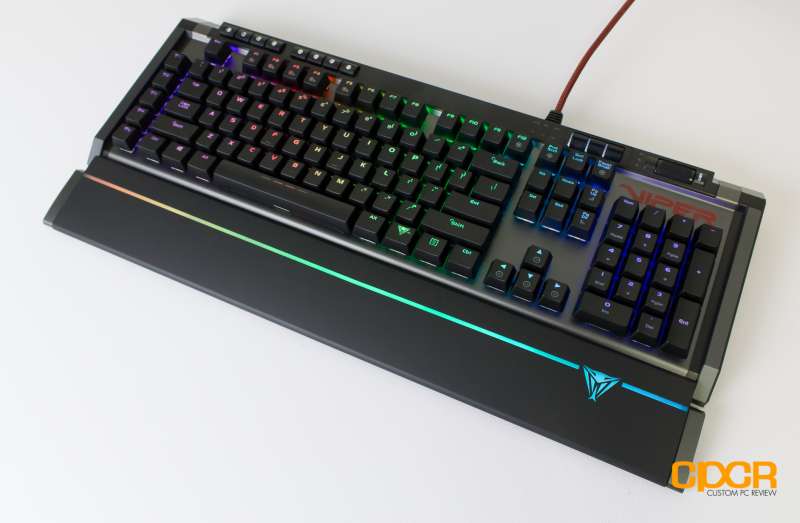 Here's a look at the Patriot Viper V770 plugged in. The backlighting is fairly bright and even across the entire board. The sides of the keyboard and the wristrest are backlit as well.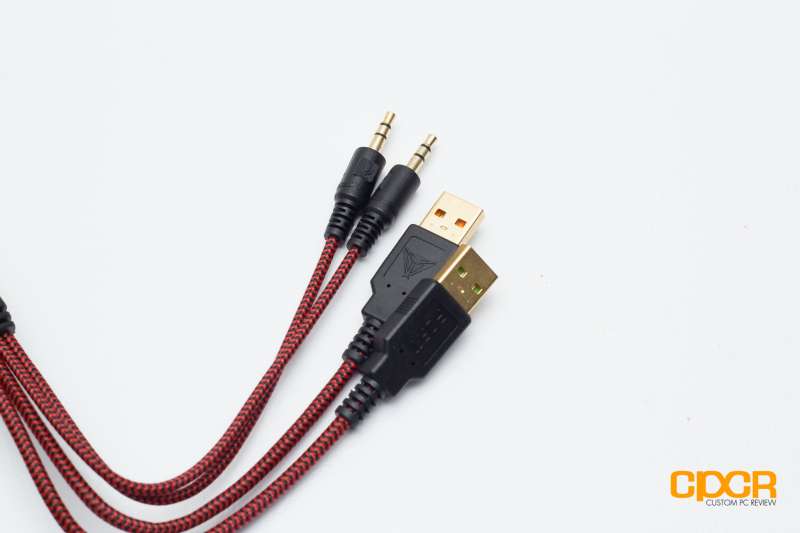 The Patriot Viper V770 requires one USB port for operation and an additional one for the USB pass-through if you want to use the pass-through. There's also two 3.5 mm jacks which correspond to the microphone and audio pass-throughs.
[section label="Software"]
Patriot Viper V770 Software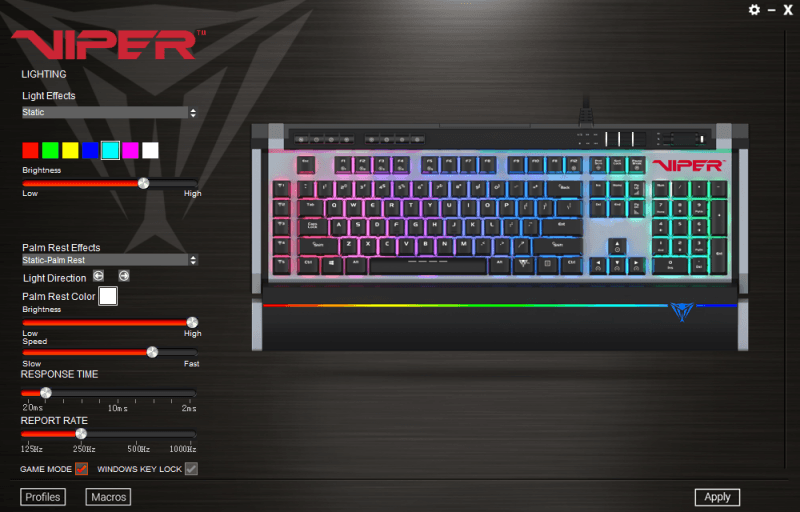 For the Viper V770, Patriot is using a dedicated driver/software utility rather than the unified packages we're now seeing from Razer, Corsair and others. On the main page, we get the ability to modify a number of settings such as the LED colors, brightness, response time, report rate, etc.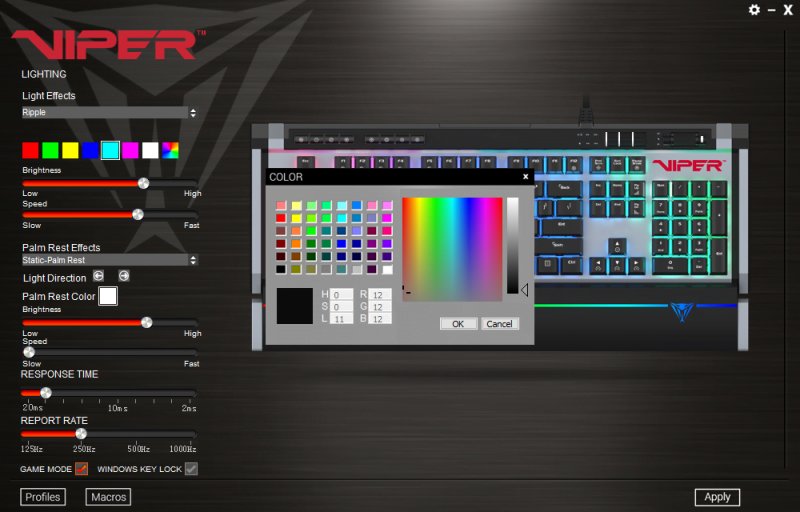 The design isn't the prettiest thing I've ever seen but it gets the job done and allows the option of a variety of different color modes.
In terms of lighting modes, the Patriot Viper V770 has a variety of different options putting on par with other manufacturers as well as a few more. The keys are fully programmable as well allowing those who prefer Dvorak over QWERTY an option.
[section label="Performance"]
Performance
The Kailh Red switch is something we've seen before, so that really hasn't changed. Gamers who want something quick and spammy will find them awesome, but it may not be that great for those looking for a keyboard primarily for typing. The biggest benefit of the Kailh Red switches is that its linear travel and light actuation force makes it fast and relatively quiet, but with the lack of a tactile bump, there's no feel of the keys actuating at the actuation point.
Coming from Cherry MX Red switches, the Kailh Red Switches didn't take too much time to get used to and while I personally still prefer Cherry switches, these are still certainly fantastic switches especially when you consider the price.
The plethora of features also makes the Patriot Viper V770 a worthwhile companion for professional suites such as Photoshop. Programming the dedicated macro keys using the software is straightforward and easy. Equally excellent is the USB and audio pass-through; no more wiggling to the back of your case to insert a USB drive or headset. I had a bit of trouble adjusting to the flip switch style media controls, but it became natural after a few hours.
NKRO/Anti-Ghosting Testing
To test the NKRO/anti-ghosting functionality of the Patriot V770 RGB, I'll be using a web app developed by Microsoft's Applied Science Group. More information about the web app and the relationship between ghosting and NKRO can be found here.

Dropping a textbook on the Patriot V770 shows full NRKO out of the box. No NKRO mode or setting to enable, it just works!
[section label="Conclusion"]
Conclusion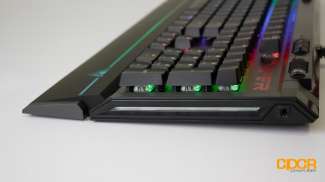 By gaming keyboard design conventions, the Patriot Viper V770 is a bit more conservative than others in the category. While it still uses sharp edges and a fighter jet inspired design, it only kinda screams "gamer" on your desk. The matte black finish on both the keyboard and the wrist rest look extremely good and the singular logo at the top right fits well with the rest of the keyboard. Although I generally balk at the idea of having a RGB backlit wristrest, even the RGB backlighting there isn't too bad which is something we appreciate.
Aside from design, what also drew me in with the Patriot Viper V770 is its sheer amount of features. A full column of macros, dedicated media buttons, NKRO, RGB backlights, port passthrough, and a phone holder? Sign me up. Although the flip switch media controls take a little time to get used to, it's convenient to use. Having flip switch buttons means fewer buttons are needed to cram in the same number of functions. This in turn, makes the keyboard look less cluttered despite its rich set of features. As for the phone holder, it's a bit of a hit or miss. I like the fact that it's there, but if you mount your phone in portrait view, it could obstruct the view of your screen.
If there's one major thing I'd like to see changed about the Viper V770, it would be more switch options. Although the Kailh Red switches are great for gaming, its smooth, linear travel isn't preferred if you're doing any sort of extended typing. For example, like right now while I'm writing this review. Given that many own PCs for more than just gaming, this is a massive oversight. Personally I feel something like the Kailh Brown would be an excellent second switch option. Giving credit where credit is due however, the Kailh Switches, especially the Kailh Reds we've tested today, are very good in terms of quality and the feel compared against the Cherry MX switches is nearly indistinguishable.
Currently available online for around $120, the Patriot Viper V770 offers quite a bit for the money. At the price, there's simply very few mechanical keyboards that provide you with as many features along with an RGB switch option. Gamers looking for a fully featured mechanical keyboard with light, linear switches, and a gamer oriented design that's subtle without being too flashy will find the Patriot Viper V770 a great choice.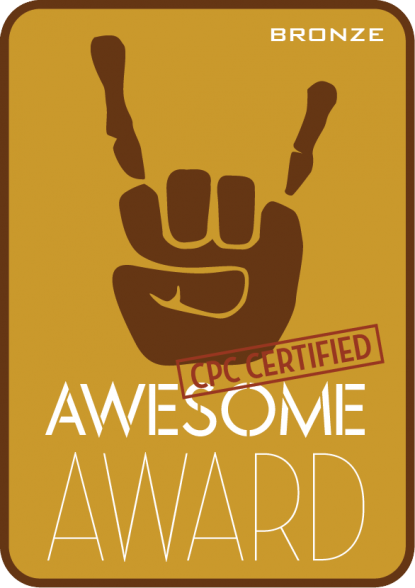 Sample provided by: Patriot Memory
Available at: Amazon