OCZ Vector 256GB SSD Review
A New Flagship Has Arrived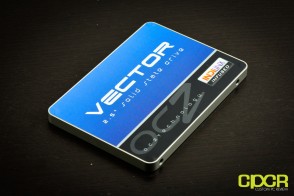 When taking a look at the storage market, I think no other company out there has really matched OCZ in making the SSD market what it is today. OCZ was really one of the first companies to mass promote SSD technology, always one of the first companies to introduce new SSD technology, and over the past couple years, they've also literally been the catalyst to making SSDs as affordable as they are today.
While the hard charging, first to market strategy worked very well for OCZ in the early days, the sacrifices in testing and validation time ended up creating huge problems for OCZ down the line as the early production Vertex 3 drives were plagued with firmware issues that ended up giving OCZ quite a negative reputation in terms of quality. Without a doubt, a negative reputation in quality probably had significant impacts on sales, so early last year OCZ introduced the Vertex 4, which promised top tier performance with greater reliability. Of course knowing OCZ, this definitely wasn't enough…
… Which then brings us to our review for today – the OCZ Vector 256GB SSD.
18 months. 18 months is the time it took for OCZ to bring the Vector to the market, which makes the Vector the most extensively validated OCZ SSD to date. Now, let's put that into perspective here. The OCZ Vector was officially launched in November of 2012, which means the Vector had been in the works at OCZ since June of 2011. At the time, OCZ had just barely launched the Vertex 3 and had just finished their acquisition of Indilinx.
Now, the most significant aspect of the OCZ Vector is the fact that OCZ is using the Indilinx Barefoot 3 controller, which is a brand new, completely exclusive and completely in house SSD controller. When it comes to high performance SSD controllers, only Samsung (Samsung MDX) and Corsair (LAMD LM87800) currently have exclusive controllers while only Samsung develops their controller completely in house. The benefit of having an exclusive controller is that the performance characteristics of your SSD will be exclusive while the benefit of designing a completely in house controller of course is the fact that you know exactly how your controller operates and you're better able to patch any issues that invariably crop up.
OCZ Vector Specifications
| | | | |
| --- | --- | --- | --- |
| Manufacturer | OCZ Technology | OCZ Technology | OCZ Technology |
| Model | Vector | Vector | Vector |
| Capacity | 128 GB | 256 GB | 512 GB |
| Controller | Indilinx Barefoot 3 | Indilinx Barefoot 3 | Indilinx Barefoot 3 |
| NAND | 25nm IMFT Synchronous MLC | 25nm IMFT Synchronous MLC | 25nm IMFT Synchronous MLC |
| Sequential Reads | 550 MB/s | 550 MB/s | 550 MB/s |
| Sequential Writes | 400 MB/s | 530 MB/s | 530 MB/s |
| Interface | SATA 3 6GB/s | SATA 3 6GB/s | SATA 3 6GB/s |
| Warranty | 5 Years | 5 Years | 5 Years |
Taking a first look at the specifications for the OCZ Vector, we can see that it's going to be a very high performing SSD. According to the specs, it's capable of a maximum of 550 MB/s sequential reads and a maximum of 530 MB/s sequential writes, which is generally something only reserved for SandForce based SSDs that do particularly well when dealing with highly compressible data. The fact that the Indilinx Barefoot 3 controller, a first generation controller I might add, is capable of pushing such incredible performance is simply astonishing.
Additionally, OCZ is also giving the Vector a 5 year or 36.5TB writes warranty as a testament to how much they believe in the reliability of the Vector. For those worried about the 36.5TB writes figure, this means that the Vector SSD is rated to deliver up to 20GB per day for 5 years. Unless the drive is used exclusively for short term storage, most typical use situations for the SSD would never get close to reaching the 36.5TB writes warranty within 5 years.