HIS Radeon HD 7850 IceQ Turbo 2GB Review
Turbocharged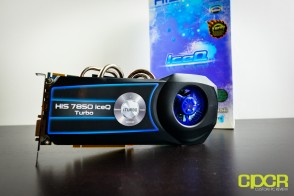 If you're a budget conscious gamer these days, then you probably already know that you no longer need to empty your wallet to obtain decent gaming performance and high end features out of a graphics card. Mid-range cards such as the AMD's 28nm Radeon HD 7800 series offer excellent performance to dollar ratio and even saves you money on your electricity bills too.
Today we'll be reviewing one such mid range graphics card from our friends over at HIS, the HIS Radeon HD 7850 IceQ Turbo 2GB. Looking at the specs, the card is definitely promising. As its name suggests, it comes with a new revision of HIS's custom IceQ cooler. We've had a couple run-ins with HIS' IceQ cooling solutions in the past and we've generally come out very impressed with its cooling performance every time. Also featured with this card is a custom HIS designed PCB, which has a number of additional features such as additional PWM power phases, an additional 6 pin power input, the use of thicker copper layers, and the use of Dr. Mos mosfets. Finally to make the card just that much sweeter, HIS is also selling the card with a respectable 140MHz core/100MHz overclock straight out of the factory bringing the card to 1000MHz core/1200MHz memory right out of the box.
Understandably then, we're heading into this review with high hopes, so let's see if this card can live up to our expectations!
Specifications
| | AMD Radeon HD 7850 Reference | HIS HD 7850 IceQ Turbo |
| --- | --- | --- |
| Fabrication | 28nm | 28nm |
| Core Clock | 860MHz | 1000MHz |
| Stream Processors | 1024 | 1024 |
| Texture Units | 64 | 64 |
| ROPs | 32 | 32 |
| Buffer Size | 2GB GDDR5 | 2GB GDDR5 |
| Memory Interface | 256-bit | 256-bit |
| Memory Frequency | 1125MHz (4.5 GHz Effective) | 1200MHz (4.8 GHz Effective) |