HighPoint RocketStor 5322 eSATA 6Gb/s Drive Dock Review
The Speed Demon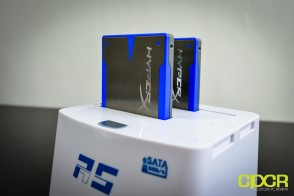 Over the past couple of years, hard drive docks have become increasingly common in the marketplace because of their versatility and ease of use, especially for those working in IT departments where it's simply not efficient to have to deal with opening and closing computer cases simply to add and remove hard drives. A couple months back, we reviewed the Ineo I-NA321U+ USB 3.0 drive dock, which is a fantastic drive dock; however, those who need to take full advantage of the performance from an SSD will find that current implementations of USB 3.0 simply aren't able to meet the level of performance SSDs currently offer. Fortunately for those who might benefit from SSD performance, there are external interfaces such as Thunderbolt or eSATA 6Gb/s that are capable of meeting the challenge.
Today we'll be reviewing the HighPoint RocketStor 5322 eSATA drive dock. This is HighPoint's latest 2 bay drive dock which not only features eSATA 6Gb/s, but it has two eSATA 6Gb/s controllers onboard. This allows each individual bay on the RocketStor 5322 the capability of up to a 6Gb/s theoretical transfer rate. Because of this, the dock is fully capable of simultaneous transfer of up to 12Gb/s, which may be especially beneficial for those looking to run the setup in a RAID configuration.
Ready to find out how well the RocketStor 5322 performs? Flip the page and let's take a look!
HighPoint RocketStor 5322 Specifications
Dual-Dedicated 6Gb/s eSATA Storage Dock
2 x SATA 3.0/ 2.0 HDD/SSD supported
Compatible with industry standard eSATA connectivity
2.5″ and 3.5″ HDD/SSD Compatible
Designed for PC and Mac