Creative Sound Blaster Tactic 3D Wrath Wireless Gaming Headset Review
Tactic 3D Going Wireless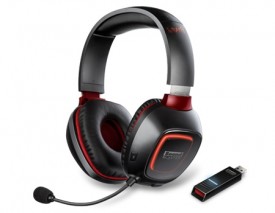 About a year ago, I reviewed Creative's Tactic 3D Sigma and was fairly impressed with it. It was durable, had great sound quality, and it came in at quite an affordable price. At the time Creative only introduced two models in the Tactic 3D line – the lower end Alpha, and the higher end Sigma. Today, Creative has really expanded on their Tactic 3D line, offering not only more PC gamer oriented headsets, but also game console oriented editions of their popular headset line such as the Tactic360 Sigma, Tactic360 Ion as well as the Tactic 3D Omega.
Today, we'll be reviewing the Creative Sound Blaster Tactic 3D Wrath wireless gaming headset. This headset is among Creative's newer Tactic 3D products to hit the market, and will include one very special feature – wireless. Yes, the headset will feature completely wireless operation meaning users will not only be able to use the headset to wirelessly steam audio, but will also will be able to use the microphone to engage in Skype, Ventrilo, Teamspeak, etc. conversations as well.
Whereas older generation wireless headsets had issues with interference, popping, cracking and hissing, Creative's new offering features their own wireless audio technology that Creative claims will deliver "lag and static free gaming sound for PC and MAC". Does the Tactic 3D Wrath cause wrath to other gaming headsets? Let's find out!
Specifications