Corsair Force Series GS 240GB SSD Review
A Proven Formula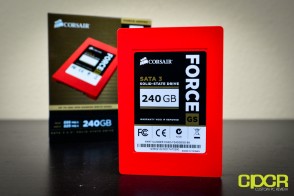 While it's very much preferred to be an SSD manufacturer who also produces their own NAND, there are some advantages to not doing so. One of those advantages is that you'll be able to offer a much wider range of SSD products which can cater to a larger majority of customers. Whereas SSD manufacturers with their own NAND fabs such as Intel, Micron/Crucial, SanDisk and Samsung are likely to use their own NAND, they're more limited to offering maybe one or two products – one geared towards enthusiasts and one towards the general consumer.
On the other hand, companies without their own fabs such as Corsair, OCZ, and Kingston are able to offer a huge variety of SSDs, each catered towards a specific need. While this may simply be a survival tool for these companies as they can't control NAND supply, at the end of the day it sill does give consumers a lot more variety and choice.
That said, today we'll be reviewing of those "choices" from our friends at Corsair, the Force Series 240GB SSD. The Force Series GS (or Force GS in short) is one of Corsair's latest SSDs to hit the market and it'll be using a fairly proven combination of both the SandForce SF-2281 controller along with some of SanDisk/Toshiba's top of the line 24nm Toggle Mode MLC NAND. For those who closely follow the SSD market, this configuration is near identical to the already very fast SanDisk Extreme SSD, which we reviewed near the beginning of this year.
In terms of target market, Corsair is targeting the Force GS at the enthusiast crowd as this SSD is tiered right above the SandForce SF-2281/25nm IMFT synchronous NAND based Corsair Force GT, a product that's also geared towards enthusiasts as well.
Corsair Force GS Specifications
| | Corsair Force GS | Corsair Force GS | Corsair Force GS | Corsair Force GS |
| --- | --- | --- | --- | --- |
| Capacity | 180GB | 240GB | 360GB | 480GB |
| Controller | SandForce SF-2281 | SandForce SF-2281 | SandForce SF-2281 | SandForce SF-2281 |
| NAND | 24nm SanDisk/Toshiba Toggle Mode MLC | 24nm SanDisk/Toshiba Toggle Mode MLC | 24nm SanDisk/Toshiba Toggle Mode MLC | 24nm SanDisk/Toshiba Toggle Mode MLC |
| Sequential Reads | 555 MB/s | 555 MB/s | 555 MB/s | 540 MB/s |
| Sequential Writes | 525 MB/s | 520 MB/s | 530 MB/s | 455 MB/s |
| Interface | SATA 3 6GB/s | SATA 3 6GB/s | SATA 3 6GB/s | SATA 3 6GB/s |
| Warranty | 3 Years | 3 Years | 3 Years | 3 Years |