[section label="Introduction"]
MX Silent Black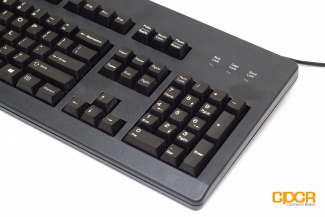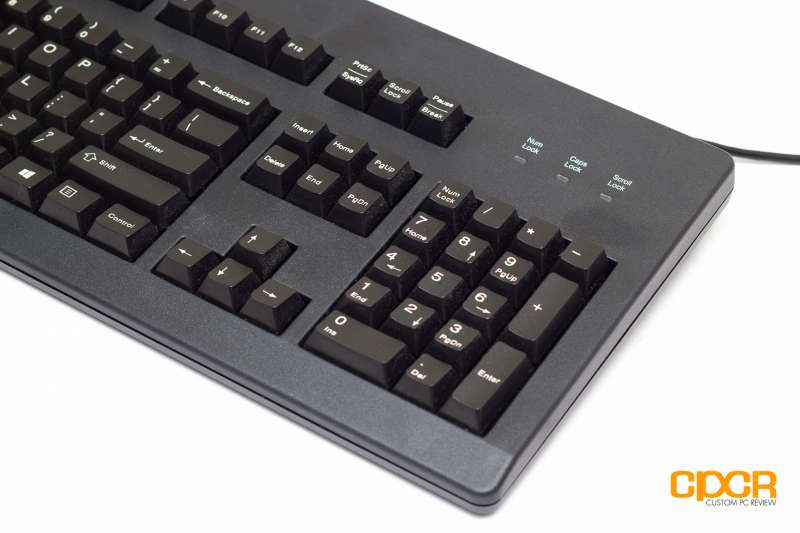 Most of us know Cherry as the company that set the gold standard for mechanical keyboard switches, but what very few know know is that Cherry also produces its own line of keyboards.
With the recent release of its Cherry MX Silent lineup of mechanical switches, Cherry took the opportunity to release a new keyboard based around the Cherry MX Silent switches to show them off.
As such, today we'll be reviewing the Cherry MX Board Silent, a quiet typing mechanical keyboard equipped with Cherry's latest Cherry MX silent switches paired with a classic, no frills, simple keyboard design. I've been waiting to get my hands on one for a long time, and I'm very excited about this review, so let's get started!
Specifications
| | |
| --- | --- |
| Manufacturer | Cherry |
| Model | MX Board Silent |
| Layout | US Layout |
| Switch Type | Cherry MX Silent (Black, Red) |
| Polling Rate | 1000Hz |
| Anti-Ghosting | Yes |
| Key Rollover | N-key |
| Backlight | None |
| Interface | USB 2.0 |
| Weight | 935g (2.0lbs) |
| Size | 470mm x 195mm x 44mm (18.5″ x 7.67″ x 1.73″) |
Looking at the specifications, there isn't anything too interesting aside from the new Cherry MX Silent switches. As with all Cherry's keyboards, the Cherry MX Board Silent is one that strives for minimalism rather than extravagance.
[section label="A Closer Look"]
A Closer Look at The Cherry MX Board Silent

The Cherry MX Board Silent is as barebone as it comes. It's completely void of any additional features, including funtion keys that double up as media buttons. I'm guessing because it's designed for typists, Cherry wanted to make the keyboard as undertone as possible to blend in with the office environment.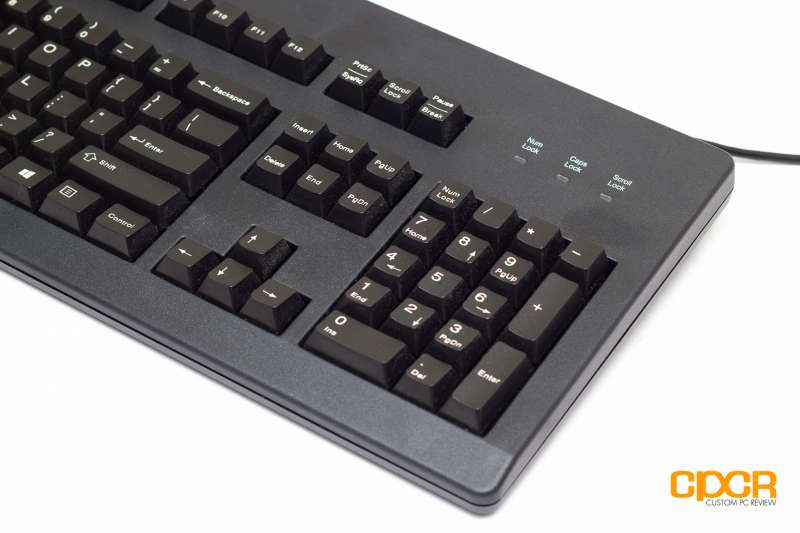 Though there's tons of space reserved at the top, the Cherry MX Board Silent only has the lock indicator LEDs.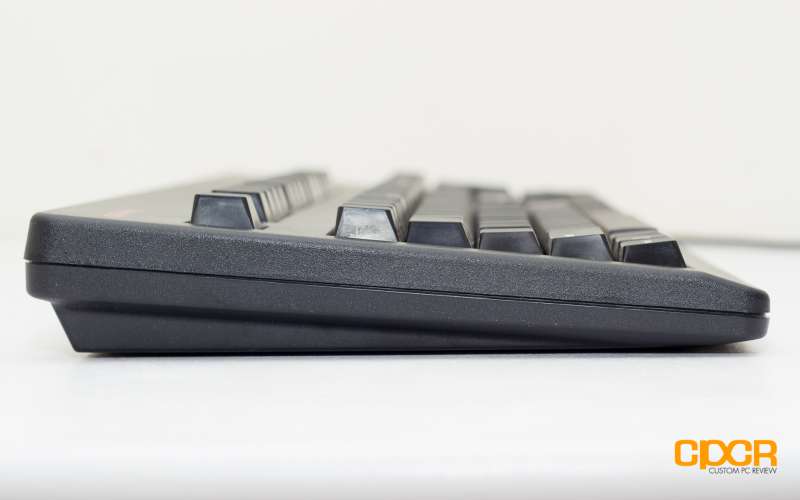 The profile of the keyboard is generously raised for an ergonomic typing experience.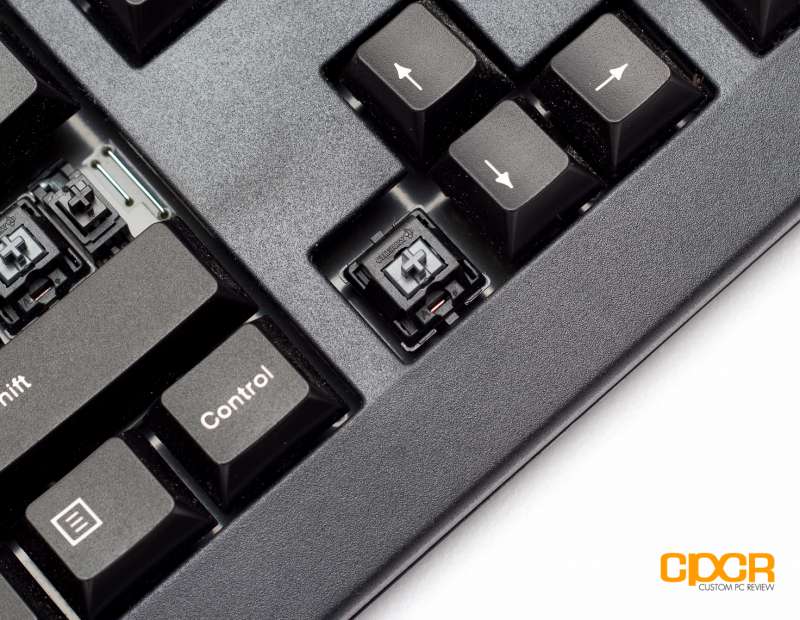 Removing a keycap, we can see the most important piece of the Cherry MX Board Silent, the new Cherry MX Silent switches. For this review, I received a Cherry MX Board Silent featuring the Cherry MX Black Silent switches. Interestingly enough, the stems actually look a bit more grey than black, most likely to prevent confusion between the silent and non-silent versions of the switch.
https://sketchfab.com/models/b6de8e03f5cf4879963faeaebf33c607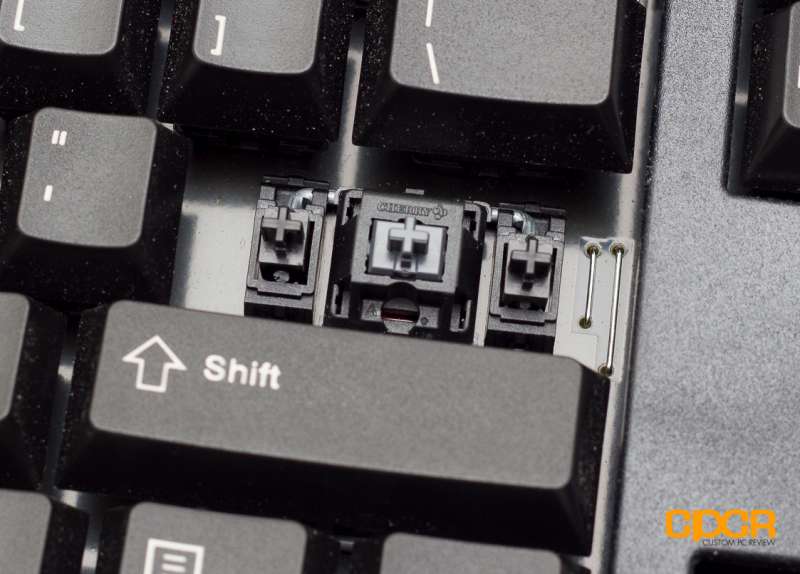 Being a keyboard from Cherry, it's no surprise to meet Cherry stabilizers instead of Costar or other stabilizer variations.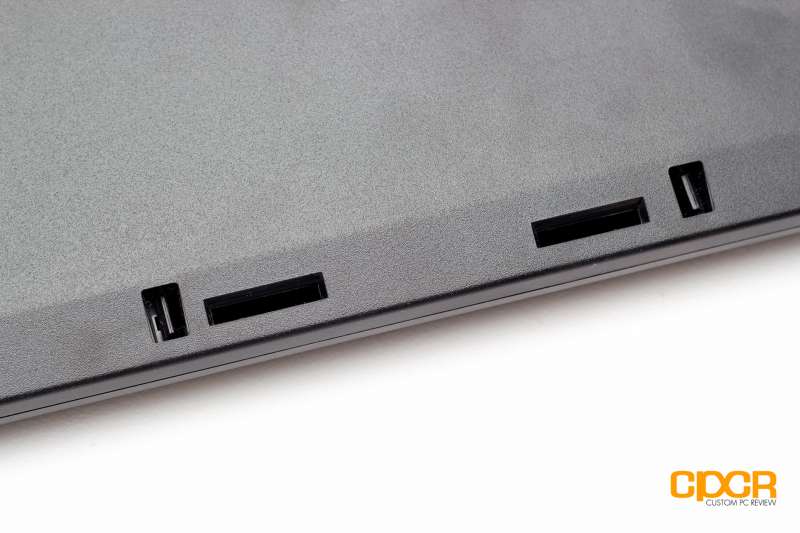 The back of the keyboard doesn't use any screws and instead uses clips to bind everything together. This is the first time I've seen such construction.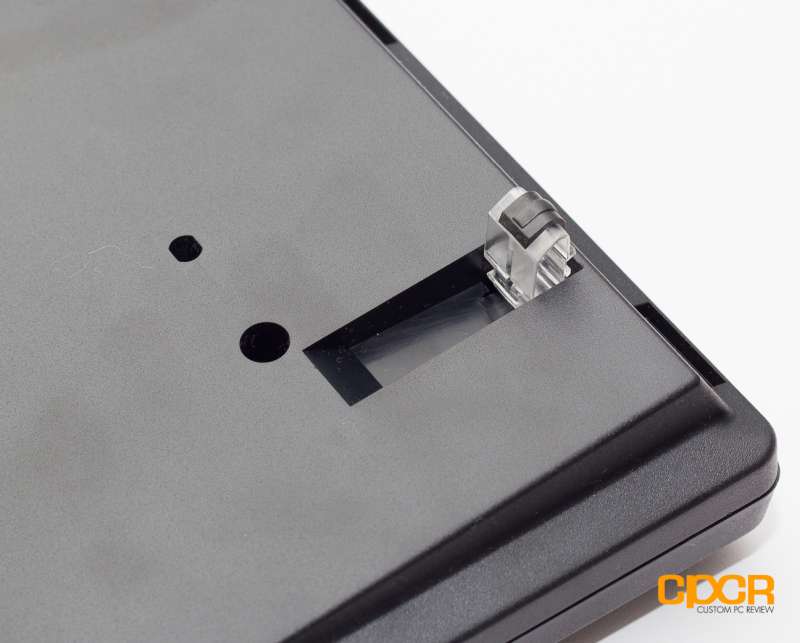 The only part of the keyboard that isn't black is the transparent elevator feet. They have tiny rubber feet as padding and for better grip to the surface.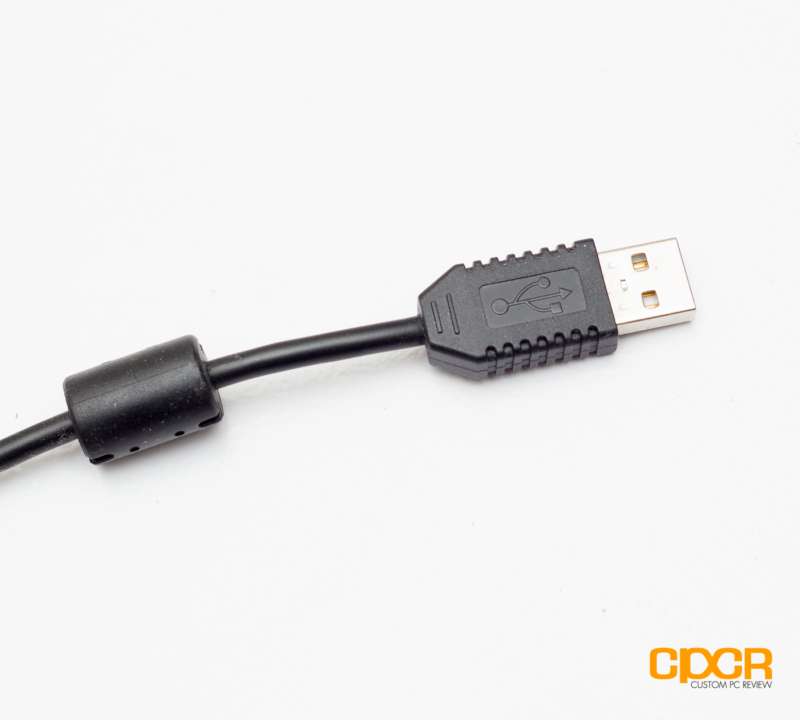 The Cherry MX Board Silent uses a non-detachable, non-braided USB cable and a standard USB Type-A plug.
[section label="Performance"]
Performance
For testing, I spent several months using the keyboard in various activities such as typing and gaming. The new Cherry MX Black Silent switches are mostly the Cherry MX Black switches we know and love in terms of quality and feel, but are redesigned to be more silent for users who want to use a mechanical keyboard without disturbing others around the area. Compared to the original Cherry MX Blacks, the Cherry MX Silent Blacks are a bit spongier when bottomed out which creates significantly less noise when typing. Combined with the linear style of the switch, this really does makes the switches near silent when typing.
Other than that, the switches are excellent in terms of responsiveness, just like the non-silent Cherry MX Blacks. Stabilizers can feel a bit mushy depending on the key and the actuation force is only slightly inconsistent between standard standard keys and a long keys.
NKRO/Anti-Ghosting Testing
To test the NKRO/anti-ghosting functionality of the Cherry MX Board Silent, I'll be using a web app developed by Microsoft's Applied Science Group. More information about the web app and the relationship between ghosting and NKRO can be found here.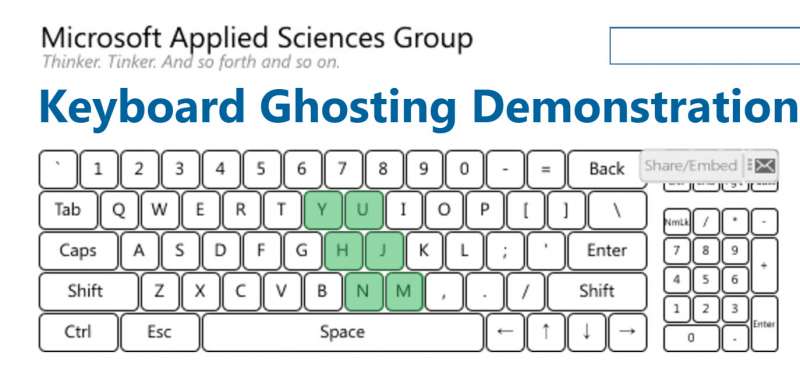 The Cherry MX Board Silent supports NKRO only over PS/2 interface and not over USB. When connected over USB, up to six keys that can be registered simultaneously.
[section label="Conclusions"]
Conclusion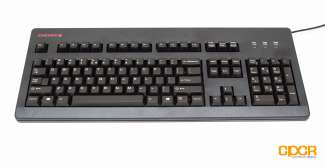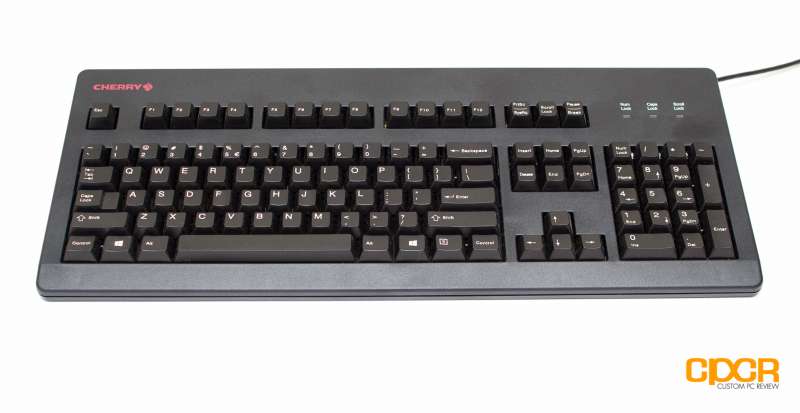 Alright, so final thoughts. Where to begin.
First let's go ahead and talk about the Cherry MX Black Silent, which is really the biggest reason to purchase this keyboard. Long story short, the switches are great, just like the non-silent versions. They're quiet as promised, and have the same build quality and responsiveness you'd find in the tried and true Cherry MX Black. However, given that most typists prefer a non-linear switch such as the Cherry MX Brown for typing, Cherry should also release a Cherry MX Brown Silent variant. I think we'd all agree on that.
While the new Cherry MX Black Silent switches are wonderful, this keyboard really does roll downhill from there. The Cherry MX Board is marketed and priced as a premium, German-made, Cherry quality keyboard, but that's not really the case. The board constructed almost entirely from plastic. The chassis flexed very easily when I tried to twist it. I did contact Cherry about this and they informed me that the plastic material is supposed to help further dampen the noise. However, is going with an all plastic design worth the extra noise savings? Not for me, but you decide.
Another smaller annoyance is that the raised notches on the "F" and "J" keys (present on virtually all keyboards) are, for reasons unknown, missing from the Cherry MX Board Silent. These are crucial for guiding a typists' fingers back onto the home row. This omission is I think a bit unnecessary and because it lacks backlighting, using the keyboard in the dark is far more difficult than it needs to be.
This then leads into my last gripe – the price. Yes, the new switches are going to be more expensive because they're silent, but the Cherry MX Board Silent as a keyboard does not warrant $149 in this day and age. There's just far too much competition. Even at $100, the Cherry MX Board Silent would be a hard sell especially when you can get a superior alternative, the Das Keyboard Prime at the same price albeit without the silent switches.
Cherry keyboards shoulder a lot of weight. Not only do they have to showcase the best switches from the most iconic switch company in the world, but also must set an example for keyboard manufacturers in design and pragmatism. Unfortunately, the Cherry MX Board Silent isn't that example.
Sample provided by: Cherry
Available at: Amazon