[section label="Introduction"]
WiFi That Works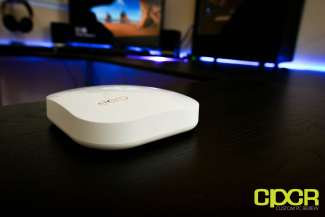 Around this time last year, I stumbled upon the Eero Mesh Wi-Fi System. At the time, the concept of mesh Wi-Fi was really limited to just high end enterprise systems that typically used it to blanket places like stadiums, shopping malls, and hotels. Using it in the home however, was pretty much unheard of even though homes are a perfect use case for mesh Wi-Fi. Unless of course you were some sort of network engineer or you had some serious money to invest in a real Wi-Fi system along with an IT team to manage it.
Noticing the market opportunity for mesh Wi-Fi in the home, the team at Eero unveiled their cloud based mesh Wi-Fi system focusing on performance, coverage and ease of use.
Specifications
| | |
| --- | --- |
| Manufacturer | Eero |
| Model | Home WiFi System (3 Pack) |
| Wi-Fi Bands | IEEE 802.11 b/g/n/ac |
| Radios | 2 (2.4GHz + 5GHz), Bluetooth Smart Ready |
| Antenna | 2×2 MU-MIMO |
| CPU | Qualcomm Dual Core 1GHz (IPQ8062) |
| RAM | 512MB |
| Ethernet Ports | Two 10/100/1000 Mbps Gigabit Ethernet (WAN and LAN) |
| Additional Ports | USB 2.0 |
| Security | WPA2 Personal |
| Additional Features | MU-MIMO, DHCP, NAT, VPN passthrough, UPnP, Static IP, Port Forwarding |
| Dimensions | 78.74 mm x 78.74 mm x 185.42 mm |
| Warranty | One year |
| Check Pricing | Amazon |
Looking at the specifications, we can see that the Eero is a fairly well equipped device. Packing a Qualcomm dual core 1GHz processor along with 512MB of RAM, each Eero node packs about the same amount of power as your average home router. As for wireless capabilities, it has dual band capability, which means a separate radio for the 2.4GHz as well as the 5GHz although there's no third band like the Linksys Velop or Netgear Orbi for a dedicated backhaul duties.
Mesh WiFi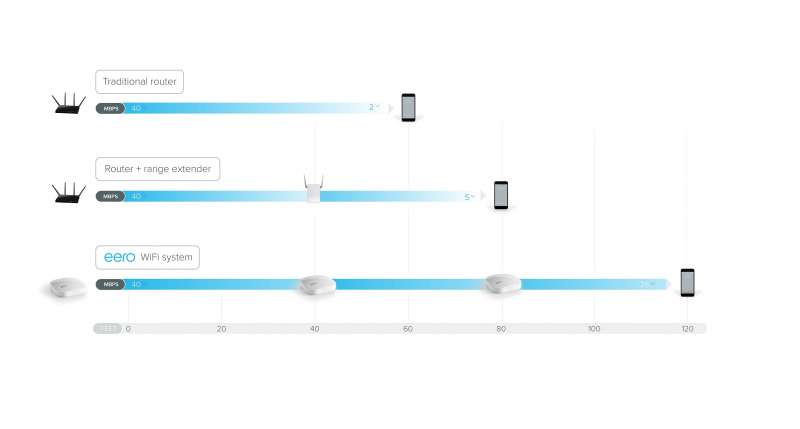 As we've done several Mesh Wi-Fi router reviews recently, you're probably pretty familiar with the concept. If not, here's a look at the main benefits of a mesh Wi-Fi system. Whereas a traditional router throws just a single signal a certain distance, and a range extender simply extends that signal slightly further with massive performance drops, the Eero mesh system is capable of daisy chaining itself several hops to cover any sized location.
Theoretically, performance isn't supposed to suffer, but in our experience it does although it's not quite as severe as your typical range extender. Mesh Wi-Fi also supports using a single SSID throughout all the nodes, so that transitioning between the different nodes in the mesh Wi-Fi system is seamless.
With that said, let's take a closer look at the Eero.
[section label="A Closer Look"]
A Closer Look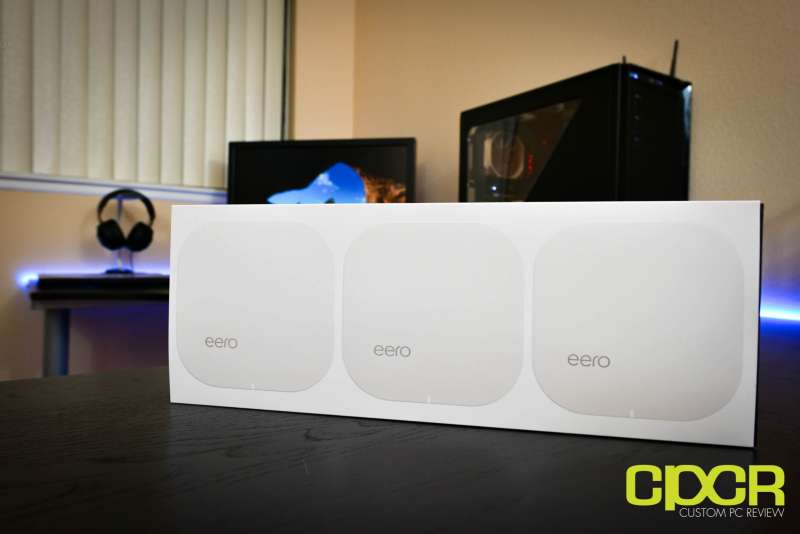 Here's a look at the packaging for the Eero. For this review, we'll be taking a look at the Eero 3-pack Mesh Wi-Fi system, but it's also available in a one or two pack as well.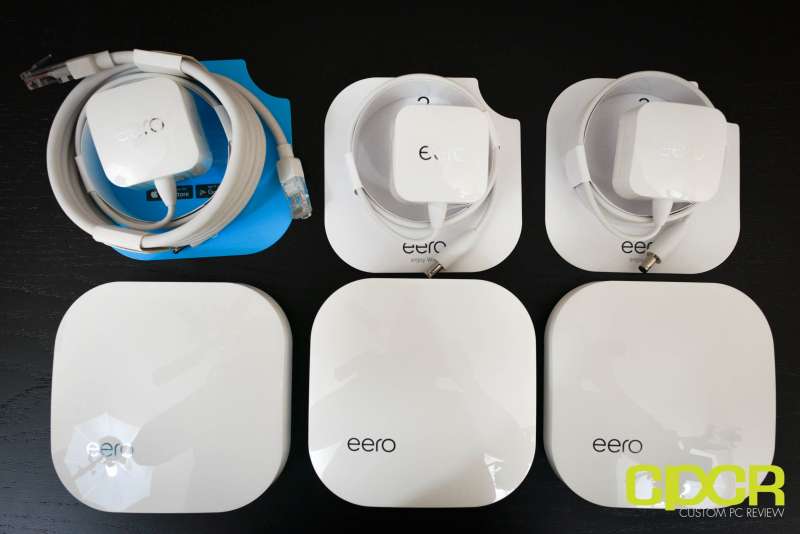 Included in the packaging is some documentation simply tells you to download the Eero app, an Ethernet cable, three Eero nodes, and three power adapters.
The Eeros are fairly basic looking little white boxes, but the design is very functional. At the rear is a DC in port, dual Gigabit Ethernet ports, a USB port, and a reset button.
As far as connectivity, Eero has designed it so that the nodes are very flexible. Each of the Eeros nodes can be used as bridges to provide wired devices with an internet connection when connected on the network. For those with houses that are already wired for Ethernet, each Eero can also be connected so that it uses the wired Ethernet connection for backhaul.
At the front of the Eero is a single LED status indicator which lets you know if it's working or if there are any issues.
[section label="Software"]
Eero Software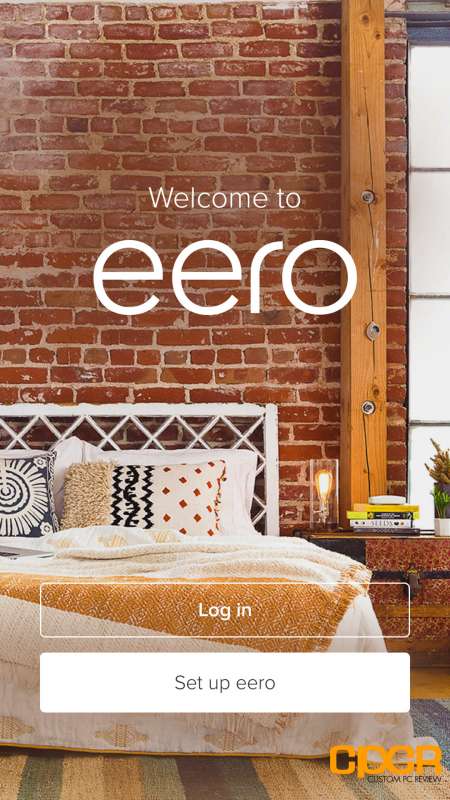 Just like every other mesh Wi-Fi system we've tested, the Eero is pretty much completely mobile app driven. Similar to the Linksys Velop, the Eero requires an account to get setup. This is a bit annoying however, the account does provide the ability to manage the network remotely and Eero claims to use data collected from each of the units to better improve performance and respond to security threats.
Initial setup on the Eero is nothing less than super easy. Big pictures along with step by step instructions guide you through the entire initial setup process.
This includes adding additional Eero nodes. After the nodes are added, Eero will automatically ask to update itself.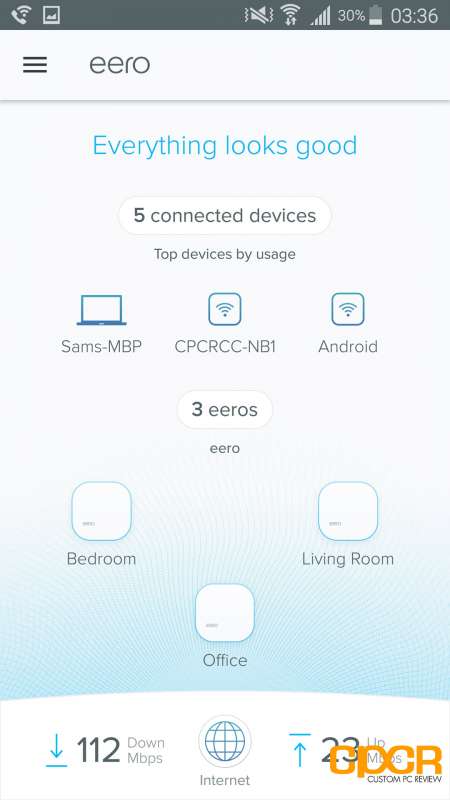 Once everything is installed, firing up the Eero app brings you to the main status page shown above. This includes a wealth of information such as the clients that are connected, the Eeros that are available, and a speed test of the internet connection. At the top Eero will also let you know how the network is doing. Here, we can see that "Everything looks good."
Clicking on the clients will give us some quick information for the clients while clicking on a Eero node gives us some quick information for the nodes. What's cool about the Eero system is that it shows the signal strength for each of the nodes which makes it easy to figure out where would be ideal for placing additional nodes.
One benefit of having an Eero system is that all Wi-Fi settings are adjusted automatically using Eero's algorithms. As a result, the only real option you have is what do you want your SSID to be and what password do you want to set.
The Eero app also allows configuring of some of the other features such as Guest Wi-Fi, basic parental controls, port forwarding, UPNP, and a couple others. The Eero may not be the most in-depth, configurable device on the market, but the software experience is excellent with no issues experienced during testing.
[section label="Performance"]
Performance
Routing Performance
Routing performance is tested using two systems. The first is a server using an Intel PRO/1000 Dual Port Server Adapter EXPI9402PT is connected directly into the WAN port of the router. The second is a client using an Intel PRO/1000 Dual Port Server Adapter EXPI9402PT is connected directly to the first LAN port on the router. Transfer speeds between the systems are then tested using iPerf 3.1.3.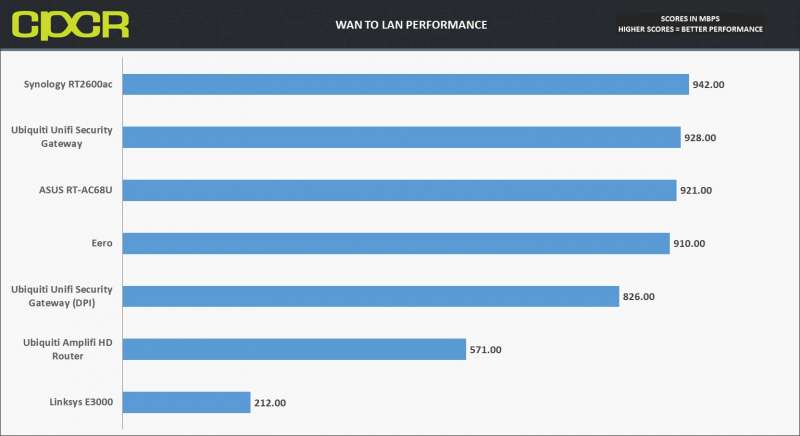 Performance Analysis
There was no issues routing from WAN to LAN networks. The Eero was able to achieve near Gigabit speeds.
Wired Performance
Wired performance is tested by connecting two systems, one server (Realtek 8111GR) and one client (Killer E2400), via their Gigabit LAN ports to the gigabit LAN Ethernet ports on the router. Transfer speeds between the two systems is then tested using iPerf 3.1.3.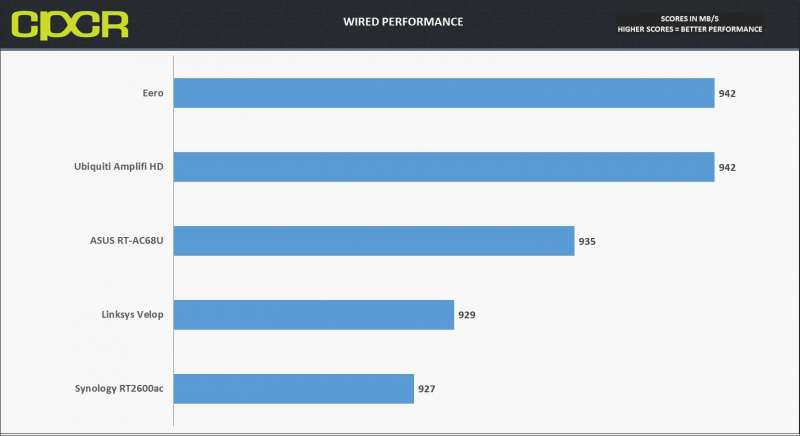 Performance Analysis
Wired performance came in at 942Mb/s which is pretty much the expected maximum for Gigabit Ethernet.
Wireless Performance
Wireless performance is tested by connecting two systems, one server (Realtek 8111GR) and one client (Killer 1525). The server is connected via Gigabit LAN to a Cisco SG200-26 switch and the client is connected via Wi-Fi to the access point. Transfer speeds between the two systems is then tested using iPerf 3.1.3. Wireless interference is minimized as much as possible however, there are still quite a few neighboring Wi-Fi signals from other residences around the area.
Location 1
Location 1 is in the same room as the router/access point with direct line of sight. Total distance between the router/access point and client is approximately 5 feet. Results of performance testing is in the 5GHz band (if available) which provides maximum performance.
Location 2
Location 2 is in the far end of a 1,500 sq ft two story, rectangular shaped house with the router/access point placed in one corner of the second floor and the client placed in one corner of the first floor. Total distance between the router/access point and client is approximately 40 feet with walls in-between. Results of performance testing are in the 5GHz band which provides maximum performance.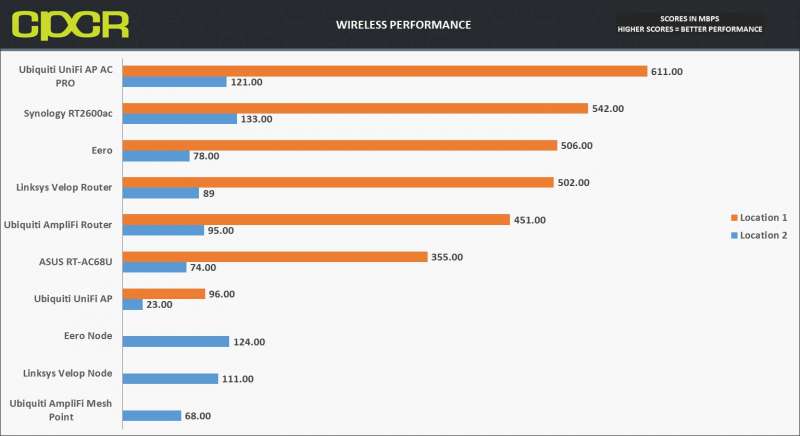 Performance Analysis
Wireless performance on the Eero was very good and very surprising as the Eero not only outperformed the AmpliFi HD, but performed on par with the Linksys Velop Mesh Wi-Fi system. The win against the AmpliFi HD was unexpected as the AmpliFi HD features a dual band 3×3 MIMO antenna setup whereas the Eero features a 2×2 MIMO antenna setup.
As for connecting via the nodes, the Eero nodes performed on par with the Linksys Velop nodes and both significantly outperformed the AmpliFi Mesh Points. This was unexpected as the Linksys Velop features tri-band technology giving it access to a dedicated 5GHz backhaul – a feature not available in the Eero. Eero has obviously done some good work in optimizing the backhaul system to be able to achieve this level of performance.
NetSpot Site Survey
In order to test the Wi-Fi coverage of the system, I utilized NetSpot, which is an excellent free utility to produce Wi-Fi site surveys. According to the legend, red and yellow signify strong signal, green a good signal, and teal and blue a weak signal.
First Floor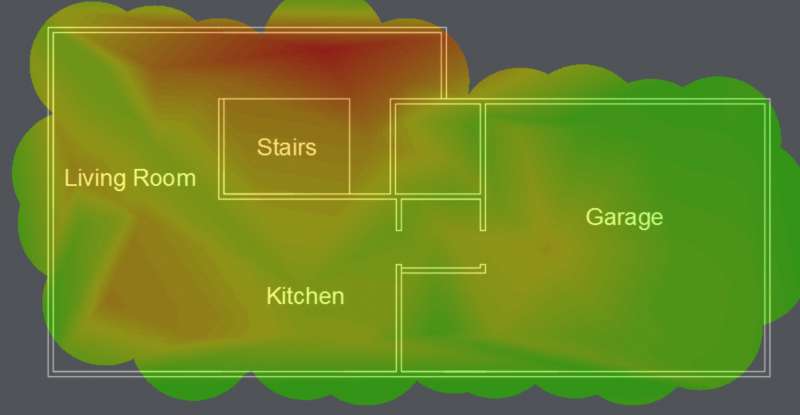 Second Floor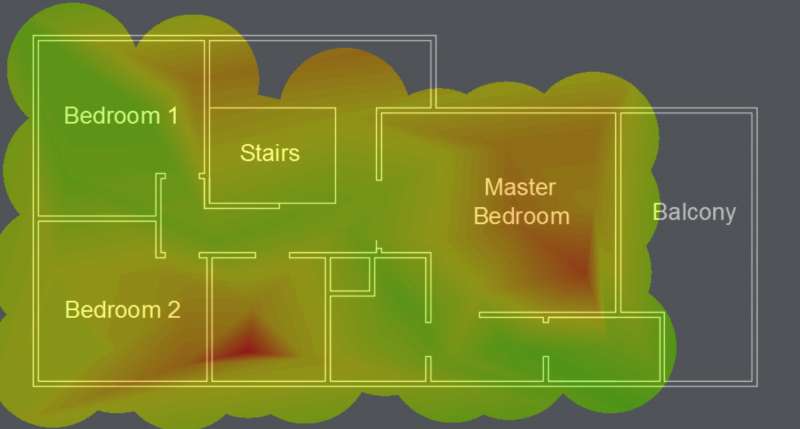 Looking at the Netspot Wi-Fi survey, the Eero was very effective at outputting a strong signal throughout the entire location.
[section label="Conclusion"]
Conclusion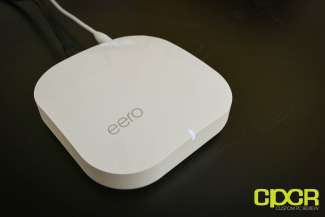 So does Eero set out to do what they aimed to do? I think so. The Eero was easy to setup, had great performance, and easily blanketed the entire house with Wi-Fi coverge.
My only complaint about the Eero is pretty much the same complaint I've had for many of these other mesh Wi-Fi devices. As Eero put so much effort into "dumbing" things down making everything easy to use and easy to setup, some of the more advanced features we typically want are missing. This includes stuff like advanced QoS, URL filtering, DMZ, and even something as simple as SSID hiding just isn't there. Is this a problem for your parents who just want to watch YouTube in every room of the house? Probably not, but if I want to do something like make a call on Wi-Fi and upload my day's worth of photos onto the cloud on my slow 5Mb/s upload connection, the Eero just doesn't cut it at this point.
Luckily, the Eeros do work in bridge mode, which turns off any routing functionality in the Eeros to use them essentially as access point with your current, more advanced router. That said, with the rapid pace of updates, I am confident that an update for something like advanced QoS will roll out sooner than later. Looking at Eero's update logs, they've released at least an update every month if not more which definitely inspires confidence in the long term commitment of the company to the product.
The Eero Mesh Wi-Fi System will run you around $454.97 for a pack of three nodes, $299 for a pack of two nodes, and $199 for a single node which is competitive for a mesh Wi-Fi product. Obviously, it's a much better deal to buy in bulk from the get-go so if you have a fairly big house with several dead spots in several corners of the house, you probably need a 3-pack. According to Eero, one Eero is recommended every 1,000 sq ft which sounds about right. While a single Eero may throw a Wi-Fi signal farther than that, performance would be degraded enough that the signal wouldn't be worth using anyway.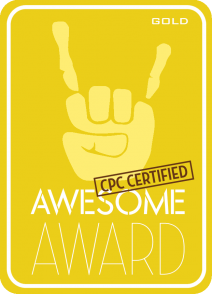 Sample provided by: Eero
Available at: Amazon