Best CPU Cooler Roundup Review Feat. Corsair, Cooler Master, Noctua, Phanteks, Zalman
Battle of the Titans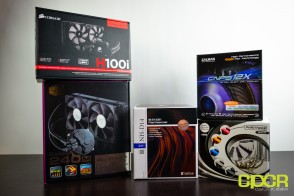 Up until the release of Sandy Bridge processors back in early 2011, overclocking was something generally reserved for only the most hardcore gamers and enthusiasts who wanted to push their systems to the limits. Overclocking required countless hours of tinkering and testing, which was generally a bit too complicated for mainstream users.
With the release of Sandy Bridge however, the landscape of overclocking has really changed dramatically. Significant overclocks may now be had with simple motherboard overclocking buttons or 5 minute adjustments in the BIOS, which greatly simplified the once complicated and confusing task.
With overclocking however, there is one inescapable problem – heat. Unfortunately as voltages on processors are bumped up above original specifications, these powerful processors begin to get hot which tends to create instability issues or may damage the processors in the long term. To solve this issue, aftermarket CPU cooling solutions must be used which is why today we'll be reviewing five of the top CPU coolers on the market.
The five CPU coolers reviewed today include the Corsair H100i, the Cooler Master Seidon 240M, the Phanteks PH-TC14PE, the Noctua NH-D14 SE2011, and the Zalman CNPS 12X. Each of these coolers are considered flagship coolers for each respective company, so let's see how they stack up against each other.
Specifications
| | Type | Fans | Price | Purchase Link |
| --- | --- | --- | --- | --- |
| Intel BXRTS2011AC (Reference Only) | Air | 1x100mm (3,000 RPM) | $21.80 | Click Here |
| Corsair H100i | Water (240mm Radiator) | 2x120mm (2,700 RPM) | $109.99 | Click Here |
| Cooler Master Seidon 240M | Water (240mm Radiator) | 2x120mm (2,400 RPM) | $97.50 | Click Here |
| Phanteks PH-TC14PE (Black) | Air (5x8mm Heatpipes) | 2x140mm (1,300 RPM) | $89.99 | Click Here |
| Noctua NH-D14 | Air (6x6mm Heatpipes) | 1x120mm (1,200 RPM)1x 140mm (1,300 RPM) | $79.95 | Click Here |
| Zalman CNPS 12X | Air (6x6mm Heatpipes) | 3x120mm (1,200 RPM) | $79.54 | Click Here |