Taiwanese Semiconductor Manufacturing Company (TSMC) recently announced that they had an amazing 3Q2016 with a net income of NT$96.76 Billion ($3.05 Billion USD) and consolidated revenue of NT$260.41 Billion ($8.21 Billion USD). This represents a massive 28.4% increase in net income and 22.5% increase in revenue over 3Q2015. Compared to last quarter, TSMC saw an increase of 17.4% in revenue and 33.4% increase in net income.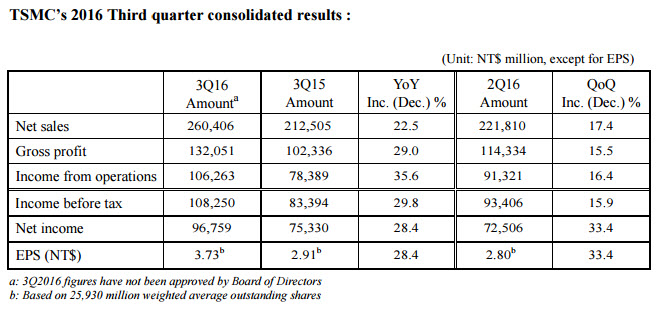 Shipments of 16nm/20nm wafers accounted for 31% of wafer revenues, 28nm wafers accounted for $24% of wafer revenues, and advanced technologies, a fancy word for anything above 28nm, accounted for 55% of wafer revenues.
According to TSMC, the biggest driver of growth this quarter was strong demand from the smartphone market, which isn't surprising considering Apple's A10 Fusion SoC is manufactured on TSMC's 16nm process and demand for the iPhone 7 is expected to increase substantially with Samsung discontinuing the Galaxy Note 7. Other major TSMC customers include MediaTek, HiSilicon (Huawei), Marvell, Broadcom, Nvidia, and more. TSMC is scheduled to begin mass production of 10nm chips in 4Q2016.
Source: TSMC