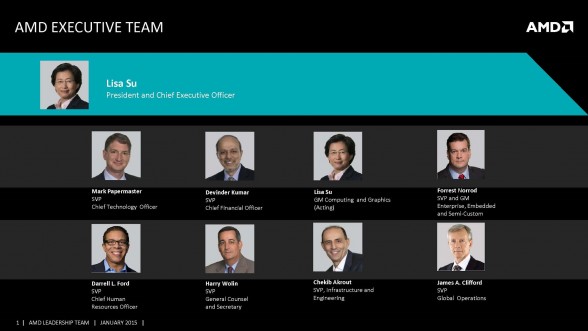 It's only the first Monday after CES and we have received word that embattled semiconductor company, AMD, is losing three top executives.
In an statement sent out by the company, AMD revealed that they will be losing John Byrne, GM of AMD's Computing and Graphics Business Group, Colette LaForce, Chief Marketing Officer, and Rajan Naik, Chief Strategy Officer. No replacements have been named for any of the departing executives. AMD has already updated their executive organizational chart (above) to reflect the recent changes.
In an 8-K filing with the SEC, AMD states that John Byrne is "…leaving AMD to pursue other opportunities." AMD Chief Executive Officer, Dr. Lisa Su, will take over as interim GM of AMD's Computing and Graphics Business Group while AMD conducts an external search for a replacement. AMD offered no statement as to why LaForce or Naik are leaving the company.
"These changes, including the additions of Forrest Norrod and James Clifford to our management team last quarter, collectively are part of implementing an optimal organization design and leadership team to further sharpen our execution and position AMD for growth."
With the latest executive shakeup, we're not quite sure if AMD is cleaning house or if all three executives actually found more exciting opportunities for the new year, but given the fact that AMD's strategy, marketing and CPU business are all failing, some fresh blood in the executive ranks may be a good thing for the company.
AMD will be announcing their 4Q2014 earnings on January 20th, so hopefully we'll have more information on what's going on in the coming days.