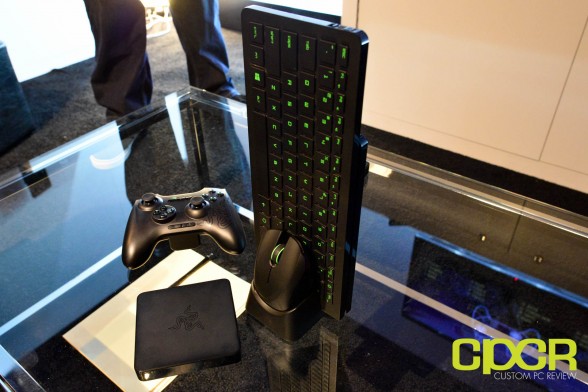 Razer is looking to bring a completely new experience to living room gaming with the announcement of the Razer Forge, Razer Turret Bluetooth keyboard, and the Razer Serval wireless gaming controller.
Razer Forge TV
The Razer Forge TV is an Android TV-based micro-console that focuses on bringing back the living room multiplayer gaming experience.  Hardware-wise, the Razer Forge TV is a fairly powerful little device, running Qualcomm's Snapdragon 805 SoC, Adreno 420 graphics, 2GB of RAM, and 16GB of internal storage. Connectivity options include Bluetooth 4.1, Wireless AC, Gigabit Ethernet, USB 3.0, and HDMI 1.4 output. With a 4.1″ W x 4.1″ D x 0.7″ H, the system has roughly the same footprint as today's average-sized smartphone.
As an Android TV device, the Razer Forge TV can do anything you'd expect out of Android TV such as streaming Netflix, listen to music, play Android games, etc., but the true reason behind why the Forge TV is so awesome is in its ability to stream games direct from your PC to your TV with the upcoming Razer Cortex: Stream software. Razer claims that the Forge TV's superior encoding codec streams gameplay with ultra-low latency and delivers the most responsive TV gaming experience possible. The Forge TV is expected to stream up to 1080p at 120Hz over Wifi or Ethernet, a first in its class. As expected, there is a hardware requirement of course – the streaming PC must have at least a dual core CPU and a HD5000/GTX580 or higher GPU.
Razer Turret Bluetooth Keyboard
Along with the Forge TV, Razer is also introducing the Razer Turret Bluetooth keyboard designed specifically with couch gaming in mind. According to Razer, the Turret's rechargeable 1500mAh Lithium Polymer battery can last months on a single charge. When not used for gaming, its media navigation keys can help with media playback on Google's TV app. The Razer Turret also features a magnetic fold-out mouse pad and additional magnets on the mouse prevents it from sliding off when the unit is sitting tilted on your lap.
At first we were worried that the magnets in the mouse would affect tracking, but in our brief hands on time with the Turret, the mouse didn't feel much different from a typical mouse on a mousepad. Razer told us that minimizing any changes in mouse tracking feel was a big focus when developing the Turret.
Razer Serval Gaming Controller
The Razer Serval is Razer's gaming controller with an Android twist. Not only is it compatible with both Xbox One and the PC via either Bluetooth 4.1 connectivity or wired USB connection, it also comes with a smartphone dock that fixes your smartphone directly on to the controller so users can game on the go.
The feel of the controller is very similar to the feel of the standard Xbox controller, so you'll feel right at home. In testing the smartphone dock, it was large enough to hold larger smartphones such as the Samsung Galaxy Note 4 securely without issue.
Pricing and Availability
The Razer Forge TV will come in a single configuration priced at $99.99, offering a sweet entry point to consumers looking to game in the living room. The Razer Turret Bluetooth keyboard and the Razer Serval gaming controller will be priced at $129.99 and $79.99 respectively.
Razer is looking to release the Forge TV and the Serval in Q1 2015, followed by the Turret keyboard and the Cortex: Stream in Q2 2015.