Back in the days when DIY water cooling was the only option, water cooling was often difficult and the risk of leaking coolant all over your hardware was a very real and very expensive risk.
Since then, the mass introduction of all-in-one water cooling CPU coolers from companies such as Corsair, Antec and Coolit have greatly increased the popularity of water cooling – so much so that tons of companies have joined in on the action. One of the newest companies joining in on the action is Thermaltake who has recently announced their long awaited Water 2.0 series. Like other all in one water cooling systems, the Water 2.0 Series coolers are all self contained all-in-one water cooling systems. (water block, tubing, pump and radiator) The liquid is pre-filled and because of the special tubing, it will not evaporate.
Thermaltake is planning to introduces three coolers in the Water 2.0 series, each meant to cater to a different kind of user.
Water 2.0 Performer
This is the entry level cooler for those who are just starting out. The Performer will feature a 25mm x 120mm radiator along with two high powered PWM fans (1200rpm~2000rpm) for a push/pull configuration to get the best performance out of the cooler. Thermaltake is also using a highly efficient yet quiet low profile pump to ensure the best possible performance without waking your neighbors in the middle of the night.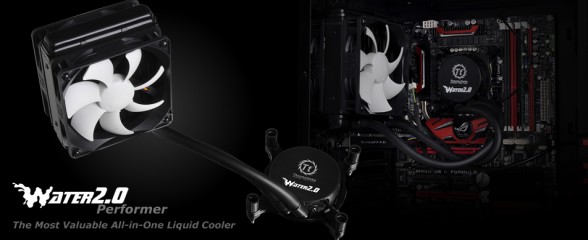 Water 2.0 Pro
This is the mid range cooler that appears quite identical to the Performer except for the fact that the radiator is nearly twice the thickness at 49mm x 120mm. This extra surface area will allow for much better heat dissipation. Included with the Water 2.0 Pro is the same two PWM fans which can be used in a push/pull configuration.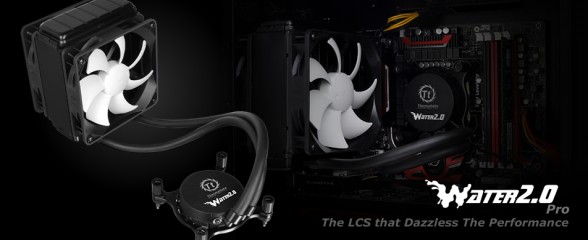 Water 2.0 Extreme
The Water 2.0 Extreme cooler is the enthusiast class liquid cooling system featuring a massive 240mm x 25mm radiator that can accommodate up to four fans in a push/pull configuration. In addition, Thermaltake has included "Smart Control" software so users can monitor temperatures, fan speeds and other data.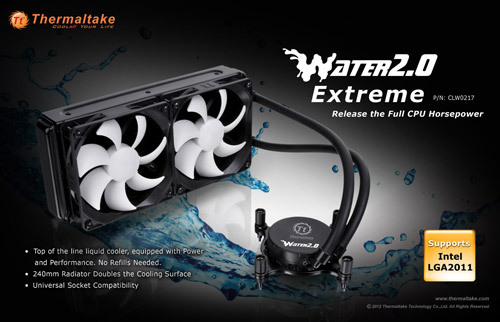 The Water 2.0 Performer and Pro are immediately available at a MSRP of $69.99 and $99.99 respectively. The Extreme on the other hand will arrive in July and will carry a MSRP of $129.99.
Thermaltake Announces WATER2.0 Series All-In-One Closed-Loop CPU Liquid Cooler
City of Industry, California – May 8, 2012 – Thermaltake brought water cooling technology to the mainstream in 2002 with the introduction of Aquarius and BigWater Series of liquid cooling solutions for computer enthusiasts and DIYers.  The solutions were developed by garnering enthusiast communities' experience and feedback, coupled with Thermaltake's core expertise in thermal management.  The goal was to enable PC enthusiasts to achieve higher PC performance by providing additional cooling needed in order for the CPU to run at higher frequency.   Today, Thermaltake is introducing its WATER2.0 line of liquid coolers and announcing immediate availability of the all-new WATER2.0 Performer and WATER2.0 Pro all-in-one closed-loop CPU liquid coolers.
The "2.0" in the name denotes the progression and improvements that Thermaltake has made in the performance liquid cooling segment as well as the new approach which WATER2.0 solutions are taking.  While traditional D.I.Y. (do-it-yourself) liquid cooling kits offer expandability, the same benefit often complicates installation and filling these coolers introduces a risk of mixing water and electronics. WATER2.0 specifically addresses these concerns by having a closed-loop design, meaning all the fluid that are required for maximum performance are pre-filled and sealed inside so the users do not need to handle any type of liquid during installation or operation.
"WATER2.0 is not a direct replacement of air cooling solutions. The all-new WATER2.0 is an improved performance-driven solution that offers added benefits of simple installation, no-maintenance and extreme reliability to the traditional liquid cooling kit.  After a long period of research and development, we came to a point where WATER2.0 has reached the performance standard that Thermaltake has set forth while ensuring a fluid user experience from installation to actual operation. Now is time perfect time to discover an all-new performance-driven alternative CPU cooling solution" commented Ramsom Koay, Director of Marketing for Thermaltake.
WATER2.0 Series closed-loop CPU liquid coolers are available in three different performance categories that cater to different performance requirements or applications. The WATER2.0 Performer features dual 120mm PWM fans with a high-performance 120mm x 25mm radiator that can be mounted to any chassis with an available 120mm case fan mount.  The liquid circulation is handled by a high-efficiency, low-profile pump that sits on top of the all-copper cold plate.  The low-profile pump is ideal for high-performance systems where high-end air cooler may interfere with enthusiasts-grade memories that often come equipped with taller heat spreaders.  A dual-PWM adapter is also included allowing both included PWM fans to be connected to a single PWM fan header on the motherboard to ensure synchronous fan speed operation.
For more performance, the WATER2.0 Pro utilizes a much thicker radiator, 49mm compared to 25mm found on the Performer model, to dramatically increase the heat-dissipating surface area by almost doubling the doubling the volume of the radiator.  The WATER2.0 Pro also includes the same low-profile pump along with dual 120mm PWM fans including the dual-PWM adapter.
While all of the WATER2.0 CPU liquid coolers provide performance and low-noise operation, WATER2.0 Extreme delivers the ultimate performance by incorporating a double-long (240mm x 25mm) radiator that further increases the available heat-dissipating surface area for maximum cooling power.  WATER2.0 Extreme ships standard with dual 120mm PWM fans and it is capable of supporting up to four PWM fans in push-pull configuration.  Targeting enthusiasts and overclocking consumers, the WATER2.0 Extreme also comes with Smart Control Software that allows the user to monitor status of various hardware elements within the cooling unit, in addition to creating cooling profiles that best matches the user's working and gaming environment.
"WATER2.0 Series of closed-loop CPU liquid coolers are not just new products that Thermaltake is introducing," stated Weller Chen, Director of Product Management at Thermaltake, "WATER2.0 represent a shift in design philosophy from Thermaltake that aligns user experience in the same breath with performance, as consumers can see from the maintenance-free operation as well as simplified installation."
The WATER2.0 Performer and Pro are now available at major retailers in the United States and Canada.  MSRP for WATER2.0 Performer is USD $69.99, and USD$99.99 for WATER2.0 Pro.  The WATER2.0 Extreme will be available in July at major retailers with MSRP at USD $129.99.  For more information, please visit the manufacturer's product page: http://thermaltakeusa.com/Products.aspx?C=1444